Bill Gates famously said in an essay published in 1996, 'content is king.' Several decades later, his words seem visionary to me, as more than 80% of companies have a content marketing strategy. Content Management Systems are vital for the successful implementation of inbound marketing techniques, as they simplify the creation, publishing, and management of text, audio, and video content.
Most systems have tools that enable users to modify each page they add to a website, design menus, or customize different website elements. Still, the so-called 'headless' solutions have steep learning curves as they require advanced coding skills. I'll introduce you to the basic concepts of the best CMS systems to assist you in selecting the best CMS systems for content marketing that will suit all your content marketing needs.
Bottom Line Up Front
WordPress is the best solution for businesses that want to automate content publishing and management processes while keeping access to the website's backend. Adobe Experience Cloud, Drupal, and Magnolia are some of my favorite headless CMS systems because they provide users with flexibility and scalability.
My Top Picks at a Glance
Core Functionalities of CMS systems
I can hardly stress enough how important it is to understand your company's needs before you set out to search for a CMS system. These software products can have a wide array of functionalities that extend beyond content management.
Regardless of their type or the range of options they provide, all CMS systems contain these elements:
Content Management Application (CMA): This segment refers to all functionalities related to the website's frontend. Templates, content formatting tools, or collaboration features are elements of the system's CMA.
Content Delivery Application (CDA): The properties of the software's CDA dictate the website's backend architecture and determine how the backend and frontend are connected.
The best CMS systems for content marketing automate the backend processes enabling marketers without coding experience to upload and manage the content. Also, learning to distinguish between Enterprise Content Management (ECM) and Web Content Management (WCM) solutions can help you pick the right software.
ECM options usually provide digital asset management and record retention tools, while WCM solutions offer the tools you'll need to design the website's user experience.
Types of CMS systems
CMA and CDA segments can interact in a variety of ways. So, the CMS type depends on the method used to establish the connection between these apps. The most common types of CMS systems are:
Coupled CMS: As implied by the name, this CMS type 'couples' the website's backend and frontend enabling the user to install the software, launch the website, and upload content. However, the system administrator must adjust the software settings before the marketing team can start using it to manage content.
SaaS CMS: Unlike Coupled CMS, SaaS CMS products are cloud-based and don't require installation. This end-to-end solution is great for marketers because it allows them to process and distribute content quickly.
Decoupled CMS: Rather than tying the backend and frontend together, decoupled CMS allows the administrator to connect the backend to different fronted applications.
Headless CMS: Software products that only feature the backend architecture are called headless CMS. They enable the user to design the website's front end and choose how CMA and CDA are going to interact.
Essential CMS Tools
Nearly all popular CMS software products enable users to upload, format, and organize content from a dashboard that gives them quick access to the tools they need to complete a specific task. The range of tools depends on the software, but most systems have the following features.
Content Editor: This software's component contains the tools a marketer needs to write a blog, upload photos or videos, and format the content. In addition, Content Editors can feature a selection of customizable templates you can use to create or adjust the content.
Publishing and SEO optimization tools: CMS systems are equipped with features that allow the user to preview how a webpage will look before publishing it. Adding meta descriptions, creating SEO-optimized URLs, and writing alt text and page titles are among the options these tools provide.
Indexing and revision: Nearly all systems have tools that allow the user to organize and access content based on the publishing date, author, or other parameters. Moreover, CMS systems will enable you to edit the content after you publish it.
Integration Options
Marketers need a host of tools to run a successful online marketing campaign. So, in most cases, the tools CMS systems have aren't enough to implement an inbound marketing strategy.
These systems can lack analytics tools capable of measuring user engagement, content reach, or click-through rates. In addition, maintaining customer relationships or automating marketing processes with these systems is often impossible.
Most systems support integrations with payment gateways, marketing automation platforms, or analytics tools. Also, you can purchase plugins to extend the software's range of capabilities.
Integrating CMS with social media, cloud storage, or collaboration apps can make your marketing strategy more effective because it will allow you to promote your content through multiple channels and facilitate communication between team members.
Headless CMS usually support integrations through APIs, and connecting them to different platforms requires at least basic coding knowledge.
Security and Maintenance
SaaS and Coupled CMS don't have high upkeep requirements because they're updated automatically, but users can disable this option if they want to install updates themselves.
Users of Headless and Decoupled solutions are responsible for the safety of their content. They can decide when and how they want to update the website's backend and frontend. Nonetheless, I advise against using these solutions unless your company has an IT team capable of managing the system.
Instead, I recommend opting for a CMS with an SSL certificate or Single Sign-On memberships. It's important to check if the system's bandwidth can back your company's content production needs, especially if you're planning on using video content in your marketing campaigns.
Your company's current size and growth potential are among the parameters that can help you pick a CMS that provides suitable upkeep and security support for your business.
Selection Criteria
Hundreds of SaaS, open-source, and proprietary content management systems have emerged since the beginning of the Web 2.0 era.
Hence, identifying the single-best CMS for content marketing is impossible as there are so many solutions that help businesses create and manage their promotional content. As a result, I focused on finding systems suitable for companies of different sizes.
The CMS systems I included in the final selection are aimed at novice content managers looking for a way to organize the materials they post on their blogs or large advertising agencies in need of custom-made solutions for the systematization of their vast databases.
I also considered the software's flexibility, affordability, and scalability while choosing the best CMS systems for content managers.
My Top 9 CMS Systems

Nearly 40% of all active websites, or approximately 455 million websites, are built on WordPress. However, you'll have to head to WordPress.org if you want to explore the platform's content management features.
You can install the CRM yourself if you already have a domain and hosting or use the platform's support to find the best hosting solution. WordPress CMS features an intuitive content editor that gives you access to the tools you'll need to format text or upload photos and videos.
Pros
The platform has thousands of free templates
It features a wide array of plugins
Extensive support for inexperienced users
Advanced content management tools
Cons
WordPress doesn't have powerful security features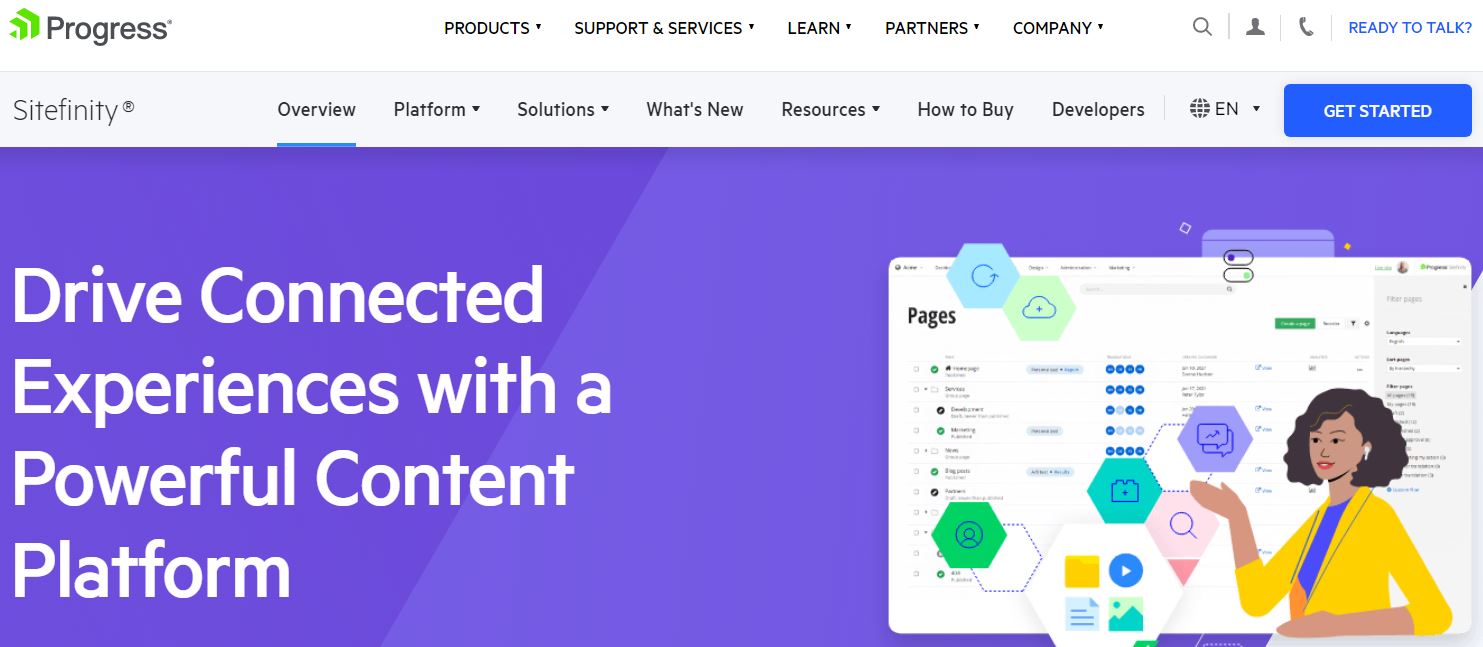 I was in awe of Sitefinity's content management tools moments after I tested them. Its in-line editor and form builder enabled me to create and format content effortlessly. Moreover, I loved using drag-and-drop layouts or managing photos and videos as I could access them from a single location.
CMS system has personalization tools that enable managers to create multiple versions of the content that target different audiences, while its SEO tools can increase the content's rating on search engines.
Pros
Sitefinity has advanced Digital Asset Management tools
Cloud-based hosting
Users can manage content for up to 1,000 websites
It supports multichannel content distribution
Cons
Setting up the CMS can be difficult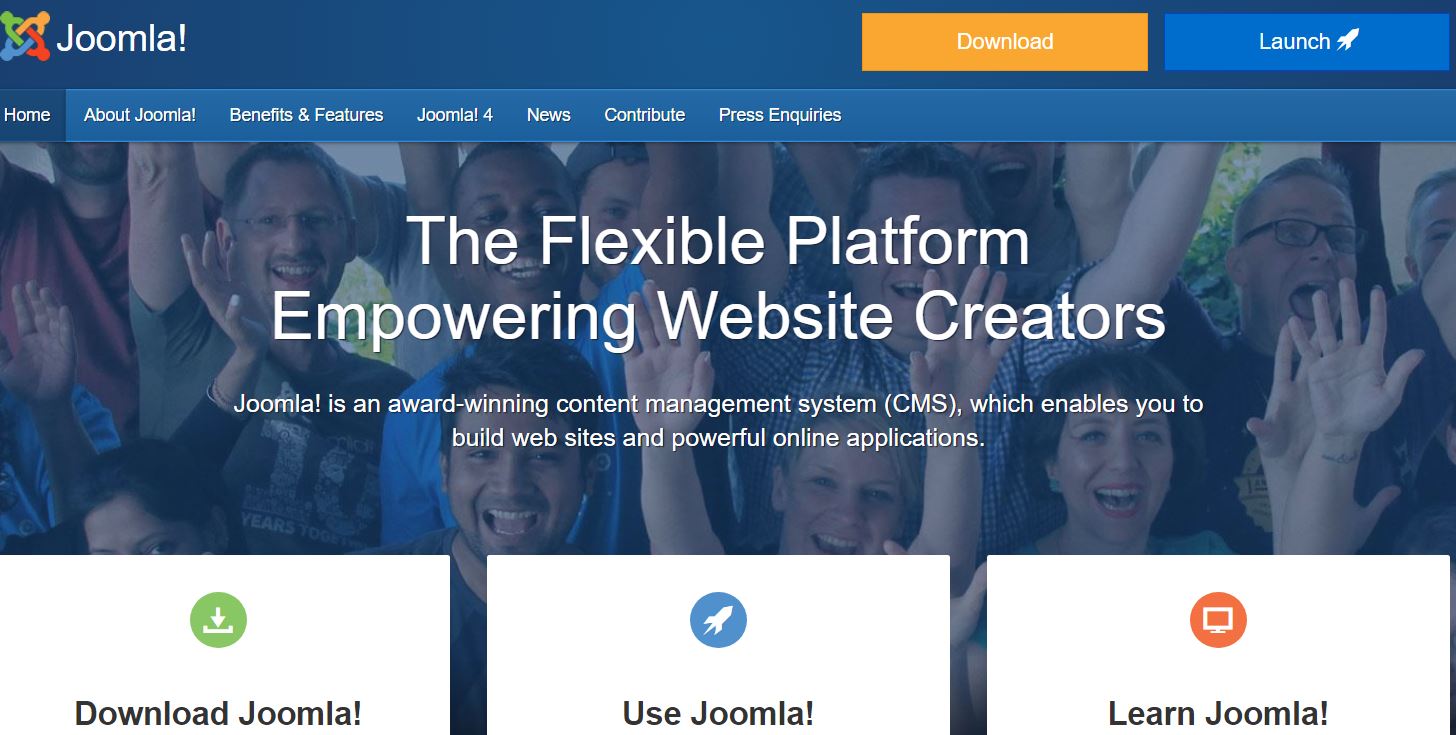 I first encountered Joomla CMS when the software was relatively new. Its range of tools has expanded significantly since then, providing content managers with everything they need to format articles or choose in which order their content will be published.
However, Joomla is still an open-source platform with a robust PHP framework available to anyone with the skills to design an application.
The software features over seventy packs that translate text automatically and enable users to create multilingual websites. Joomla features an ad and banner builder, tags, and categorization options that increase the content's visibility and help monetize the website.
Pros
Suitable for businesses of all sizes
Two-Factor authentication security system
All templates are customizable
Users can add functions to the content editor
Cons
Joomla's integration options are limited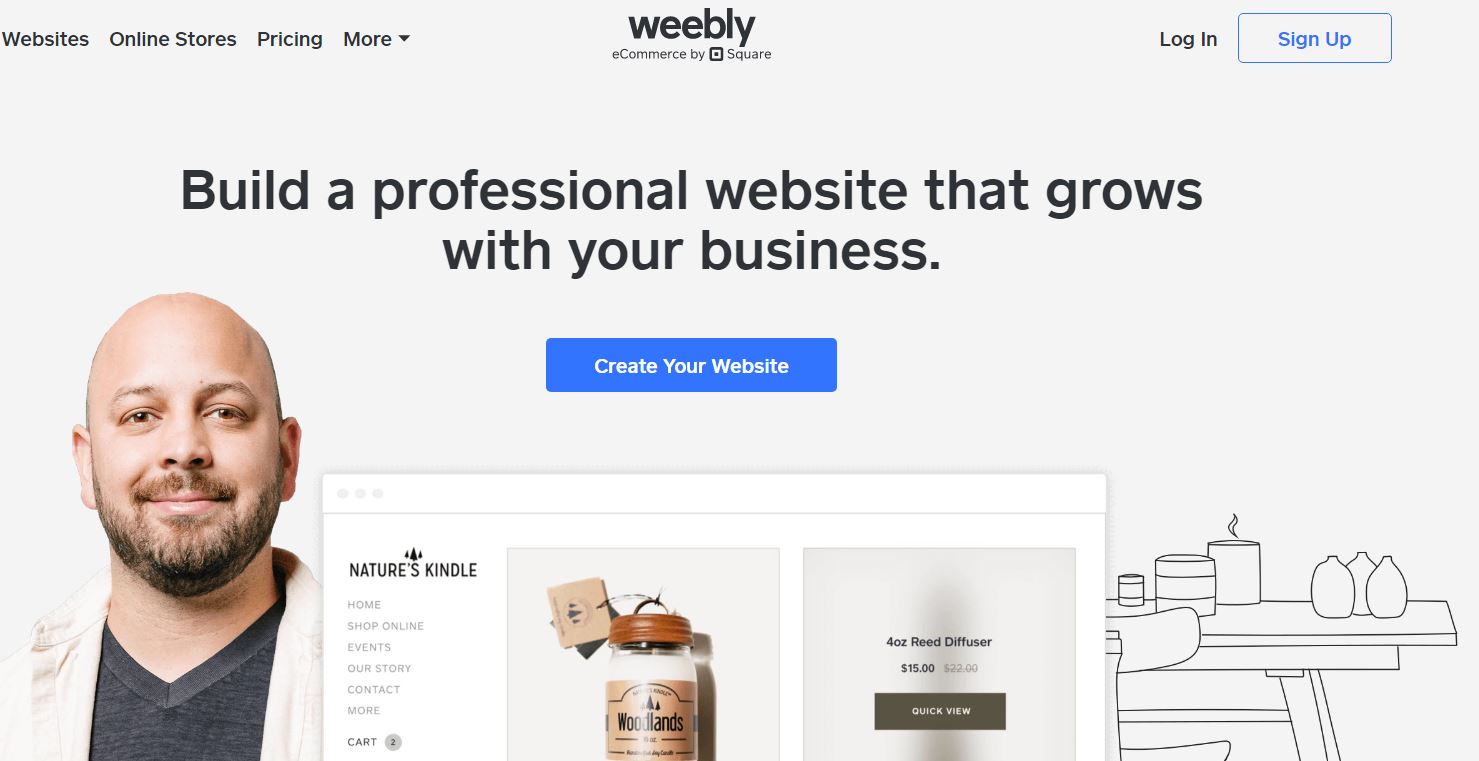 I decided to include Weebly in this article because it can help inexperienced content marketers learn the ropes of the trade. The platform has an excellent selection of website templates and a drag-and-drop builder that lets users arrange menus and other elements.
Weebly has built-in text and image editors equipped with tools you can use to enhance photos or format text. It features video and audio players that allow you to import multimedia files to your website. Its basic marketing features enable you to design emails, track the performance data or organize your contacts.
Pros
Affordable plans for websites and e-stores
The platform has an SSL certificate
Basic SEO tools
Weebly integrates with over 300 apps
Cons
Underwhelming photo editing options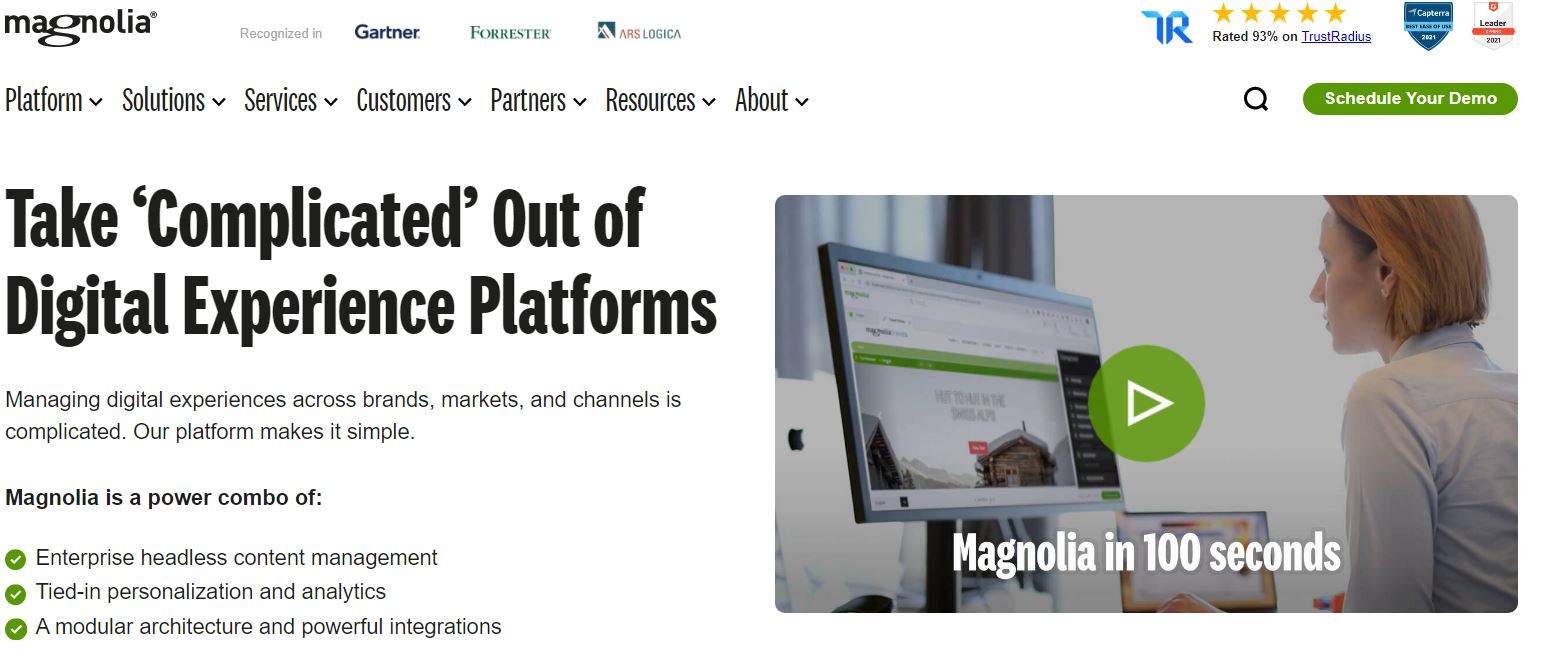 A headless CMS system like Magnolia is aimed at large companies that generate vast amounts of content daily. Its solutions target businesses, marketers, and developers who need a flexible system they can adjust to their needs. The software is equipped with a WYSIWYG editor that allows users to know how the content is going to look, even if they don't have access to the website's frontend.
Magnolia's IU pattern library features a wide array of frontend frameworks you can connect to the backend architecture you build using the Headless Accelerator technology and Visual SPA editor.
Pros
Content managers can distribute and reuse content on multiple channels
Excellent user tracking tools
Rich IU Pattern Library
Versatile deployment options
Cons
Marketers can't use Magnolia without support from the IT team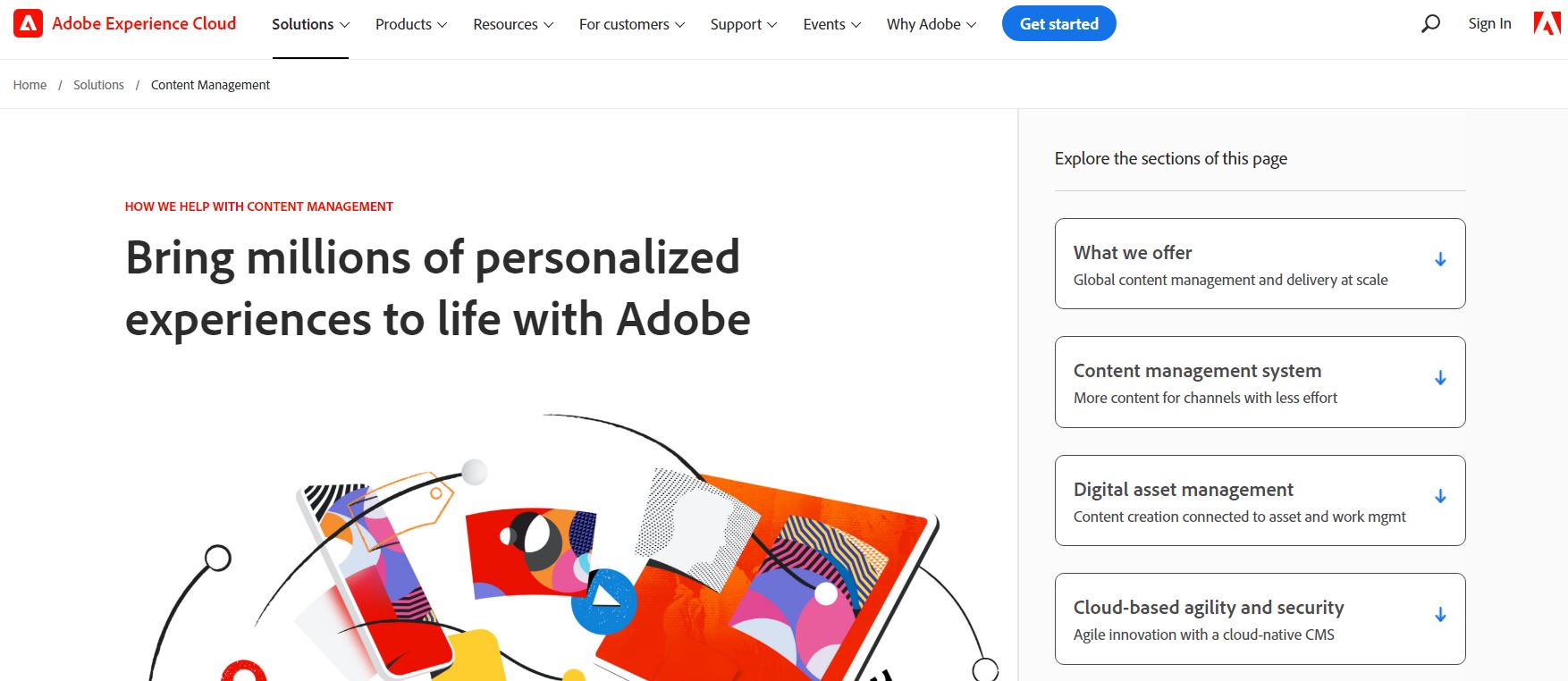 I see the Adobe Experience Cloud as one of the most flexible CMS systems ever created. Adding the Adobe Creative Cloud to the system enables design, marketing, and content management teams to collaborate on projects from start to finish.
Besides offering powerful editing tools, the cloud-based hybrid CMS has a variety of tools that enable organizations to design user experiences and customer journeys and automate the marketing process. Each app in the cloud can help companies to manage their content more efficiently.
Pros
The Adobe Experience Cloud has more than ten apps
AI technology can edit content
It helps organizations produce learning materials
It's suitable for headless and coupled content management solutions
Cons
The Adobe Experience Cloud is expensive

In addition to HubSpot's CMS Hub, you can get Marketing, Sales, Operations, and Service hubs that allow you to manage all aspects of your company's website. The CMS Hub has themes you can customize by uploading text, photos, and videos.
Built-in editors let you format text and retouch images before posting it, while its adaptive testing features enable you to launch several versions of the same content to determine which versions attract the most viewers.
Pros
The system has several free tools
CMS hub has a built-in CRM system
The software provides content hosting
Developers can build customized CMS solutions
Cons
All subscription plans are expensive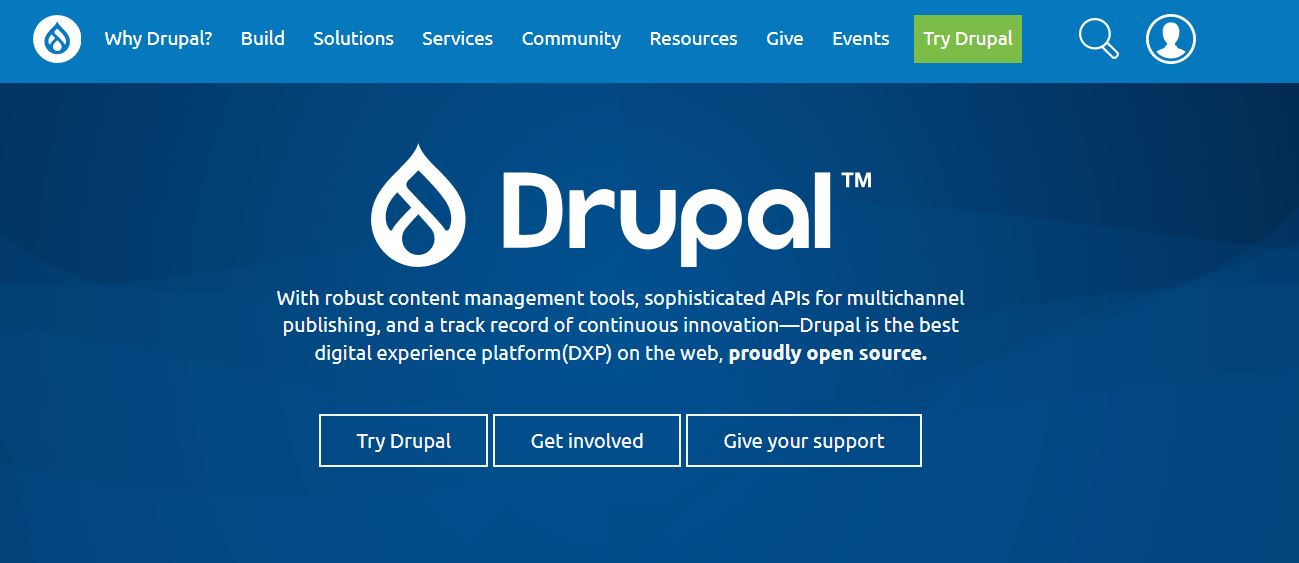 Media, healthcare, or fintech companies searching for a decoupled CMS should consider getting one of Drupal's solutions. In addition to industry-leading security standards, the software detects potential performance problems and keeps your content accessible at all times.
Its impressive in-line and WYSIWYG editors enable two or more team members to collaborate on a project and have an overview of the final product. Drupal lets you edit all content you publish on a website or deploy it on different channels.
Pros
It offers a broad spectrum of integration options
Multiple hosting options
Excellent content creation tools
Cons
It's not suitable for content marketers without coding experience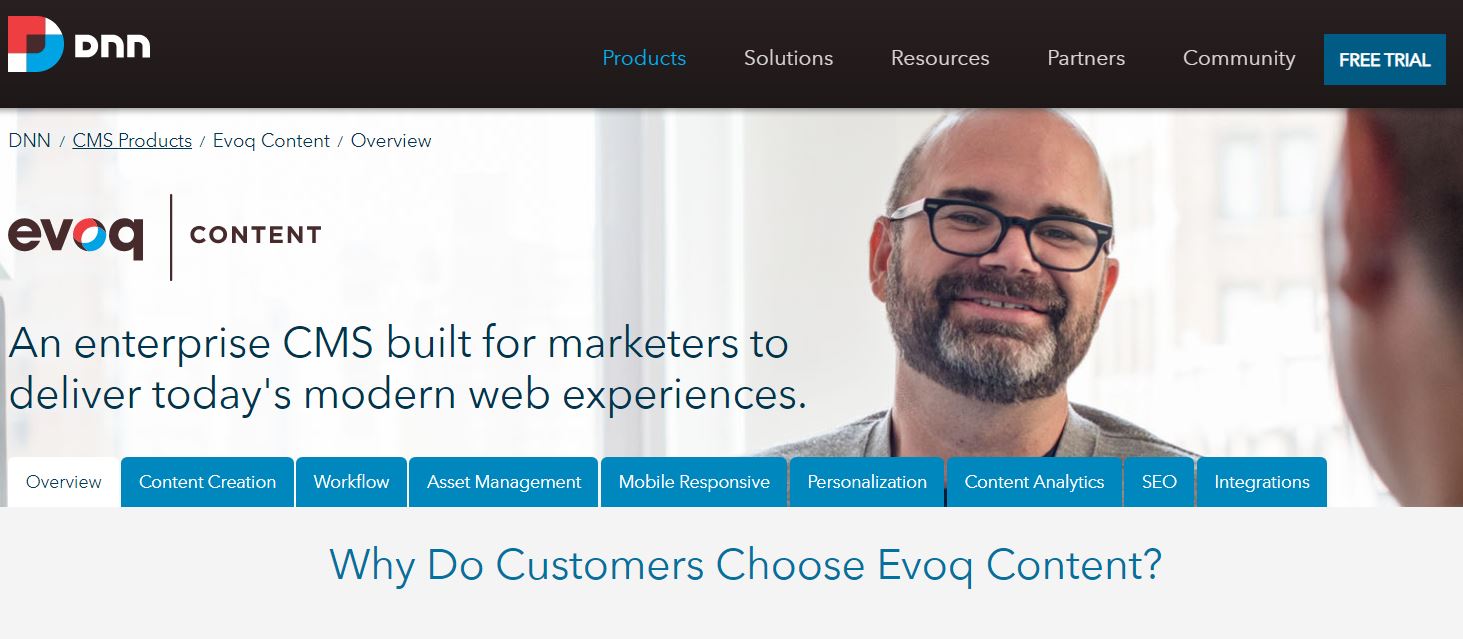 Managing digital assets, delegating tasks to different departments, and creating personalized content for website visitors based on their location or behavior are a few among countless reasons why Evoq Content is one of the best CMS systems for content marketing.
Making content with this software is simple because its editor has templates that let you choose how you want to position the text on a webpage. The CMS' image editor can crop and resample images automatically.
Pros
Version tracking tools make spotting edited or deleted content easy
Evoq Content has SEO tools
The analytics dashboard displays relevant data for all content
Users can share content on different websites
Cons
The image editor has only basic image editing tools
FAQs
Question: How much content can I keep on a CMS system?
Answer: Your website's backend architecture and its hosting service determine how much content you can store on the cloud or servers. Some systems offer storage solutions tailored for different subscription plans.
Question: Do CMS Systems have video editors?
Answer: These systems enable users to distribute video content, but they don't have video editing tools.
Question: What is the average annual downtime of CMS Systems?
Answer: Most systems have uptime between 99.5% and 99.9% of the time, which means that their annual downtime doesn't exceed the five-minute mark.
My Verdict: Choosing the right CMS System for your Content Marketing Strategy
The success of your inbound marketing campaign could come down to the tools you're using to format, publish, manage and analyze the content you're sharing on your website. So, if you're running a small promotional campaign to advertise your new online businesses, even the content management tools that come with Weebly can help you reach your goal.
However, I recommend using WordPress.org to upload and manage your content if you already have a WordPress website you'd like to promote. I think headless and decoupled solutions like Magnolia, Drupal, and Adobe Experience Cloud are excellent for large marketing agencies with high content outputs.
Read More: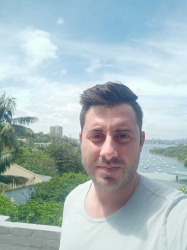 Latest posts by David Borgogni
(see all)