Recognized as one of the most popular CMS platforms for those that are building an online store, Shopify is currently used by 1.75 million sellers across 175 different countries. Its drag-and-drop platform makes it easy to build and customize your storefront, with the functionality necessary to support businesses of all sizes.
For those interested in creating a dropshipping business, the platform integrates with popular print-on-demand services like Printful, Printify, and Teespring.
As I have been reminded recently while building out an online store, the best online sales businesses create a recognizable brand. One way to do this is to build out a website that incorporates your brand colors, fonts, and other visual elements.
In this Shopify CMS guide, I will share the important features provided by Shopify as well as the limitations of this platform. This will help you to determine if the platform is the best choice for building and publishing your next website and online storefront.
Bottom Line Up Front
With over 100 themes available to choose from in the Shopify Theme Store and the ability to customize your site with the platform's drag-and-drop editor, I believe that Shopify is an excellent choice for first-time store owners and novice website builders.
However, the platform can be costly if you are working on a budget. A base fee is required to publish your website. But many of the features that are needed to easily operate and maintain an online store require an upgraded account or additional feeds. This may make it cost-prohibitive for those that are just starting out.
What is Shopify?
Shopify is a complete and user-friendly commerce platform and CMS platform that empowers business owners to create a website and online store to sell digital products, physical products, or services. Not only does this platform allow for the easy creation of a high-performing website, but it also provides the tools necessary to grow and manage your online business.
Even the lowest-cost plan offers the functionality and customization needed to publish a branded online store in any niche or industry. In addition to the standard features of a CMS platform, Shopify also provides inventory tracking, basic reporting, sales data, product sourcing, and other benefits to help you build and manage your online store. With hundreds of Shopify apps available, you can also expand upon the tools available with opportunities created by third-party developers.
Plans and Pricing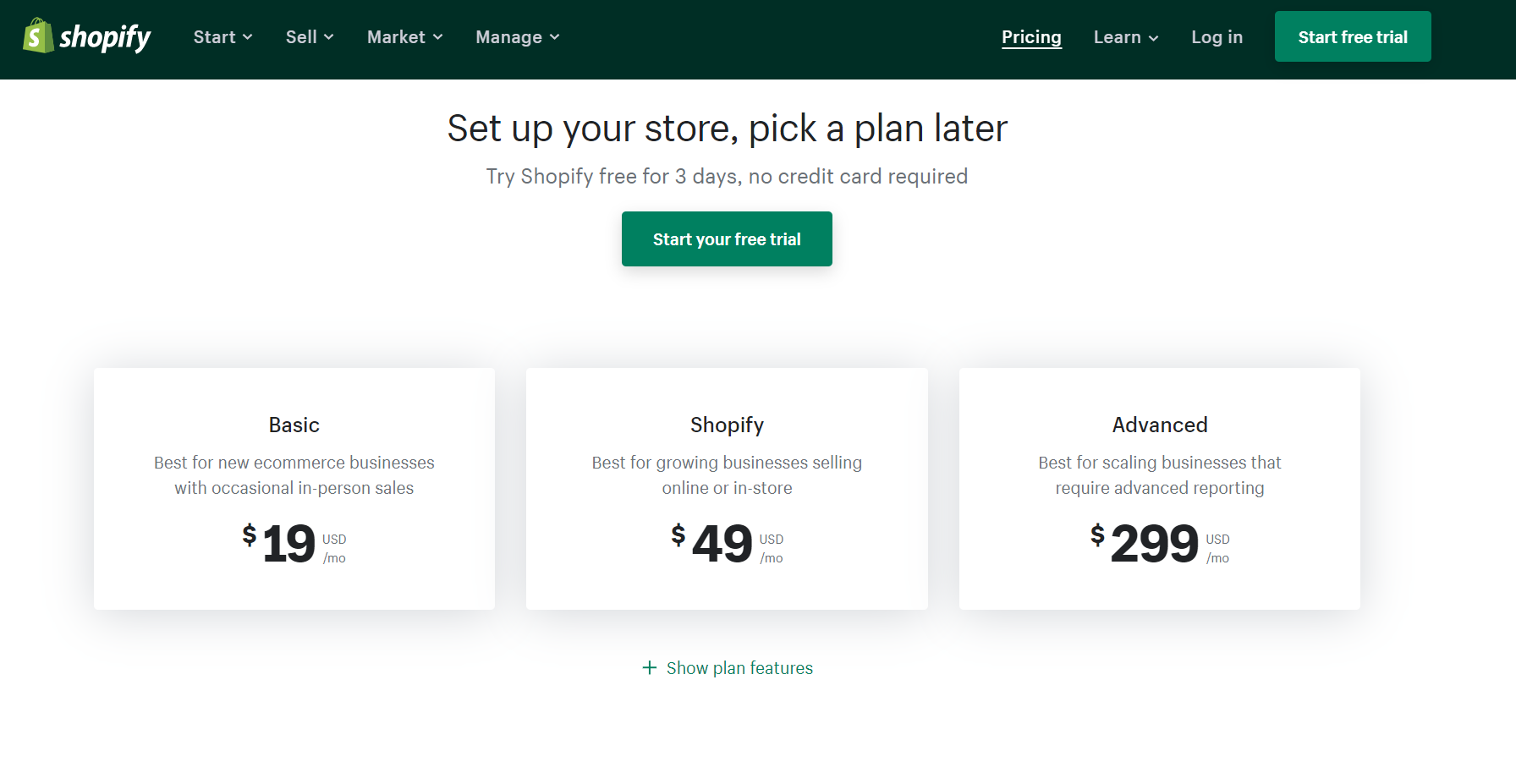 Shopify does not offer a free plan, but there is a 14-day free trial for those that are interested in experimenting with the platform and deciding if it is the right choice for your online business. This also allows you to better understand which features you will need to meet your needs, making it easier to select the right plan.
The Shopify plans that you can choose from include:
Starter: $7/month (selling only through social and messaging apps)
Basic: $38/month (new eCommerce businesses with largely online sales)
Shopify: $99/month (growing businesses selling both online and in-store)
Advanced: $389/month (those in need of advanced reporting options)
Larger businesses and high-volume merchants that require even more functionality and support may be interested in Shopify Plus, which starts at a cost of $2000 USD per month.
Shopify's Features
Sections and Blocks
When Shopify was first launched, the ability to customize your website was limited to just the basic content elements like the title, written content, and the addition of visuals. In 2016, Shopify introduced the Sections and Blocks.
Sections are used to create a layout. Each website template available in the CMS platform can include up to 25 sections. Each of the individual elements that you can add to your sections is called a block. This includes image collages, buttons, carousels, text, and single images. Sections can usually contain up to 50 blocks. But some themes will have limitations in terms of the sections and blocks that can be used. There are also some themes that have set sections or blocks that cannot be removed or altered.
These are drag-and-drop elements, making it easy to build out your website the way that you want it to look.
Branding and Personalization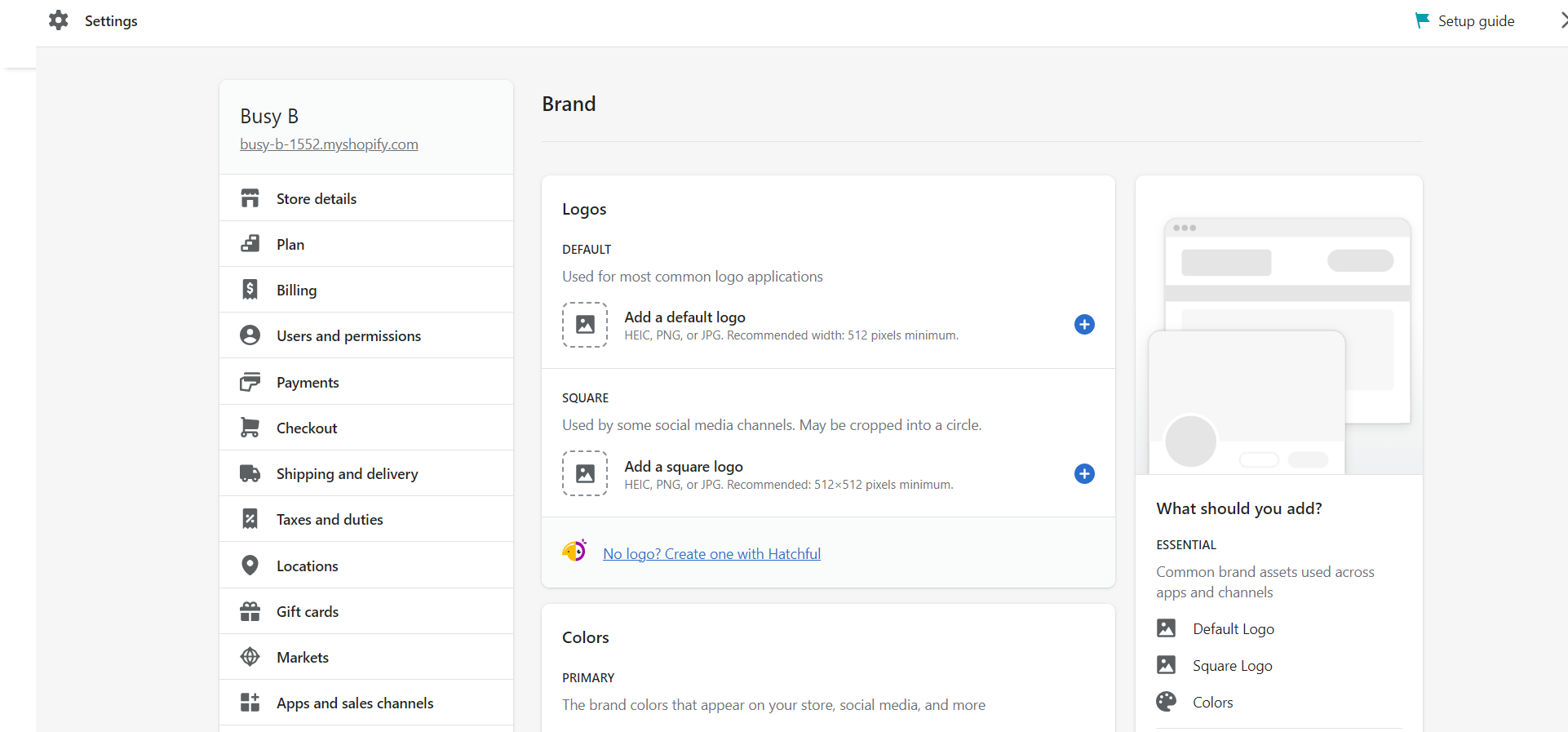 In addition to customizing the appearance of your website with sections and blocks, you can also add important branding to your website. This includes the ability to set the following brand elements:
Default logo
Square logo
Brand colors
Cover image
Slogan
Short description of your business
Social links
By working through each of these elements, you can create a recognizable website. This will help to improve brand recognition as well as to build the trust and authority needed to convert potential customers.
Shopify App Store
Another option to customize your website while adding valuable features is to add apps from the Shopify App Store. Similar to the ability to add plugins with WordPress, Shopify apps allow you to incorporate new functionality and options within your website.
This includes integrating social media platforms, adding page design elements, incorporating print-on-demand services, allowing for automation, and improving your overall business operations.
While some of the apps available were made by Shopify as optional features, many of the apps that you will find in the Shopify App Store are created by outside developers either to integrate with third-party websites and platforms or to provide functionality that they feel is missing.
Mobile-Friendly
The latest data reveals that approximately 54% of users logging onto the internet are doing so from a mobile device. This means that having a mobile-friendly website is essential for your business's success. While many CMS platforms will require you to make changes and adjust your website with mobile usability in mind, Shopify takes care of this for you.
To ensure that your website will show up properly when viewed on mobile, be sure to select a responsive theme during your website creation. This will allow the site to adjust to the best possible display on a tablet, smartphone, laptop, or desktop.
Import or Manually Add Products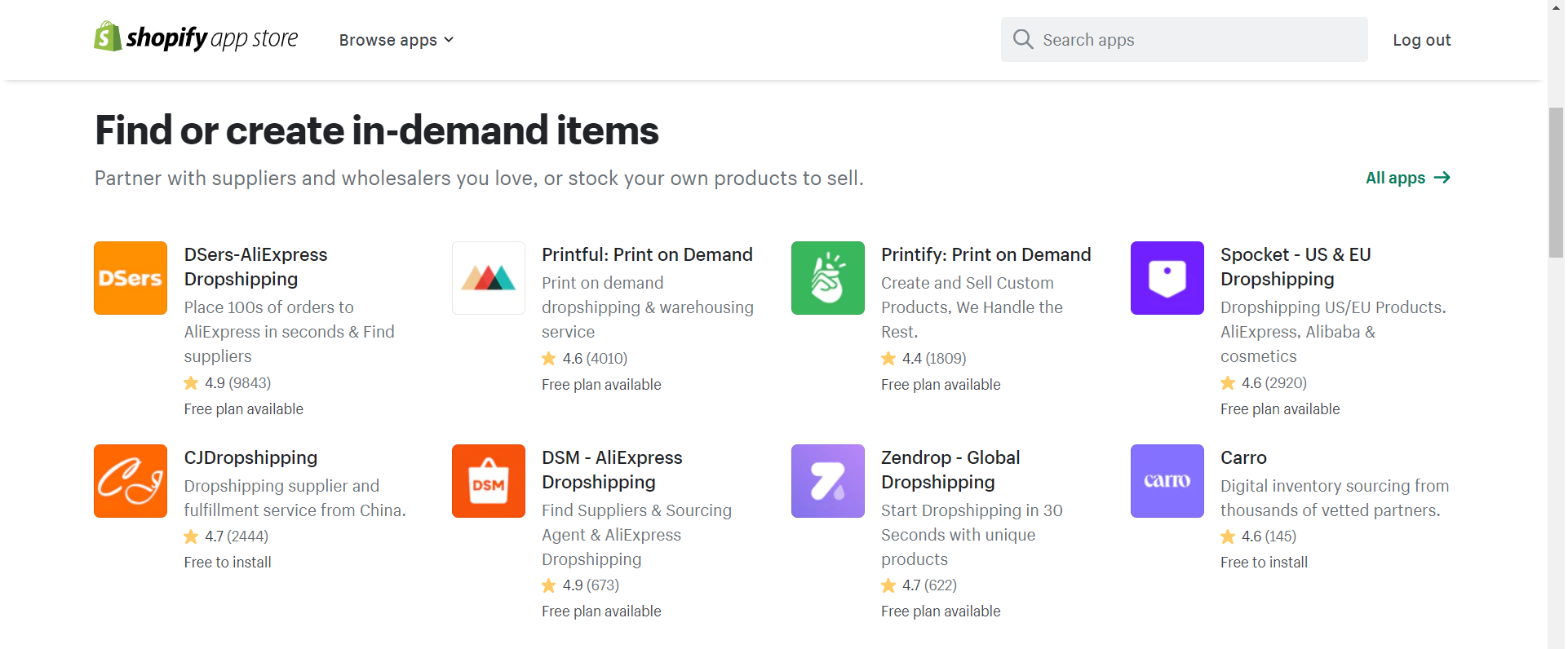 One of the most important steps in launching an online store is the ability to add products to the storefront for sale. There are two main ways that this can be done through the Shopify platform. This includes integrating your Shopify store with a print-on-demand service that will fulfill any sales or add your products directly into your store.
Print-on-demand (POD) has been gaining popularity in recent years due to how low the barrier to entry is for new business owners. Using a print-on-demand service greatly reduces the initial investment while eliminating the need to keep inventory. To import your products from your POD company of choice, install the corresponding app for the company that you are working with.
If you are selling inventory that you have on hand, digital products, or products that you are manufacturing, you have the option to add these items manually.
The product page is easy-to-navigate. Fill in your product information including a title, description, images or videos, pricing, inventory, and shipping details. On this page, you can also easily shift your product status from active to draft as needed.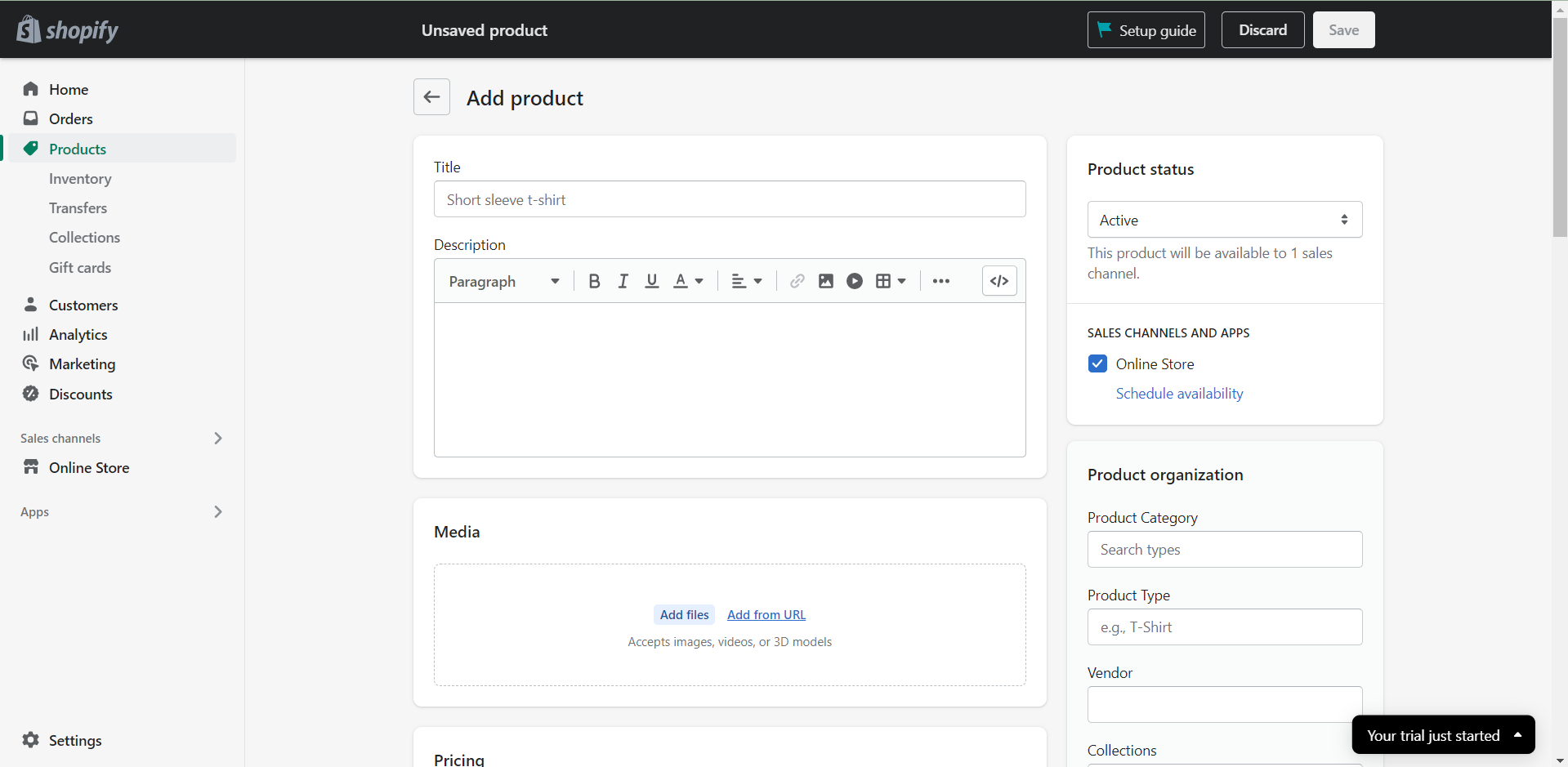 Digital Gift Cards and Discounts
Easily set digital gift cards for sale or issue a gift card to a customer for any reason with the click of a button. This is much easier to navigate and process than many of the other eCommerce options that I have worked with over the last 6 years in helping brands establish their businesses online.
In addition to creating and sharing gift cards, you can also easily set discount codes for special sales, incentives, or as part of collaborations.
Analytics and Reporting
Shopify offers built-in analytics to allow you to easily track the performance and conversion rates of your store. You can access this information in your Shopify dashboard. Select 'Analytics' and you will be provided with an overview for the day's performance.  You can change that date to any custom date range using the calendar button in the top corner.
From here you can view the following data for the timeframe listed:
Total sales
Conversion rate
Top products by units sold
Sessions by traffic source
Sales by social source
Top referrers by sessions
Sessions
Average order value
Sessions by location
Sales by traffic source
Top landing pages by sessions
Returning customer rate
Total orders
Sessions by device type
Sessions by social source
Sales attributed to marketing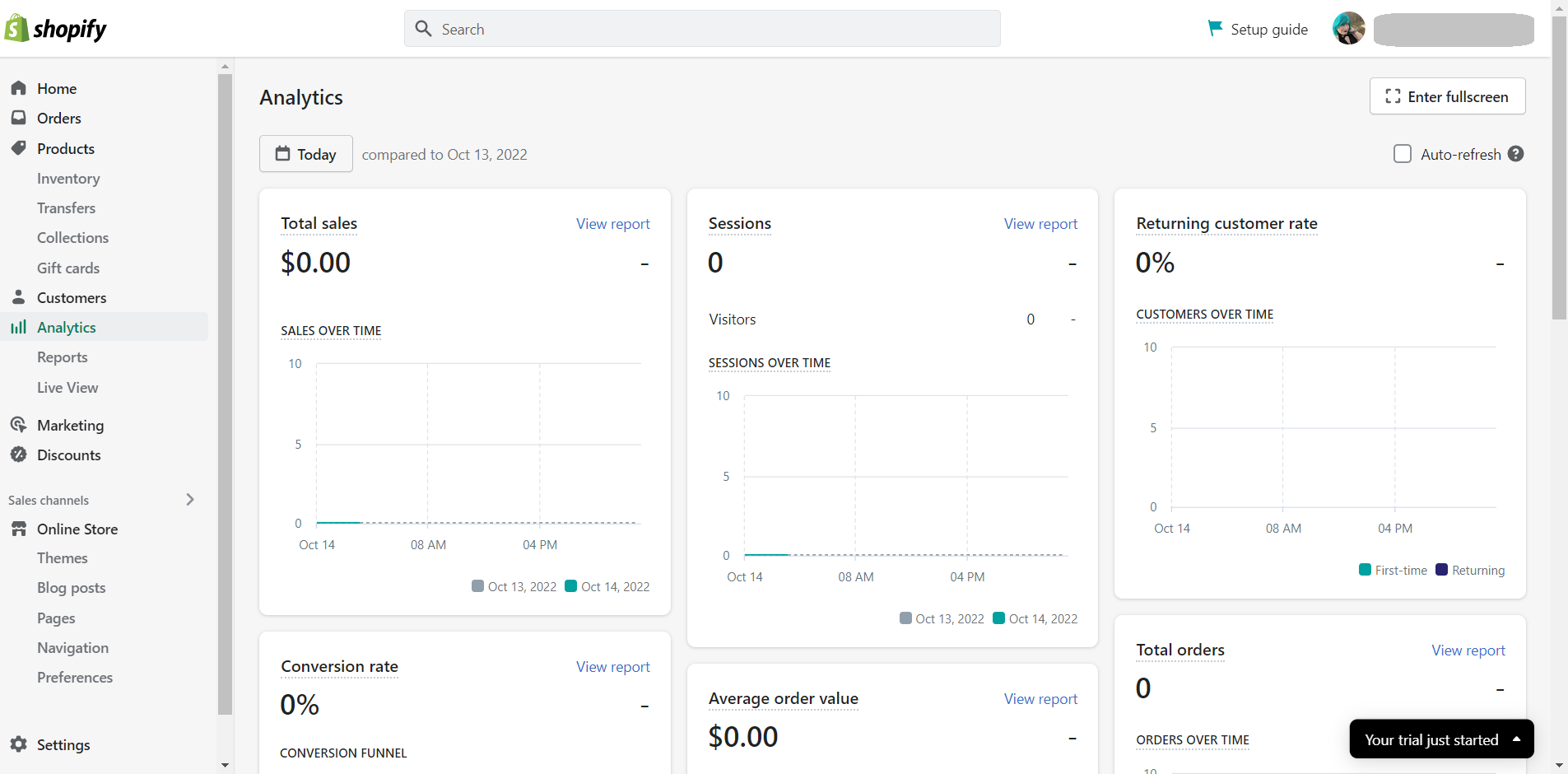 You can also access your data through the live view, which will update as new website visitors engage with your store. Additionally, you can create custom reports with unique and insightful ways of viewing this information over a specified time. This will allow you to better understand your store's acquisition, customer/potential customer behavior, business finances, inventory, marketing, and sales information.
FAQs
Question: Is Shopify easy for beginners?
Answer: One of the biggest selling points for Shopify as an eCommerce platform is the fact that it is one of the easiest options for beginners. The user-friendly editor uses drag-and-drop functionality to allow you to create and customize your site. There is also a wide variety of themes to choose from as well as the ability to edit the colors, fonts, and other elements of your site.
With over 8000 apps and tools available, you can connect your store with your social media platforms, collect product reviews, sync with your email marketing platform, or add a question-and-answer section on your product pages. The built-in website editor also offers access to free stock photos and other assets. In the event you find yourself stuck, the Shopify support team is available to you 24/7 via phone, email, and live chat.
Question: Is it better to use Shopify or WordPress?
Answer: Deciding on the best CMS platform for your new website starts with recognizing the main purpose of your site. For bloggers or small businesses that operate their actual business operations offline, WordPress provides everything that you need to create an eye-catching, search-optimized website. If paired with low-cost hosting, it can also be the best budget-friendly solution.
But, if you're trying to create an online store with the best eCommerce functionality, this is where Shopify really shines. It provides an all-in-one solution for business owners including reliable payment options, abandoned cart recovery, digital and physical product sales options, the ability to connect with outside sales channels, and access to the highly experienced Shopify team. None of this requires the addition of outside additions, eliminating the risk that you may be opening a door for hackers to access your site through third-party plugins.
Question: How much do beginners make on Shopify?
Answer: The earning potential on Shopify can vary significantly. A newer store that is just starting to market and establish its online presence may earn around $1000 per month. However, a dropshipper that has been able to reduce overhead and scale their business may be making $10,000 per month. Like a brick-and-mortar store, there is no limit to the potential of your shop.
Question: Does Shopify have a CRM?
Answer: The Shopify platform does not have its own built-in CRM, but it does have the ability to integrate with several of the most trusted eCommerce CRM solutions including HubSpot, NetSuite, Salesforce, and many others. But by integrating the two, you will have the ability to operate a fully functional online store complete with the tools necessary to track and manage your business operations and client data.
Question: How do I optimize my Shopify SEO?
Answer: Like many of the user-friendly CMS platforms, Shopify has built-in search engine optimization functionality to help ensure that your content is seen by and ranks on search engines like Google and Bing. But you aren't restricted to just the optimization that the platform provides automatically. There are steps that you, as a user, can take to improve your search performance.
When setting URLs, make sure that they are simple and readable. Organize all content into easy-to-navigate categories and make the navigation options easily accessible on your website to improve the visitor experience. When uploading images, use descriptive file names and alt text. This needs to be considered before uploading your photos as you can't change the file names in Shopify.
Finally, consider your linking strategy. This includes both the links coming to your store and the sites that you link out to. When adding a link to your content, be sure to use descriptive anchor text instead of generic phrases like "click here." Create high-quality content that encourages others to link back to your site or you can earn backlinks through activities like guest posting and guesting on podcasts.
Bottom Line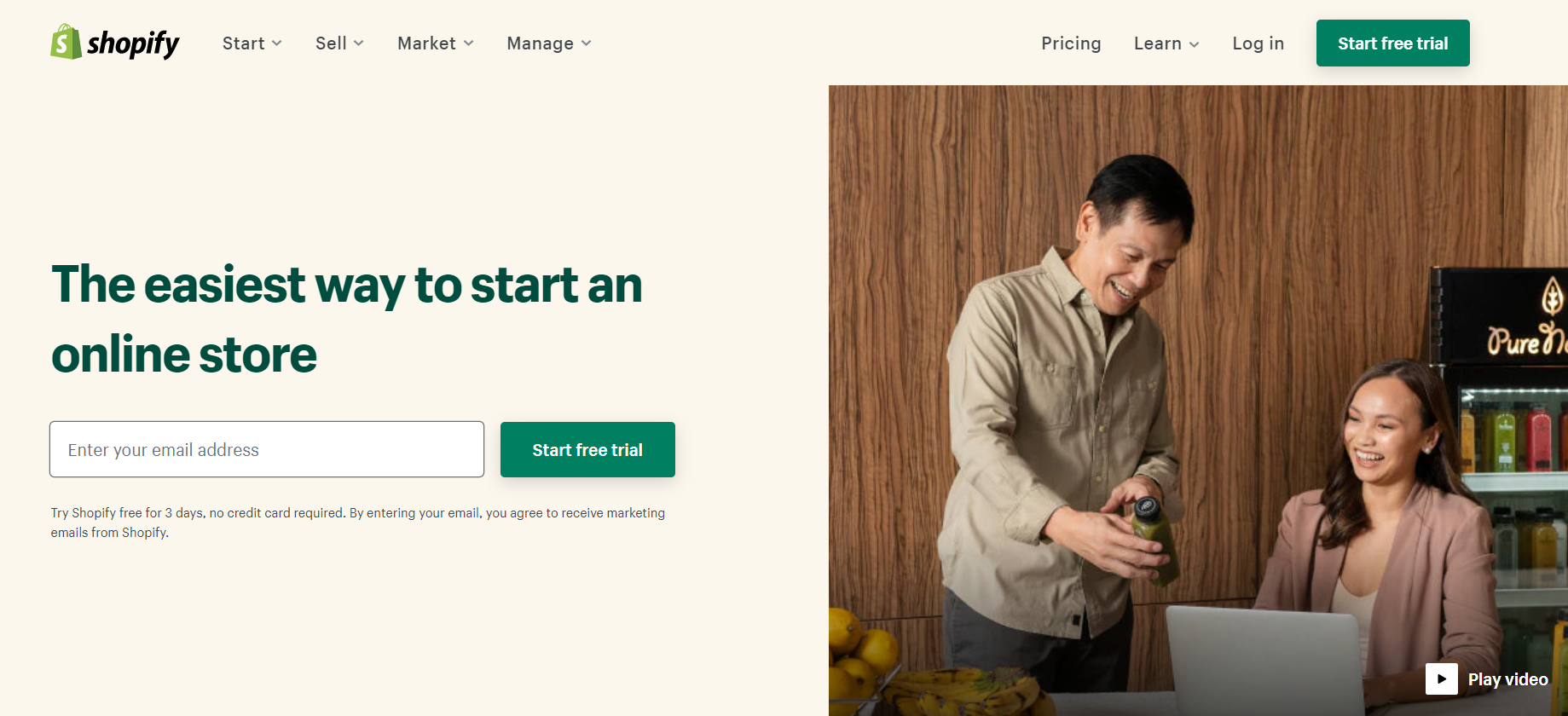 The Shopify CMS platform is a user-friendly solution for building a functional and professional-looking online storefront. For this reason, it is quickly becoming one of the most popular choices for CMS platforms among those interested in operating an eCommerce business.
While this platform offers many great tools for creating and operating an online store, it does also come with limitations. You will need to integrate a CRM platform like HubSpot to manage your customer data.
It also does not offer a built-in blog component which can complicate your effort to drive traffic to your store with a content marketing strategy. You can add a blog by using an app, but it is a time-intensive process that can be difficult for those that are less familiar with the technical side of their website development.
Before signing up for Shopify, take the time to carefully read through the features that are included with Shopify's base price. Some important tools like Shopify Payments are only available with added fees.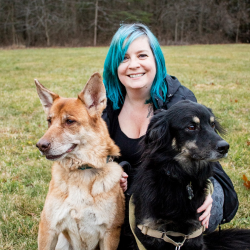 Latest posts by Britt Kascjak
(see all)