Writing with pen and paper is increasingly rare. In businesses, universities, and even some schools, it's more and more common for people to type notes on tablets, laptops, or even smartphones. Teams communicate via email and instant messaging services, and no one would think of handwriting a report anymore.
Needless to say, typing digitally comes with one significant benefit: Grammar checking. As many as one in four Americans grapple with everyday spelling.
So, if you find it difficult to polish your writing, rest assured, you're not alone! Even grammar experts benefit from writing suggestions that can smarten up their prose. Fortunately, Grammarly does all this and much more. 
Since I became a freelance writer over four years ago, I've used Grammarly. Spoiler alert: I can't recommend it highly enough.
It helps me perfect my spelling, grammar, and tone, within seconds. But best of all, it comes with an incredibly generous free plan that lets you see whether it's the right grammar software for you.
Beyond Grammarly's freemium version, there are two premium plans. That said, I'll dissect what each Grammarly pricing plan offers and what you need to know about its pricing.
There's lots to discuss, so grab a cup of java, and let's get started!
Bottom Line Upfront
I think Grammarly's free plan suits casual writers needing no more than a sophisticated spelling and grammar checker.  Still, to really improve your writing, I suggest upgrading to a premium plan.
All in all, Grammarly is feature-rich and easy-to-use software that I would recommend to anyone. However, similar, cheaper alternatives like the Hemingway editor exist if you're on a tight budget.
About Grammarly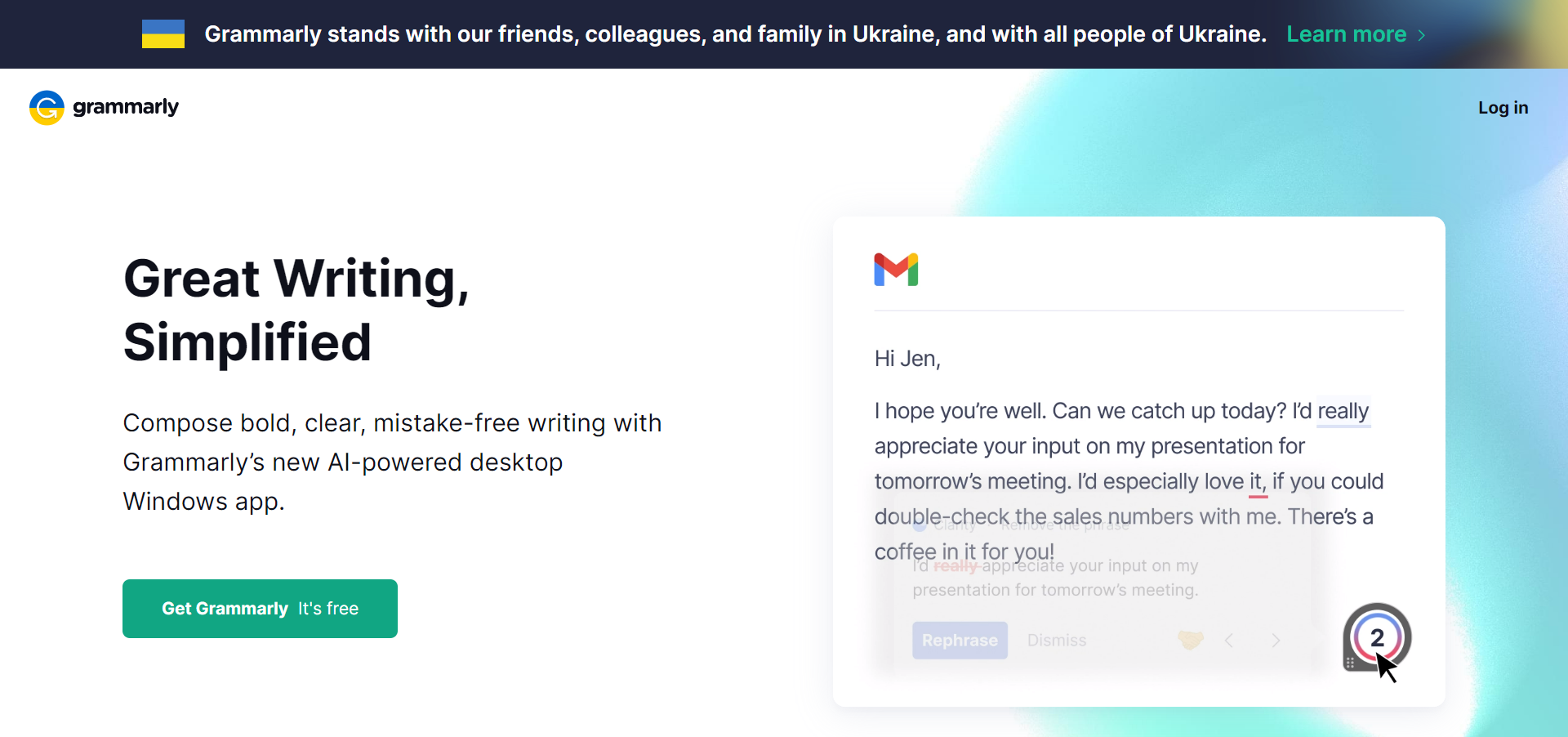 Grammarly has taken the web by storm since its founding in 2009. At the time of writing, over 30 million people and 30,000 teams rely on their real-time grammar suggestions across live chat platforms, email, Google Docs, Word, social media, etc., daily. 
Grammarly was one of the first to truly innovate on digital spellcheckers. It developed a simple tool that does so much more for everyday writers and professionals looking to sharpen their prose.
Its features are built on machine learning and natural language processing research to offer expert grammar assistance. 
The press has widely acclaimed Grammarly, including TIME and Forbes, winning awards as one of the world's most innovative AI companies and one of the top 100 software companies. Pretty impressive, right?
A Quick Overview of Grammarly's Pricing Plans
Before I dive into the nitty gritty of Grammarly's pricing structure, here's a quick summary of its pricing plans:
Free: 

Provides basic writing suggestions, tone detection, and spellcheck

Premium: 

For $12 per month, users benefit from suggestions for better clarity in their writing, vocabulary recommendations, and tone improvements. 

Business:

 For $15 per member per month, you unlock features explicitly designed for teams, organizations, and enterprises.
On top of this, Grammarly offers a few discounts on its paid-for plans. But, I think it's also worth noting that although you can use Grammarly's free version indefinitely, Grammarly doesn't offer a free trial to test its premium features.
That said, there's a one-week money-back guarantee that you could utilize.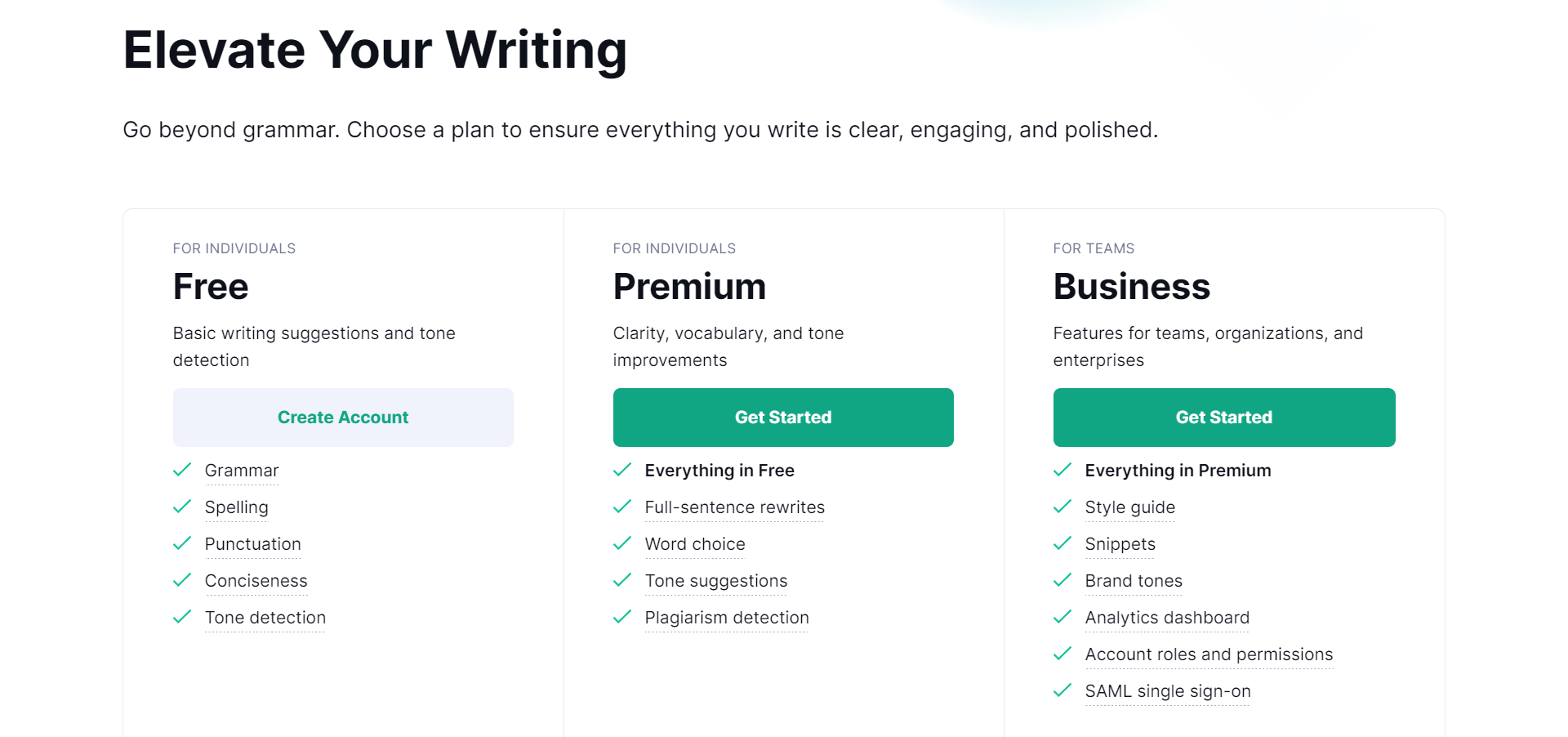 Grammarly Pricing: Free vs. Premium vs. Business
Now that I've covered the basics let's take a closer look at what each Grammarly plan includes. Unless stated otherwise, the pricing below is based on annual billing (the lowest price available).
The Free Plan
As its name so aptly suggests, this Grammarly plan is entirely free. There's no limit on how long you can use Grammarly's freemium version. To hit the ground running with this package, you must create a Grammarly account – no credit card info is needed.
The free plan provides basic writing suggestions as well as tone detection. The latter helps you understand how your writing might come across. I.e., is it optimistic? Formal? Friendly? Aggressive? This feature works wonders for ensuring you don't strike the wrong tone in, say, for example, an important email.
On top of this, the free plan comes with a basic spell and grammar checker to help polish your spelling, punctuation, and grammar. It also checks for conciseness and suggests words that might be able to be taken out of a sentence.
Lastly, the free plan comes with enterprise-grade privacy and security.
Who Is It Best for?
I think that Grammarly's free plan is an excellent tool for casual writers and employees that want to eradicate typos from their writing and upgrade the quality of their prose.
It catches simple mistakes and helps you finetune the tone of your writing. This is all you need to sound better on social media and seem more professional over email.
However, the free plan doesn't offer much assistance in improving your academic writing. Namely, it doesn't provide full-sentence rewrites, tone suggestions, or formatting suggestions. It also doesn't offer a plagiarism detector, which is immensely helpful when writing academic papers.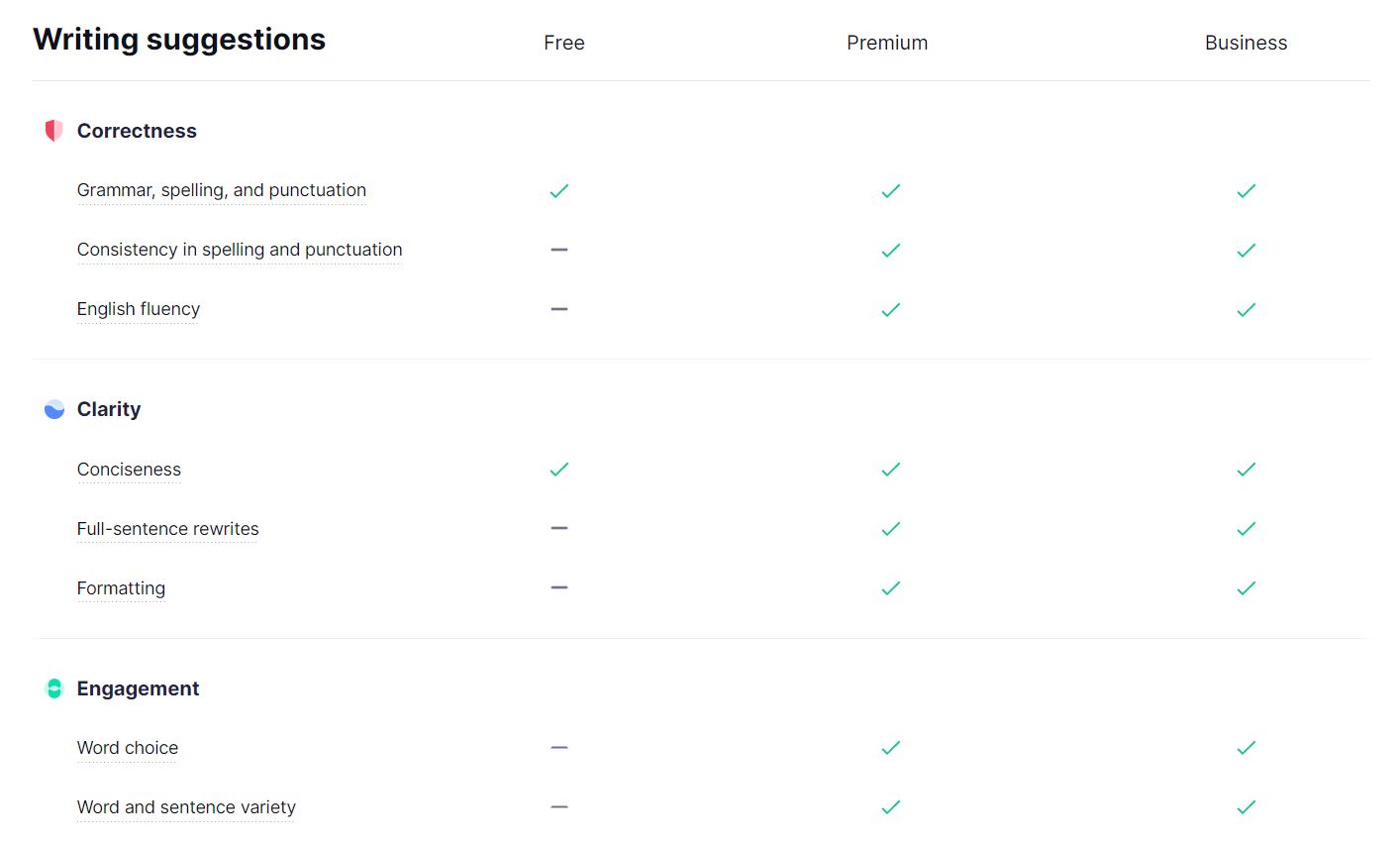 The Premium Plan
Grammarly's Premium plan is available for $12 per month and is intended for individual users.
While the free program supports grammar checks for everyday messages and writing, the Premium plan unlocks tools to improve your writing for bigger, more professional projects. 
For instance, it introduces consistency checks for spelling and punctuation to ensure you stay true to your chosen format. It also checks for English fluency, making it a valuable tool for bilingual users wanting to improve their grammar. 
On top of that, the Premium plan suggests full-sentence rewrites rather than just parts of the sentence (that you get with the free plan). It also offers help with formatting. For example, it suggests where bulleted lists and page breaks could enhance your writing.
Another Premium plan feature is its 'engagement' check. This assesses your vocabulary choices for repetition and prompts you to use different words and sentence structures.
The premium plan also comes with plagiarism detection, which is incredibly useful for anyone publishing blog posts and other website content. Posting unoriginal content isn't only unethical, but it will also harm your SEO efforts.
Ergo, this checker is certainly worth using to ensure you publish the freshest possible content. 
This pricing plan also does much more to improve your tone. For instance, you can choose to receive suggestions to sound more:
Confident

Friendly

Diplomatic

Constructive

Sincere

Formal
Finally, it even provides suggestions for more inclusive language. This feature is beneficial if diversity and inclusion are essential to your brand because it helps you weed out any inadvertent bias and prejudice from your writing.
Who Is It Best for?
I think the Premium plan is for anyone serious about taking their written work to the next level. It's perfect for optimizing important business emails, writing academic essays, website content, or prose. In addition, it offers more support for non-native English writers.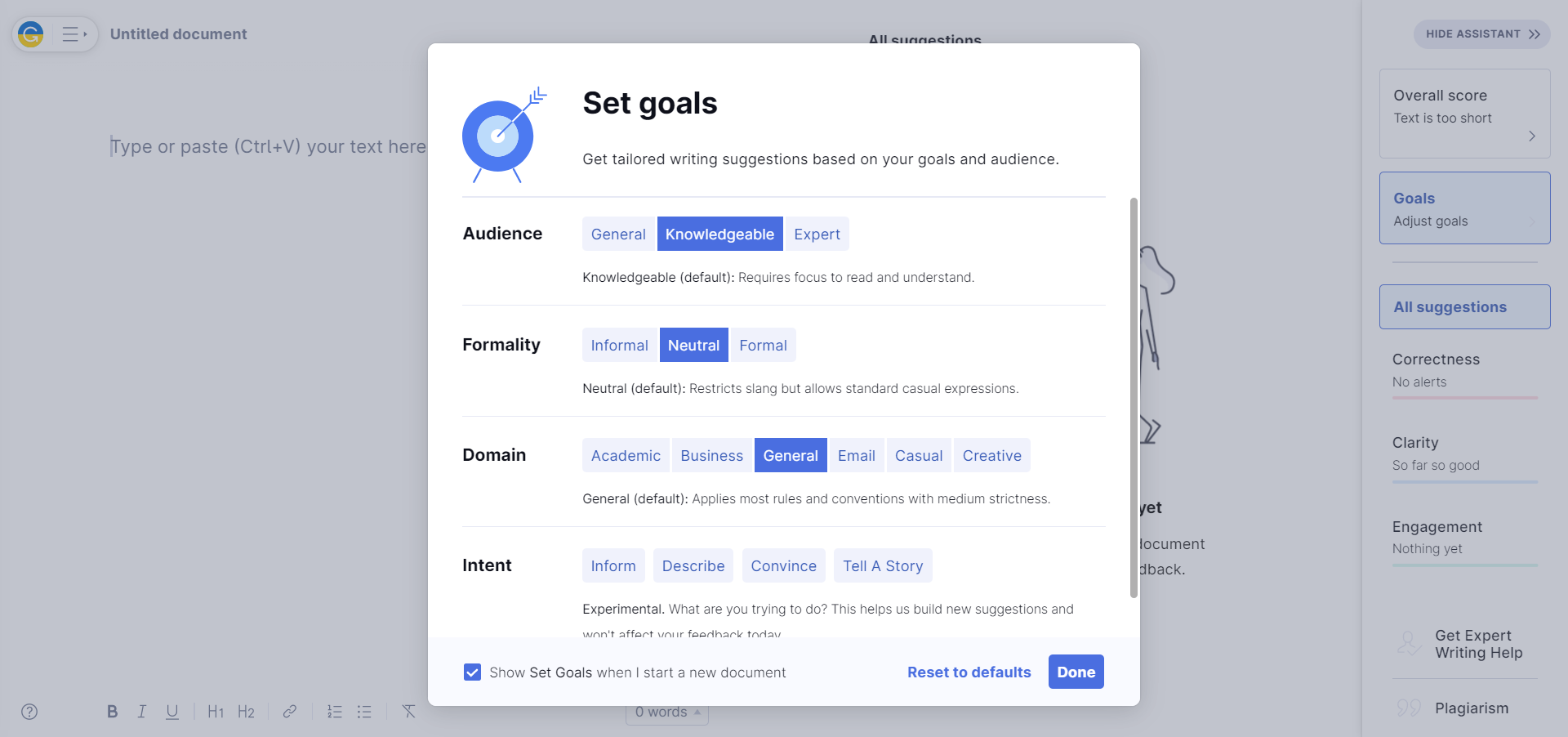 The Business Plan
The Business plan usually costs $25 per member per month if you pay on a month-by-month basis. However, teams of three and up can opt into annual billing to benefit from a reduced cost of $15 per user per month.
This plan is intended for teams and organizations to collaborate on writing together. On top of everything included in the Premium plan, this package unlocks a style guide, which helps point team members toward cohesion.
For example, it ensures your team uses the same terminology for specific features or names and adheres to your brand's tone.
You can also create and insert reusable snippets. These could include phrases, sentences, or entire paragraphs to help teams save time when repetitive information needs to be included in different bodies of text.
Finally, the Business plan comes with an analytics dashboard. You can track how you and your team have improved their writing over time. For example, it monitors how many issues were detected in your team's writing since they started using Grammarly and shows improvement over time.
Who Is It Best for?
As per the plan's name, the Business plan is suited for businesses of any size. It's an excellent tool for establishing a consistent brand voice. 
The Grammarly Keyboard
At this point, I want to highlight that Grammarly doesn't offer a fully-fledged mobile app. Still, suppose you wish to benefit from quick spellchecks and tone detection while writing text messages or social media posts. In that case, you can install the free Grammarly Keyboard. 
The tool is available for both Android and iOS. It proposes punctuation, better word choices, and spell fixes as you type. 
Like the desktop version:
Information boxes pop up explaining why your word usage might be wrong

Offers synonyms to improve your vocabulary

Helps you write more concisely
But, it's worth noting that some users have described the app as very slow and buggy in a lot of places.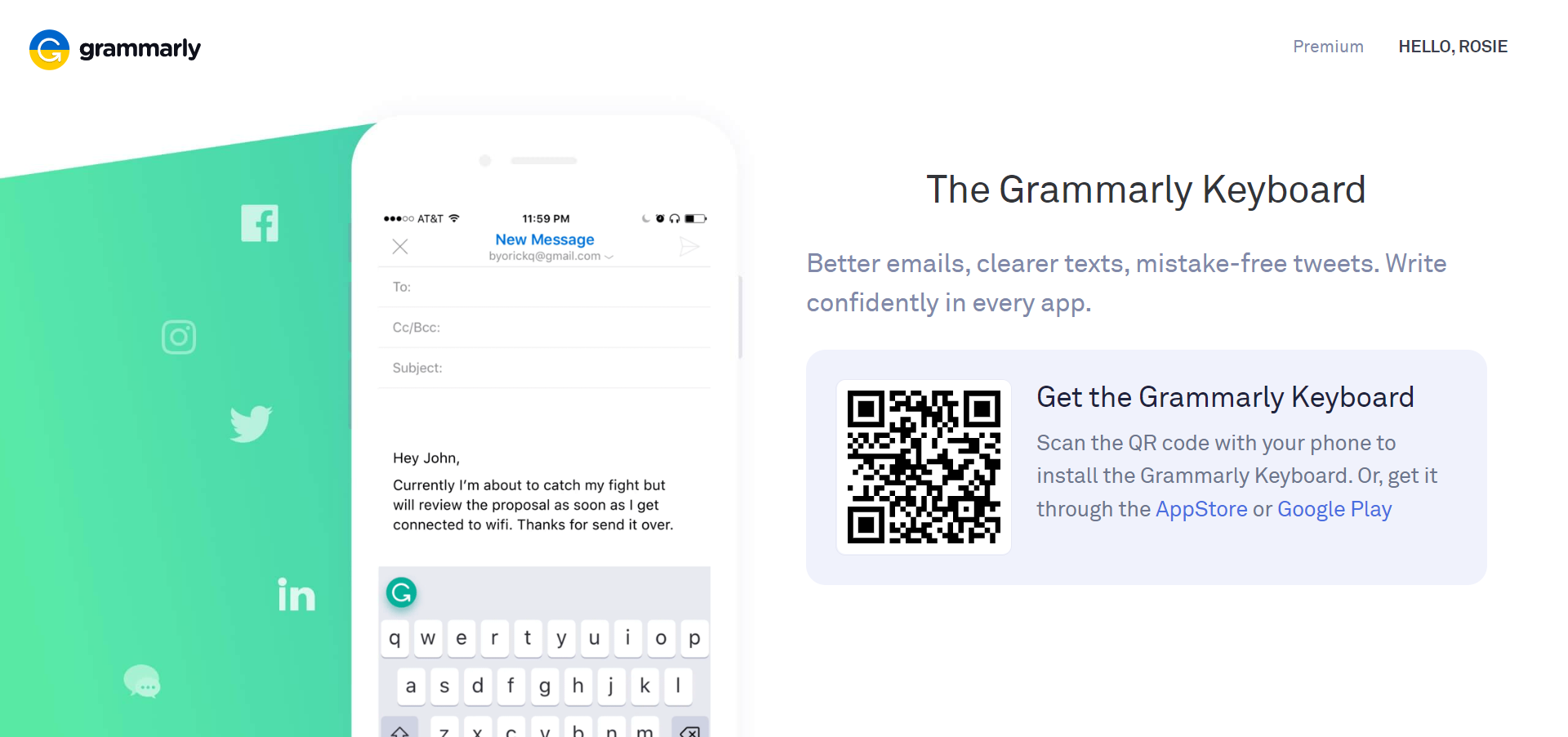 Can I Get Discounts on Grammarly Pricing?
Yes!
For starters, there's a volume discount if you opt for annual billing for three or more Business plan members. Prices are as follows:
3-9 seats cost $15 per user per month

10-49 seats cost $14.50 per user per month

50-149 seats cost $12.50 per user per month
Discounts are automatically applied when you checkout. 
At this point, it's worth noting that if you have more than 150 members needing access to Grammarly, you can contact their sales team to negotiate a more significant discount.
Grammarly also offers discounts to educational institutions. Students especially benefit from Grammarly's plagiarism checker and the fact that it helps them articulate themselves more clearly. Over 3,000 academic institutions already partner with Grammarly.
Discounts are based on volume if you're looking to purchase Grammarly for an educational group, like a class, club, or your whole institution.
Grammarly for Education stems from the Business plan, so it has the same Enterprise features like single sign-on, brand style guides, and an admin panel.
Does Grammarly Offer a Free Trial?
Grammarly's free plan is a fantastic resource. However, it's harder to try out Grammarly's premium features. While there's a one-week money-back guarantee, a free trial isn't available.
This means you have to sign up for a paid-for plan and remember to cancel your subscription before the seventh day ends. Otherwise, you'll be charged. 
That said, I think it's worth remembering that the tool is straightforward. Suggestions happen automatically without having to click around a dashboard. As a result, many features are self-explanatory. They don't require much time with them for you to understand their usefulness.
Grammarly's Additional Services
Grammarly offers an 'Expert Writing' service if you need additional help with your writing. Here your document is checked by a Grammarly professional for grammatical correctness and conciseness. 
Please note: This service is only available to paying Grammarly users. 
Pricing is dependent on whether you want the document revised for just grammatical correctness or for correctness and clarity. That's as well as how quickly you need the document to be proofread, edited, and returned to you.
For example, a document only checked for correctness will cost you:
$0.159 per word to be returned in 30 minutes

$0.049 per word when returned in 24 hours

$0.039 per word when returned in three days.
Alternatively, if you have the time to wait for longer, a 1000-word document would cost you $39.
You can place an order for expert writing help from within the Grammarly Editor or via the "Get Expert Writing Help" button in the Microsoft Office toolbar.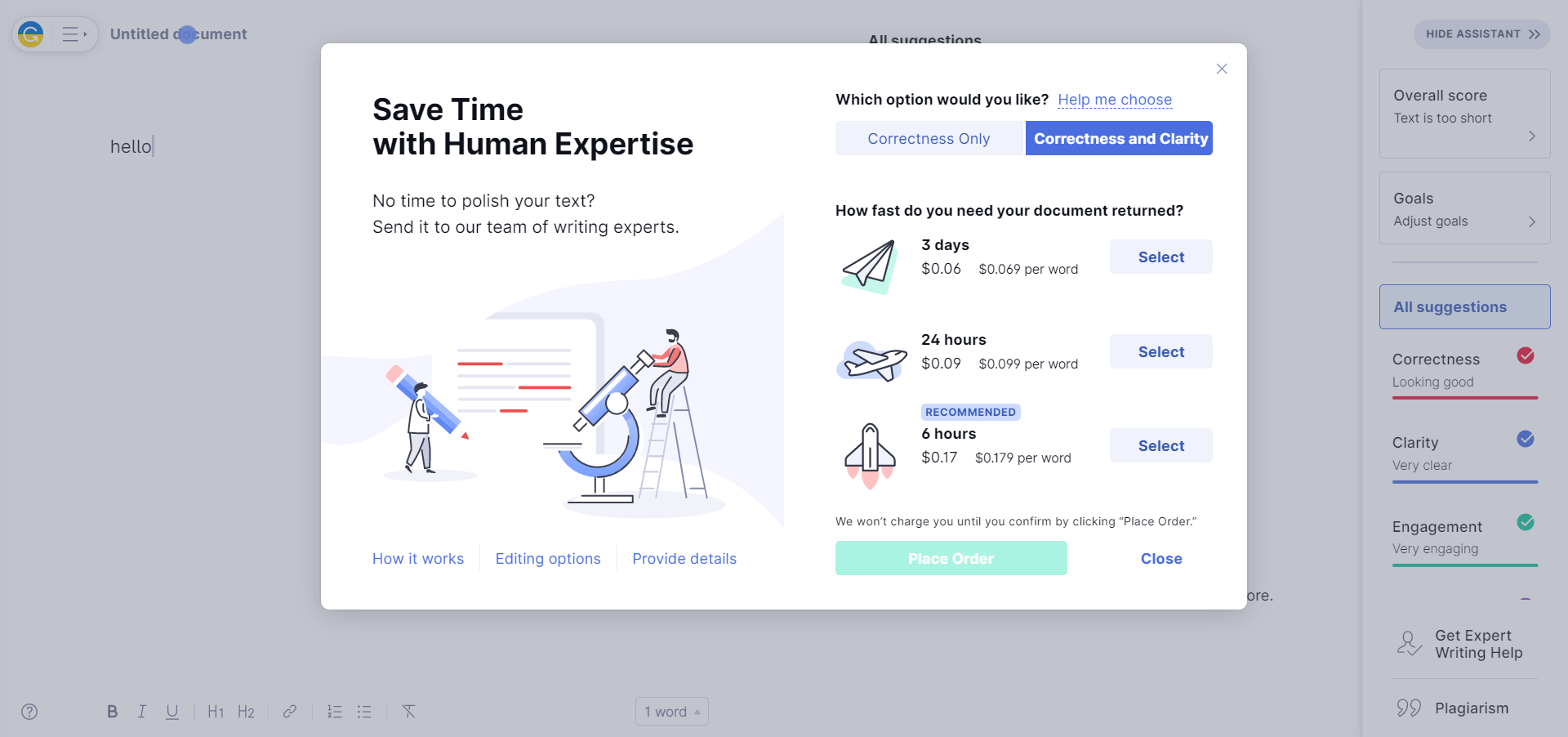 International Grammarly Pricing and Taxes
How is pricing affected if you're looking to use Grammarly but you're not based in the US? In short, payments made in your currency are converted into USD at the current exchange rate.
In addition, Grammarly also implements taxes for their services to comply with the laws in the countries where users access Grammarly. Depending on your billing location, this may mean additional charges for sales tax, VAT, GST, etc.
How Does Grammarly's Pricing Compare to Its Competitors?
Suppose Grammarly's pricing is out of your budget, or you're not entirely convinced about its value for money. In that case, you might want to look into similar alternatives. For one, you can check out the Hemingway Editor. This is a free grammar checker that also provides conciseness suggestions. 
Other alternatives include:
Outwrite: 

You can set rewriting goals and get language support for French, Spanish, and English. You can also enable and disable suggestions at will. There's a free plan; after that, premium plans start at $7.95 per user per month.

 

Wordtune: 

The free plan offers ten rewrites per day. Changing the wording of one sentence amounts to one rewrite. Premium plans start from $9.99 per month. Here, you can shorten and expand the length of your text, adjust casual and formal tones, and receive premium support, none of which is possible with the free plan.

ProWritingAid: 

This writing and editing tool boast features similar to Grammarly for improving sentence structure and vocabulary. However, there's no mobile app, whereas at least Grammarly offers its Grammarly keyboard app. The tool is available for a one-time fee of $240 or $5.83 per month (based on annual billing).

Ginger: 

Ginger doesn't just offer grammar checks and writing improvements but also text translations into 60 different languages. It also analyzes your tone for text engagement and passive voice. Ginger has a free plan, and premium features are available starting from $12.48 per month on annual billing.
FAQs
Question: Does Grammarly have an affiliate program?
Answer: Suppose you're looking to earn money with Grammarly or for a way to pay for your own subscription. In that case, it's worth checking out the platform's affiliate program. Top-performing affiliates get cash bonuses, increased payouts, and exclusive discounts.
Question: Which browsers and programs are Grammarly compatible with?
Answer: Grammarly works almost anywhere on the web, as well as offline. You can use it with the following internet browsers via a browser extension: • Chrome • Safari • Firefox • Edge Grammarly also works for Google Docs and MS Office and can be downloaded for Windows, Mac, iPhones, and iPads.
Question: What support does Grammarly provide?
Answer: Grammarly offers an online help center on its website. Here you'll find articles covering the account basics, features, billing and subscription, tips and tutorials, and more. This includes a complete user guide and an exploration of what Grammarly can do for you. Alternatively, you can contact the team in-person via support ticket. You can also reach Grammarly on social media via Facebook, Instagram, Twitter, and LinkedIn.
Question: Which payment methods does Grammarly accept?
Answer: You can pay for Grammarly via credit card, PayPal, or debit card. Unfortunately, they don't accept phone payments, money orders, or personal checks.
Question: What do people say about Grammarly online?
Answer: Grammarly enjoys good reviews across a wide range of online review platforms. For instance, on Sitejabber, 2021, reviewers rated it an average of 4.4 stars, highlighting its helpfulness with school projects and recommending to try premium for at least a month. However, some reviewers begrudge the company for poor customer service. For example, there's no phone or live chat support, and support can sometimes be slow. Elsewhere, PC Mag rated the software 4 out of 5 stars, and on Trustpilot, it achieved a 4.6 rating from over 6,382 reviews.
Grammarly Pricing: My Final Thoughts
Grammarly is one of the most popular grammar and spellchecking tools today. With tone detection, engagement checks, plagiarism checks, and sentence restructuring, I think we can all agree that it offers an impressive range of features to help improve your writing.
While Grammarly offers a generous free plan for everyday use, its true potential is unlocked with its Premium plans. Unfortunately, a convenient free trial for these premium features isn't available. So be prepared to sign up for monthly billing at a steeper price to try the tool at length.
Annual billing presents significant savings, so ask yourself whether you can commit that long to making the pricing as affordable as possible.
That said, cheaper alternatives like ProWritingAid and Outwrite are available, so I recommend shopping around while giving Grammarly's free version a go before you settle on anything. Then, let us know in the comments below what your favorite grammar checker is and whether Grammarly's pricing convinces you of its value. Speak soon!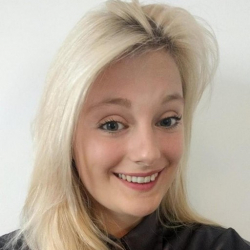 Latest posts by Rosie Greaves
(see all)