If your business is tied to a physical location, then your goal is to reach those within a set region. This is a challenge that I have encountered multiple times as a content marketer assisting small business owners in my area.
One of my favorite long-term marketing clients is a small-town concert band. They use content marketing both to attract new musicians to join the group as well as to find clients that are interested in hiring a band to perform at their events. Of course, this only works if the musicians and clients in question are close enough to the band itself.
By targeting their content marketing efforts to their specific geographic area, we can put their website in front of their ideal audiences. After all, no business wants to invest its marketing budget in reaching people who are uninterested or unable to make a purchase!
In this local business content marketing guide, I am going to walk you through how to leverage content marketing to introduce your products and services to potential customers in your area.
Bottom Line Up Front
While most business owners associate content marketing with a global effort online, you can create an effective local business content marketing strategy. This requires attention to your local demographics, the use of marketing segmentation across platforms, and an SEO strategy utilizing location-focused keyword targets. The better you know your target audience, the more accurate your local targeting efforts will be.
What is Local Content in Marketing?
Content marketing is a form of online marketing where businesses use online content such as blogs, videos, and social media posts to attract the interest of potential customers. Local content marketing means creating content that specifically appeals to those in a targeted geographic area.
There are many factors to consider when ensuring that your content is going to perform for a particular location. Some examples include:
Weather/temperature-related content
Cultural references
Local holidays, festivities, and events
Trends unique to the area
Location-specific language and slang
For businesses that are tied to a physical location, such as those with a brick-and-mortar storefront, this allows you to focus on reaching those that are more likely to become paying customers. It's also a great way to increase visibility and establish your brand's reputation among your local community.
5 Opportunities to Leverage Local Content Marketing for Your Business
Optimize Content for Regional Search Queries
One of the first areas that you can focus your local content marketing efforts on is your website's performance on search engines like Google and Bing. SEO changes take time to be picked up and indexed by Google and the other search engines, so this is a long-term focus.
While traditional SEO focused on identifying keywords and phrases that are associated with a specific niche or topic, local SEO also incorporates regional considerations. For example, instead of searching for the "best beef dog treats," a potential customer may search for the "best beef dog treats in Calgary." This helps you reach those that are interested in what your business offers specifically in your area.
When conducting keyword research, you may notice these regional phrases often have a lower search volume. That's okay!
Rather than focusing on the larger key phrase and competing with a global market, this allows you to focus your efforts on reaching just those that fit into your target audience – potential customers that are in your geographical area. With less competition for these phrases, they are easier to rank for.
If it's relevant in your content, include references to local attractions and events. This will help to make it clear that you are based locally while also allowing you to connect with your readers as a local yourself.
Incorporate Local Events and Activities Where Possible
Is your town or city holding a large festival or community event that somehow ties into your business? If so, this is an excellent content marketing opportunity. Leading up to the event, share your excitement, any preparations you are making, and how your product or services can tie into these upcoming plans (if they do).
For example, if you are a local housekeeper and your city holds a major holiday light display this year, create content highlighting the ways you can help homeowners prepare for family members coming into town to enjoy the festivities.
If you are going to be present at the event, such as a retailer with a booth, be sure to share this information so that your audience is aware of where to find you. During the event, share your first-hand experience with pictures and videos. Live video is a great way to share what is happening at the moment, creating both excitement and connection.
Don't let the excitement end with the conclusion of the festival or celebration. You can continue to create locally driven content in the days that follow, sharing your experiences and encouraging others to do the same.
Throughout it all, consider using local hashtags to increase your visibility. This could include the most straightforward location hashtags (#TorontoOntario), regional hashtags (#SouthwesternOntario), event-specific hashtags (#QuebecWinterCarnival), or local pride hashtags (#TorontoLife). Some areas even have local business hashtags like #YQGBusiness in the Windsor/Essex, Ontario area.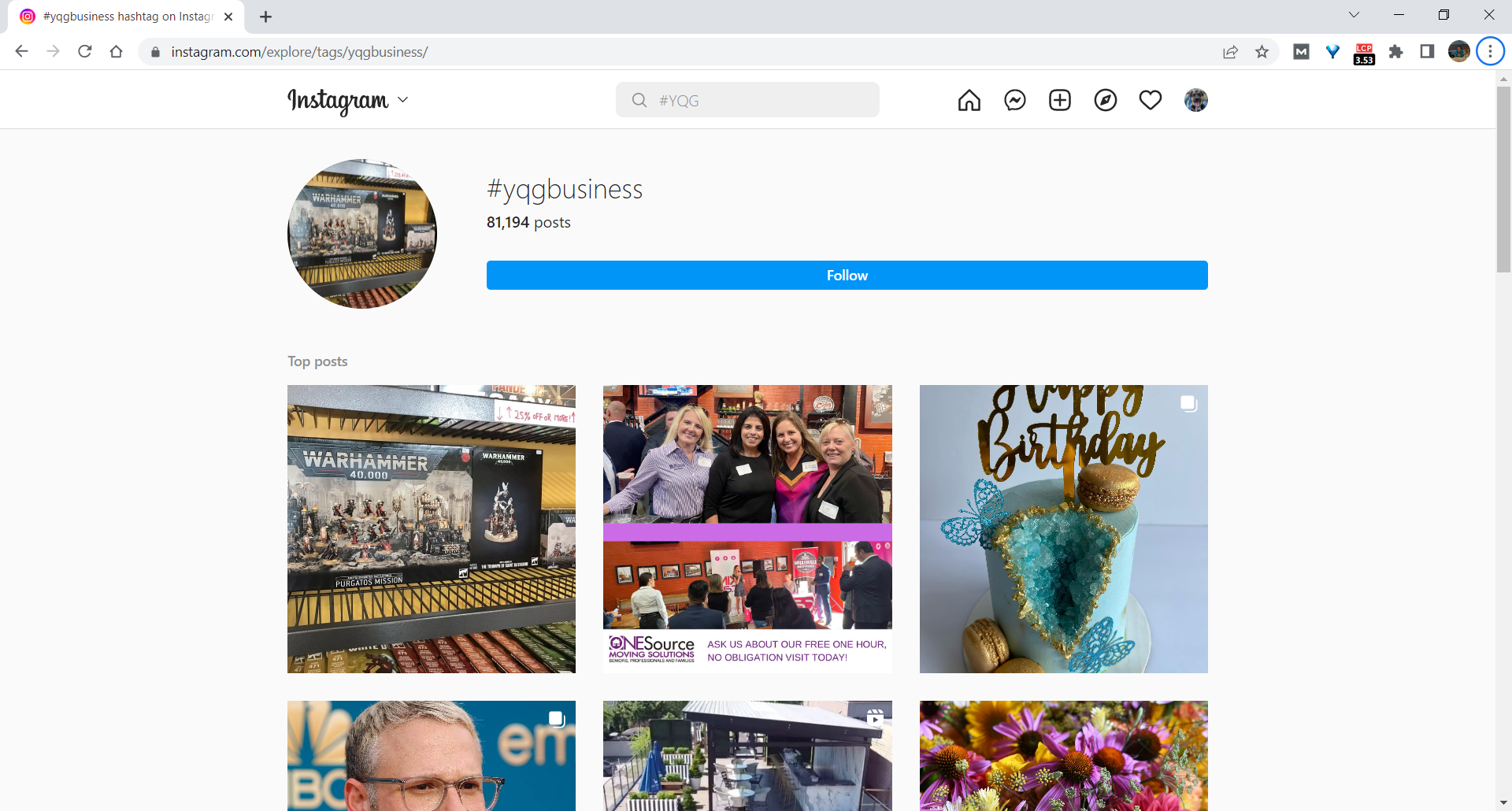 Leverage Social Media to Attract a Local Audience
Social media platforms like Facebook, Twitter, and Instagram have allowed us to connect with people around the world. But they are also valuable for those that are looking to connect with people in their local community.
To see this community connection firsthand, try searching for a specific location such as 'Toronto' in a Facebook search. You will be given a list of results that are all somehow tied to the Greater Toronto Area, including Toronto-based sports teams, news outlets, community groups, and local businesses.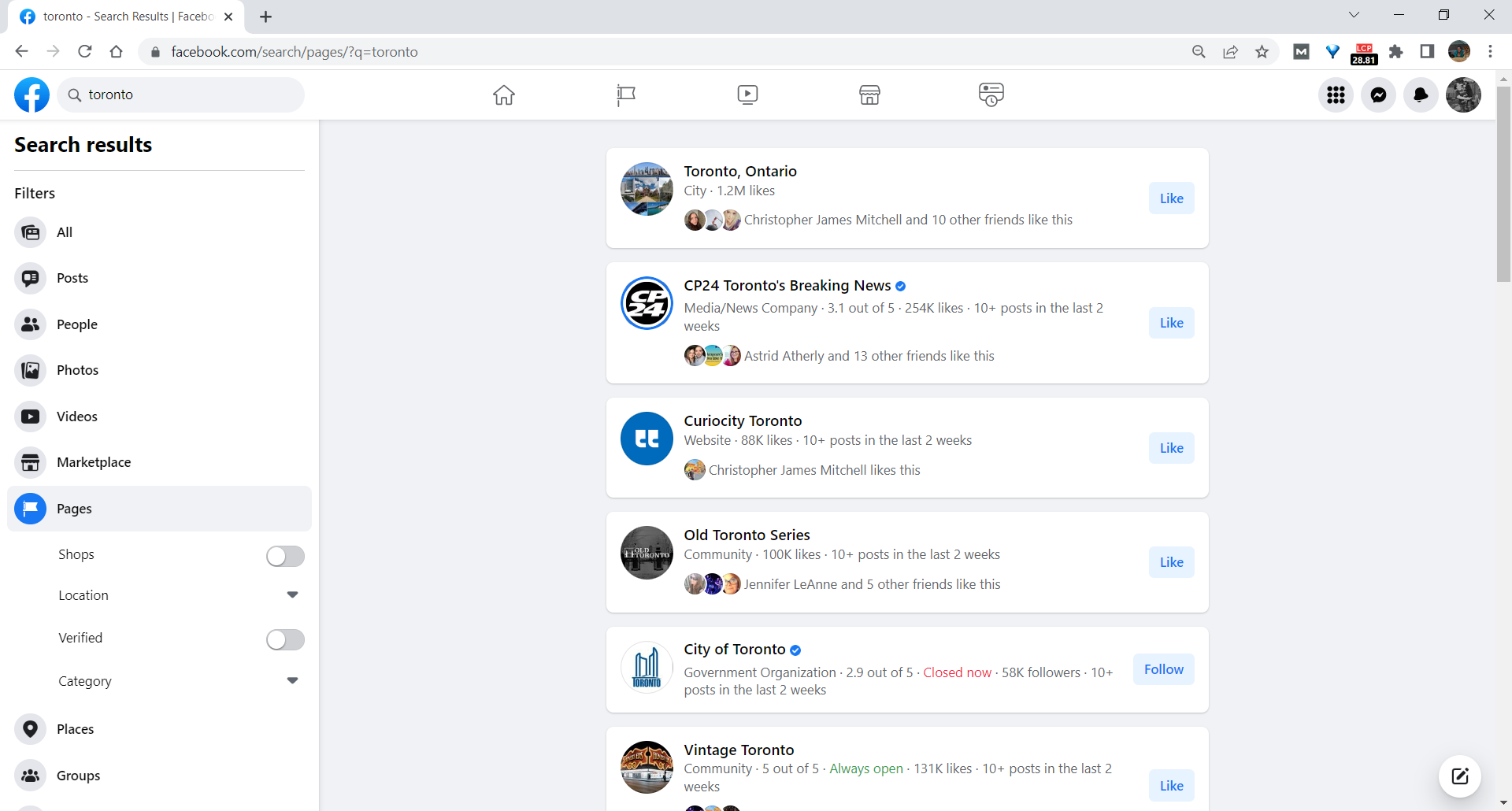 As a local business owner, this is a great opportunity for you to connect with potential clients. First, you will need to create a business page with your basic details. Make sure to include your location so that Facebook does include you in local search results.
Second, share high-quality content that your audience will find valuable, interesting, and worthy of sharing. You never know if your next customer is the boyfriend of your last customer's sister!
When creating social media content, try to keep your local audience and their interests in mind. Incorporate local news and events, share ways that you are helping in your community, and display local pride. These are all powerful forces that can help you to connect with your audience on a deeper level, building trust and loyalty.
Consider Investing in Video Marketing
Often, business owners think of the written word when discussing content marketing. But video has been gaining popularity in recent years both with the marketing community and with the general population. In a survey conducted by video production company Wyzowl, 81% of marketers reported that video content has helped them to directly increase sales.
Despite this clear success rate, many business owners have shared with me that they are hesitant to create video content. When asked why the two most common answers that I received were:
I'm not comfortable being on camera
I don't have the budget to invest in video marketing
I don't have the time to create video content
Video content is currently trending away from highly produced and edited videos for a more real and honest representation of our lives. This can be seen heavily on platforms like YouTube, Instagram, and TikTok. As a result, you can get started without the expertise or high budget that was once expected.
Make sure to tag a location and include location-specific hashtags to help attract viewers in your area.
Don't Overlook the Benefits of User-Generated Content
A great way to stretch your budget while utilizing local content marketing is to embrace the growing trend of user-generated content. Encourage current customers to share pictures and videos of your products or to provide a review on their favorite social media platforms.
Not only does this provide you with content without having to invest in its creation, but it's also a great way to build trust with your audience.
Like traditional reviews and word-of-mouth advertising, you are no longer responsible for proving the value that your business provides singlehandedly. Instead, potential customers can see the direct impact this has on those who have purchased from you in the past.
The Importance of User Intent in Local Content Marketing
A key factor that should be incorporated into any of your content marketing efforts is the intent of those that you are trying to reach. A recent and notable shift in the marketing industry is the emphasis on user intent, prioritizing it over keyword research and other machine-focused optimization efforts.
This is largely inspired by Google's most recent search update. Known as the Helpful Content Update, it prioritizes content created with the reader in mind.
From a local content marketing angle, this means that you want to create content that is focused on delivering value specifically to users in your area. Pay attention to local slang that may change or alter the meaning of a particular phase. The goal is to appeal to your local audience.
Additionally, consider any unique challenges that may be faced by your potential customers. For example, I live in an area of the country that is known for snow and skiing. If a fashion brand is looking to connect with me and my neighbors, marketing that focuses on warm weather gear isn't going to perform year-round. Instead, they should create a content marketing plan that incorporates these seasonal changes.
How to Confirm User Intent for a Search Query
There are many great tools available to help you identify which keywords or phrases people are searching for, but these tools fail to account for the search intent associated with these queries. The best way to address this concern is to check manually.
Log onto your browser and open an incognito window. This will allow you to see search results without the impact of your personal internet history.
Search your potential keyword or phrase in Google and look at the search results that are performing on the first page. Do they fit with the intent of the content that you are considering, or has this phrase been interpreted in a different way by those searching?
For example, if you are opening a grocery store dedicated to selling Mexican foods and ingredients in the Toronto area, you may consider using the phrase "Mexican Food Toronto." But all the top-ranking search results for that phrase, as seen in this screenshot, are restaurants. This tells you that most people searching that phrase are looking for restaurants and therefore not the people you are trying to reach at that moment. Some examples of other phrases that may perform better for your purposes are: "Mexican groceries Toronto" or "Mexican supermarket Toronto."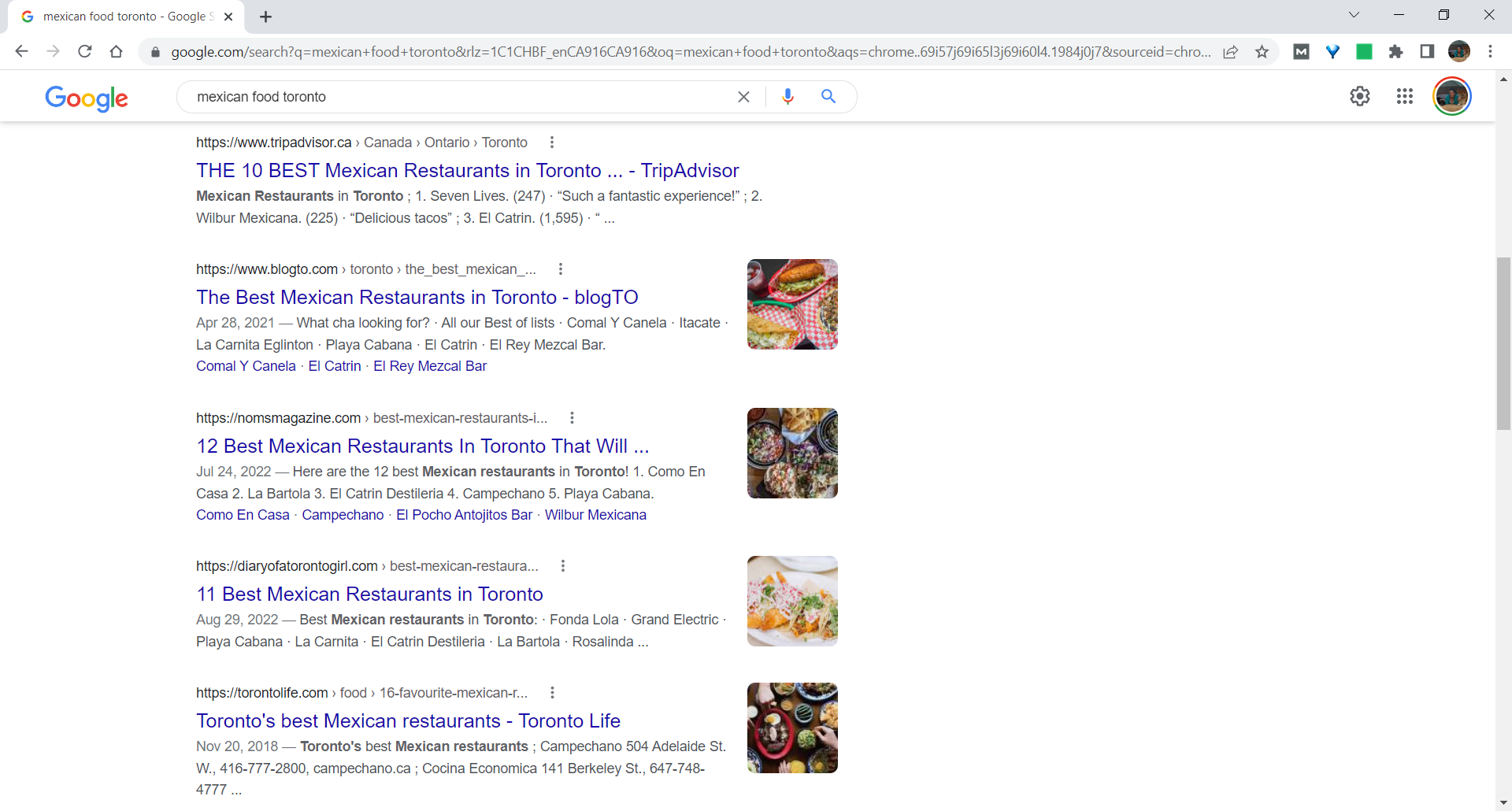 Not only will recognizing the search intent help you rank higher in Google searches, but it also helps you focus your efforts on phrases that will provide a higher return on investment.
In this example, investing time and money into content creation for "Mexican Food Toronto" would likely fail to provide the return that you are seeking. Shifting that focus to "Mexican groceries Toronto" is a much smarter business decision in terms of where to allocate your resources.
Frequently Asked Questions About Local Business Content Marketing
Question: What are the drawbacks of local content Marketing?
Answer: When your potential clients are restricted to a specific geographical area, you are targeting a smaller, more limited number of potential customers. This can make it harder to scale up your business without expanding to new locations.
Question: How do you know if you need local marketing?
Answer: If your business is tied to a brick-and-mortar location, like a restaurant or retail location, or if you offer services that are primarily located in a single physical location, then you need local marketing.
Question: How do I rank higher locally?
Answer: When targeting a specific geographic area, be sure to include your location information in your social media profiles, about page, Google business listings, and any other places that you are establishing yourself online. This will help web crawlers to identify that your content should be delivered to those in your area.
Question: What is local marketing segmentation?
Answer: Market segmentation refers to the practice of dividing your intended target audience based on demographics. Local marketing segmentation uses the location of potential customers to narrow your target audience to just those in your area.
Local Business Content Marketing: Final Thoughts
Content marketing is a powerful tool in the information age. With over 3.5 billion searches being conducted on Google every day, small business owners can reach potential customers at the moment they are searching for their products and services. Local businesses can be strategic with their marketing efforts to reach those in their area.
If you are operating a business that is tied in some way to a physical location, I recommend focusing your marketing efforts on local SEO and content creation strategy. Consider what your local audience is searching for and the intent behind these queries. This will help you to increase visibility for your business among your local community.
Read More: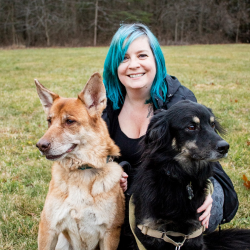 Latest posts by Britt Kascjak
(see all)