If you're new to content marketing, you'll quickly realize just how much effort it takes to post quality content to your blog and website continually. Finding new material and pushing past writer's blocks can be tricky. On top of this, your post quality may also suffer if you're not entirely confident about your spelling and writing ability.
Luckily, there are plenty of tools to help elevate your writing. Two such examples include Quillbot vs Speedwrite. While they focus on slightly different audiences, both come with a paraphrasing tool that allows you to rewrite existing content. 
Having been in the freelance writing game for over four years, I'm always interested in exploring new writing tools. So with that said, I'm going to put both platforms under the microscope to see who they're best for and whether they're worthy of your consideration.
There's lots to get through, so let's get started – but before we do, I just want to bring the following to your attention: With any AI writing assistant, the end product doesn't always make 100% sense, so we don't encourage anyone to use AI tools (from anyone) for final drafts. This will adversely affect your user's experience and in turn, negatively impact your SEO.

Now, let's get started with our Quillbot vs Speedwrite compared guide!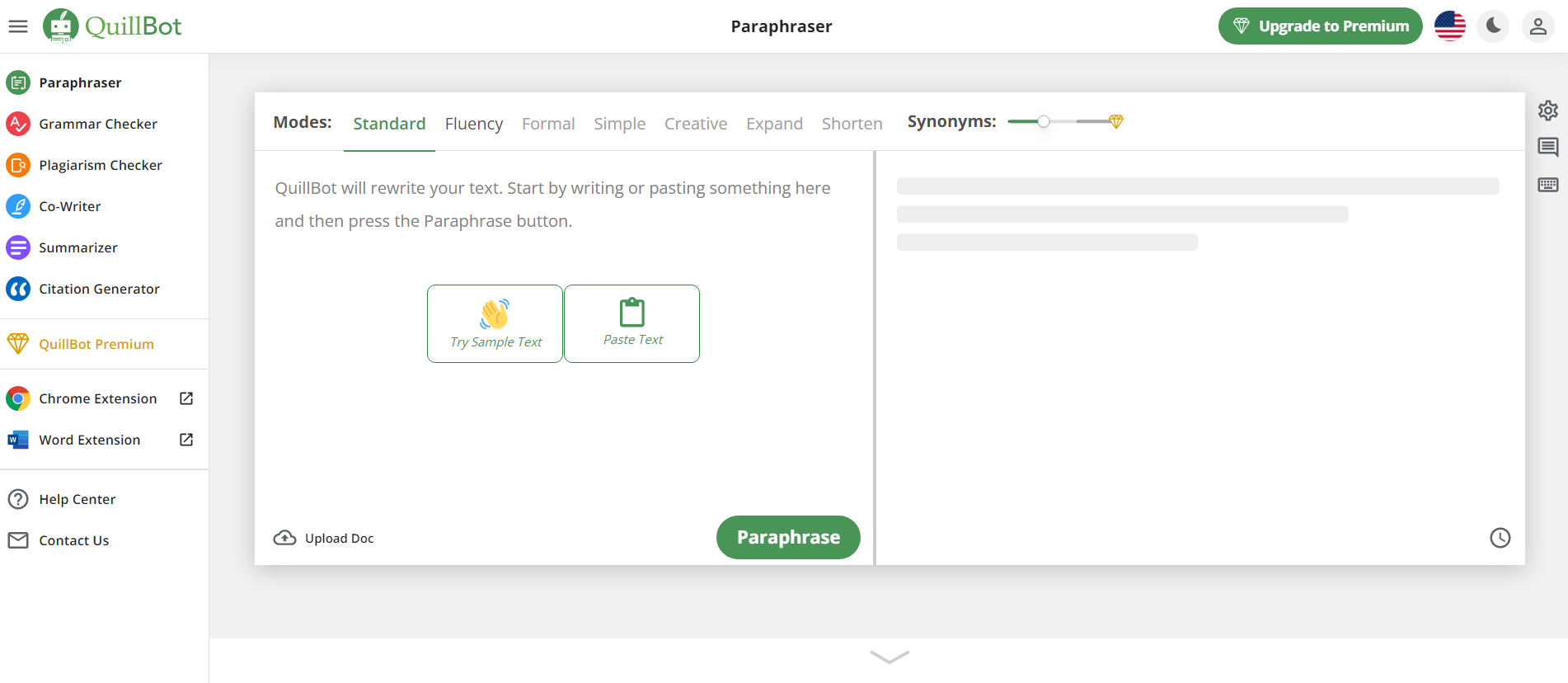 Bottom Line Upfront
Quillbot and Speedwrite both help you reformulate text. However, I think Quillbot best suits academic writers looking to create more sophisticated and better-cited educational content. It comes with various features to help students and researchers improve their craft. 
In contrast, Speedwrite focuses more on helping marketers quickly get their content ready for publishing. 
Both come at the same price, but Quillbot has many more features to help you become a better content writer. In light of that, I have to say that Quillbot offers users better value for money.
Quillbot vs Speedwrite: The Key Similarities and Differences
Before I get into the nitty-gritty details of these two platforms, let's set the scene. For those looking for a quick-fire comparison, I've quickly listed where Quillbot and Speedwrite overlap and differ:
The Differences
Quillbot has more features, such as a summarizer, grammar checker, citation generator, co-writer, and plagiarism checker – whereas, Speedwrite offers none of the above.

Quillbot is intended for academic writing primarily, whereas Speedwrite is more focused on content repurposing and quick content generation.

After passing an existing article through Speedwrite, the new version should pass a plagiarism checker, whereas, with Quillbot, the text isn't changed sufficiently enough to avoid being flagged for plagiarism.

The Quillbot website is generally more helpful and includes a knowledge base, whereas Speedwrite only includes FAQs and doesn't go into much depth about its features.

Quillbot offers a Chrome extension, whereas Speedwrite doesn't.
The Similarities
Both Quillbot and Speedwrite offer paraphrasing tools that can reformulate existing text.

Both are similarly priced, with only one premium plan to choose from

Both offer free versions.

Both tools limit how many checks can be run each month.

About Quillbot
That's enough preamble; let's now turn our attention to who Quillbot and Spreedwrite are and what they have to offer. First up, Quillbot:
Quillbot is one of the newer additions to the array of spellcheckers and grammar assistants available today. It was founded in 2017 and has grown to employ an extensive team worldwide. However, unlike many of its competitors, Quillbot is a tool intended almost entirely for scholars.
With features like a citation generator, plagiarism checker, grammar checker, and text summarizer, Quillbot provides all the tools you need to ensure your essay is credible. That said, I think it's worth noting that it's first and foremost titled a paraphrasing tool, which means it helps you rewrite existing content in different ways.
The tool can be used online with its own in-browser 'co-writer editor' and/or added to your Google Suite or MS Word. A free version is available that limits its features somewhat. Still, an affordable premium plan unlocks unfettered access to everything Quillbot has to offer.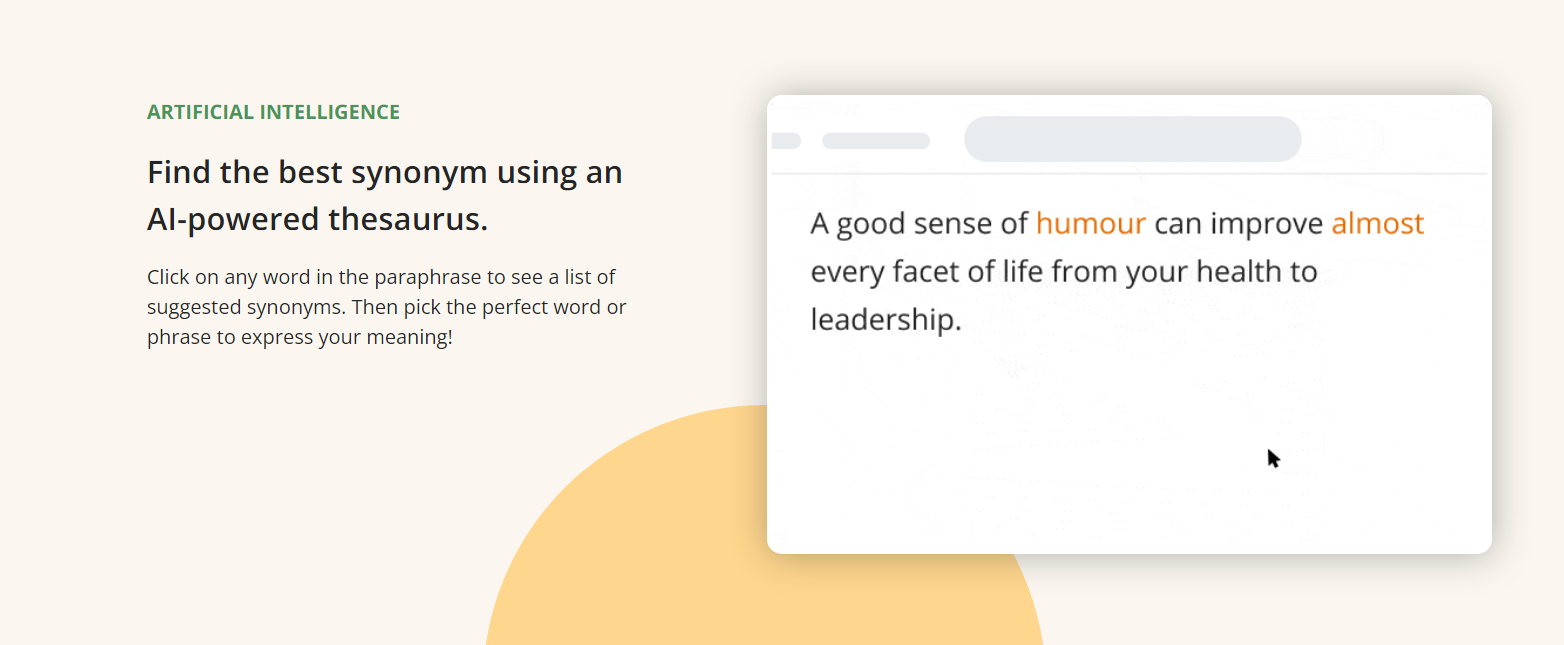 About Speedwrite
In contrast to Quillbot, Speedwrite is a much simpler tool. It's almost entirely focused on paraphrasing, aiming to make it quick, easy, and effective for content writers to repurpose existing content. If you're suffering from writer's block, Speedwrite helps you "predict" entirely original content that gets past any plagiarism checker.
The tool already has over 500k users who have accumulatively written millions of lines of text. As an automatic text generator, Speedwrite creates a reasonably readable text style with mostly correct grammar using AI. This makes it the ideal tool for anyone looking to quickly create content. 
Quillbot vs Speedwrite Key Features Compared
In this section, I'll tackle everything Quillbot and Speedwrite have to offer. However, because Speedwrite is a more singular tool with one key focus, Quillbot, unsurprisingly, has many more capabilities. So, first, I'll compare the one core feature they have in common paraphrasing. After that, I'll outline Quillbot's other features. Let's dig in…
Speedwrite's Automatic Text Generator
As I've already mentioned, Speedwrite is an automatic text generator that helps you predict completely original copy based on a source text. 
Here's how it works:
First, you can give your predicted text a title. This helps Speedwrite understand what you're writing about to better enable it to produce content suitable to your needs.
Then, copy and paste your source text. This can be previous content you've published, Wikipedia pages, or other web sources.
Each paragraph you want to re-phrase through prediction should focus on one core idea and be free of errors. You can copy and paste multiple paragraphs and individually click "predict" under each one. This will generate new text using Speedwrite's AI, which should pass all plagiarism checks with flying colors.
Although the generator aims to keep the facts straight, Speedwrite's creators recommend checking the predicted text to ensure nothing has become confused.
You can edit predictions in the editor as you go. I like that Speedwrite also periodically autosaves your document and makes it available as a backup. Plus, you can also download and export your re-generated text at any time.
Speedwrite's free plan entitles you to several free predictions to start with. Unfortunately, the exact number of predictions you get isn't mentioned anywhere.
Then, on the premium plan, you can generate up to 6,000 predictions per month. This might sound like a lot, but remember, it's one prediction per paragraph, so if you're generating lots of content, you may find that you quickly reach this threshold.  
Speedwrite works best if you're writing in the English language. However, there are some suggestions that it might work well for languages close to English in their grammatical structure, like Spanish and French. Unfortunately, as I only speak English, I cannot comment on Speewrite's accuracy in producing text in other languages.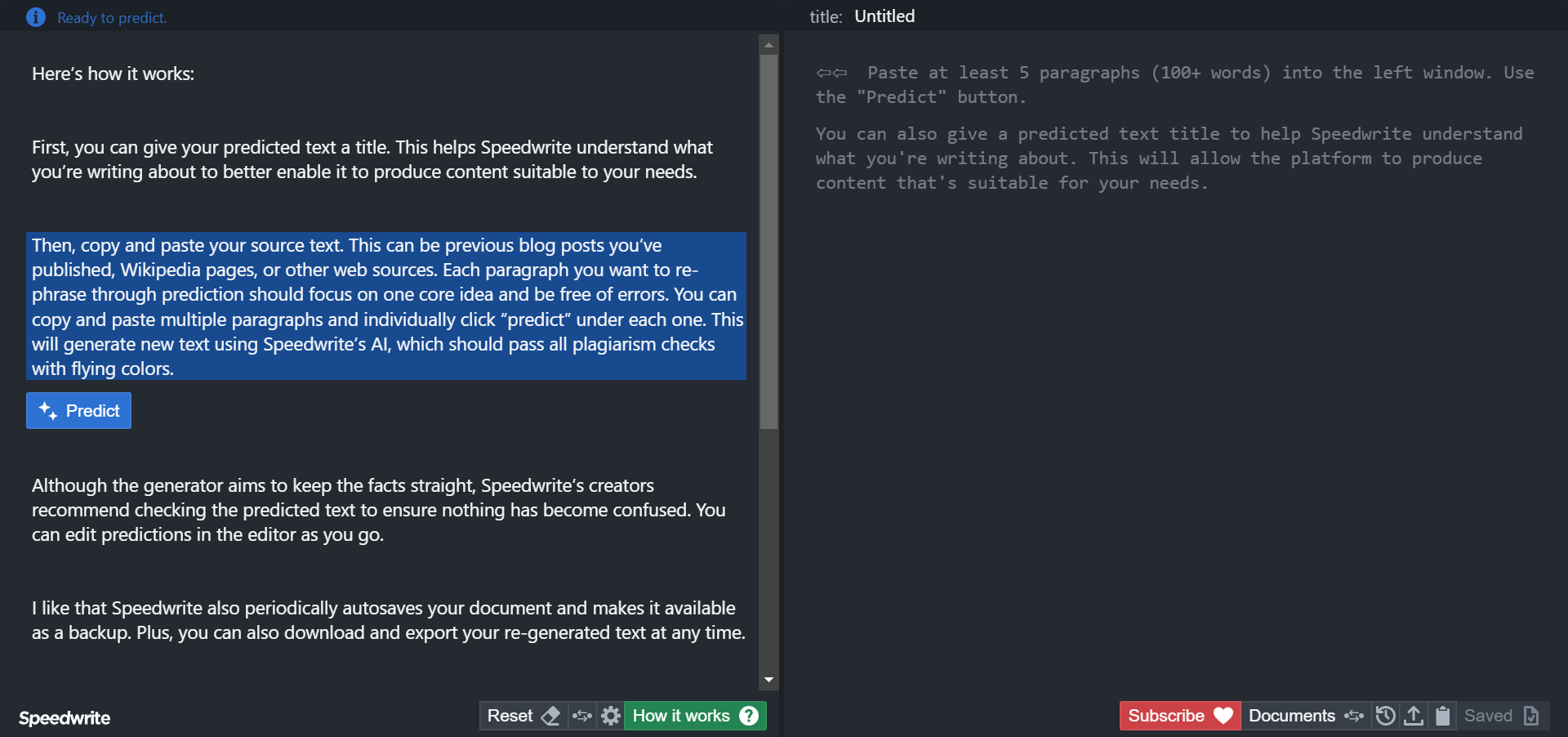 Quillbot's Paraphrasing Tool
Now, over to Quillbot's paraphrasing tool…
First, it's similarly easy to use as Speedwrite's text generator. Like Speedwrite, you copy your text in the editor and hit "paraphrase" for it to propose new sentence structures. However, unlike Speedwrite, the text you'll receive isn't 100% original.
Quillbot isn't trying to help you repurpose your own (or someone else's writing). Instead, it's designed to help you improve your own. 
For example, its paraphrasing tool finds ways to shorten your sentences to make them more concise. It also proposes synonyms to elevate your vocabulary. For this purpose, it offers seven different modes (two of which are available with the free plan):
Standard

Fluency

Shorten

Expand

Creative

Formal

Simple
Choosing a mode appropriate for your text's intended purpose will help you pick vocabulary and sentence structures that suit your audience best. For example, an academic text might benefit from formal language more than simple language. On the other hand, those writing prose might benefit from the creative mode that offers more unique synonyms.
Once your text has been paraphrased, you can right-click on any sentence to choose a different structure or revert to your previous format. You can do the same with individual words. Here, you can pick one of up to four synonyms (this is reduced to three with the free plan).
I like that with the premium version, you can even review how sentences compare in each mode at a glance.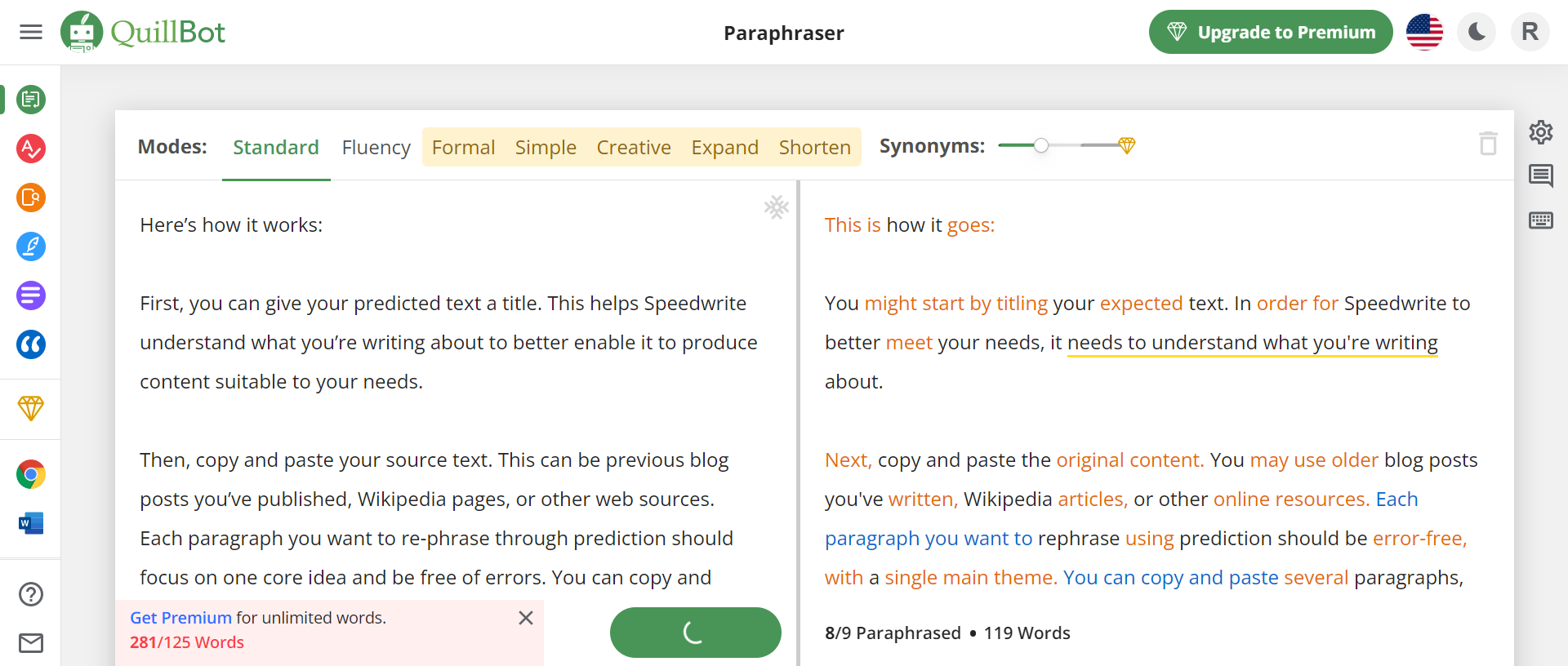 Quillbot's Additional Features:
As promised, below, I've listed Quillbot's other features that set it apart from Speedwrite:
Plagiarism checker: 

Although Speedwrite cares massively about creating unique content that defies all plagiarism checks, it doesn't actually come with its own plagiarism checker. In contrast, Quillbot's premium plan does. The plagiarism checker reviews the percentage of your text that matches existing sources and identifies these sources for you. It then helps you to create the necessary citations and attributions for your paper, which leads me nicely to our next Quillbot feature…

A free citation generator: 

Search for a URL or book and create a citation (there are hundreds of citation styles to choose from).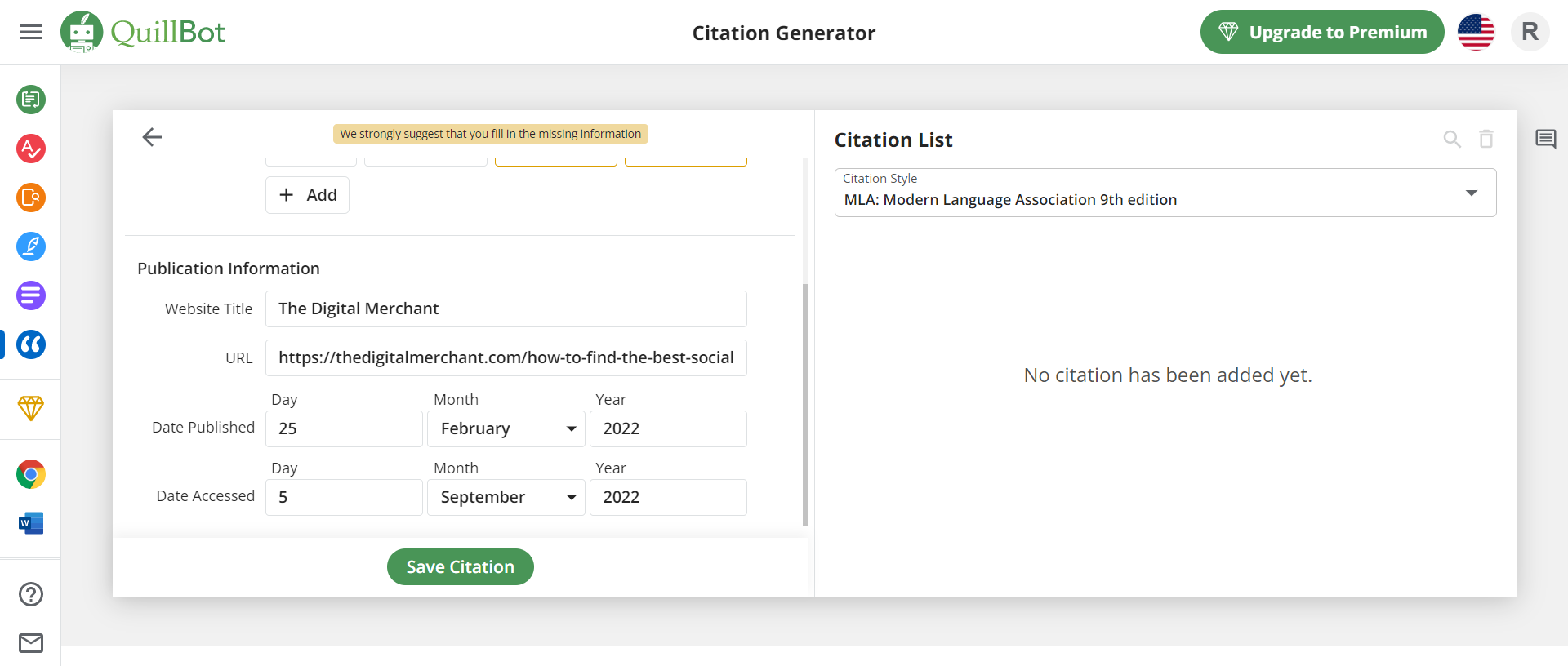 Grammar checker: 

Get suggestions for improving your spelling, grammar, and punctuation to elevate your writing.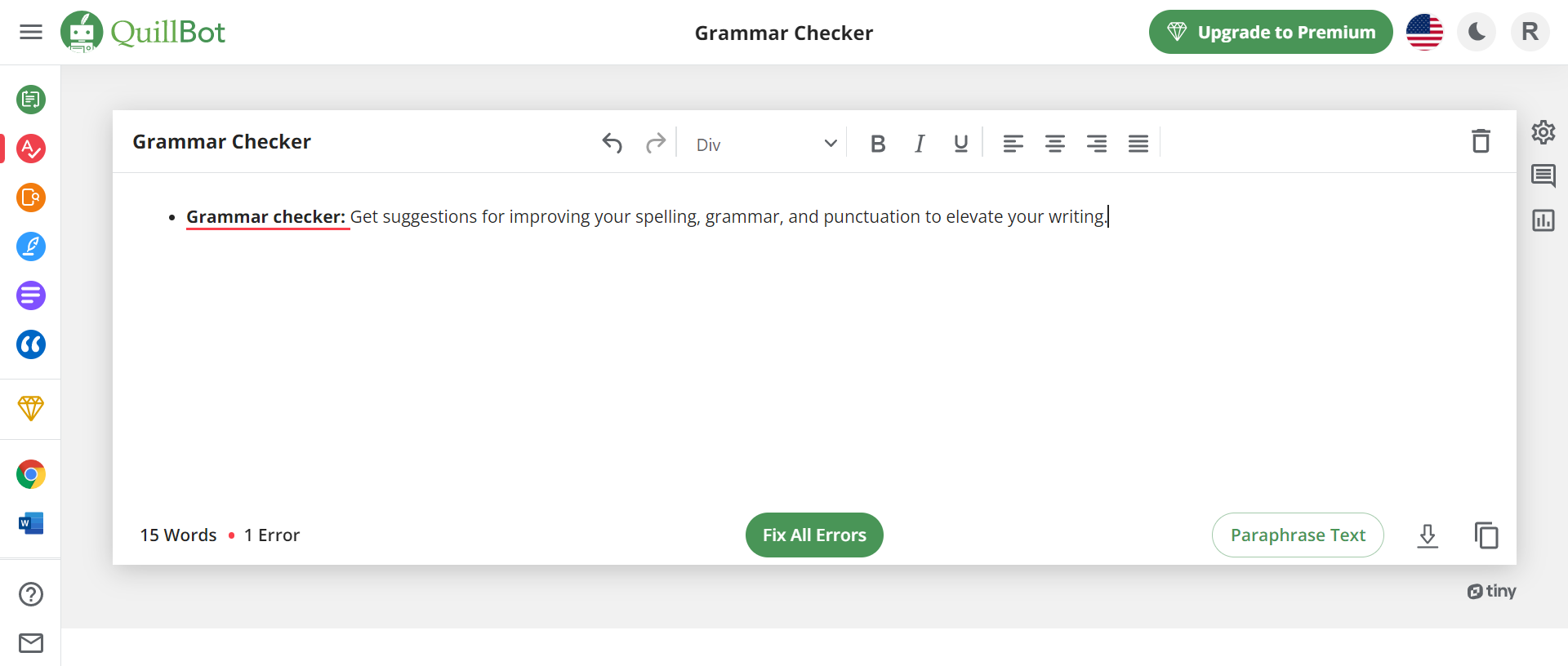 Summarizer: 

Paste a document you're researching and let Quillbot summarize the key findings from the text in a paragraph or bullet points. This works wonders for getting to the crux of more complex materials to ensure they meet your research requirements.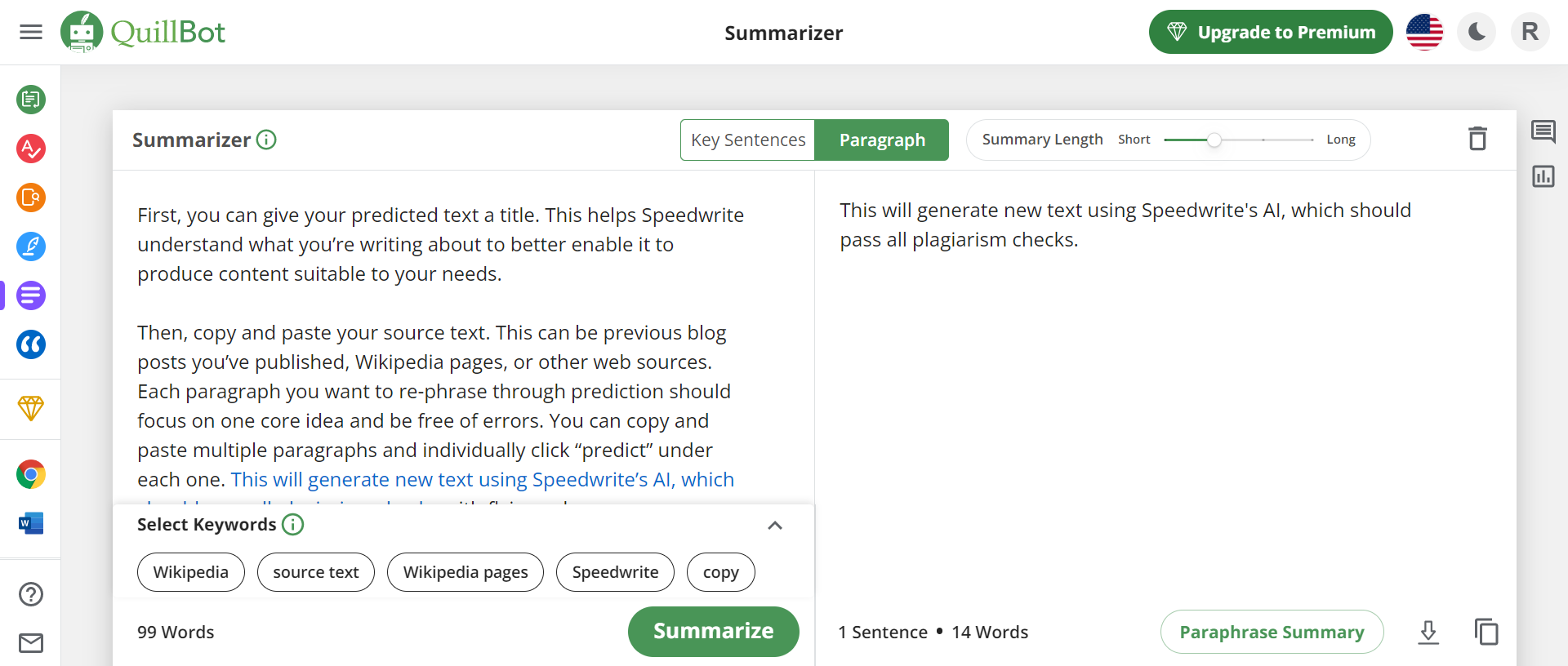 At this point, I was to reiterate that you can use Quillbot for MS Word or Google Docs to benefit from its paraphrasing and grammar tools whenever you need them.
Quillbot vs Speedwrite: Pricing
Both Quillbot and Speedwrite certainly speed up the rate you produce written content. However, whether this luxury is worth it depends on whether you'll get good value from these tools. With that said, here's how much Quillbot and Speedwrite will set you back:
Quillbot's Pricing
Quillbot keeps its pricing incredibly simple. There are only two plans to choose from:
Free

Premium
The free plan includes:
The ability to run up to 125 words at a time through the paraphrasing tool

Access to two paraphrasing modes: Standard and fluency

You can review three synonyms for each word.

One freeze word or phrase – these are words or phrases that Quillbot won't change when it proposes sentence variations and new vocabulary within its paraphrase tool. For example, freeze words help preserve specific brand terminology.

You can run 1,200 words through the summarizer.
The Premium plan unlocks all Quillbot has to offer. There are three billing options available:
Monthly Billing: 

$19.95 per month

Semi-Annual Billing: 

$13.33 per month

Annual Billing (the cheapest): 

$8.33 per month
With the Premium plan, you get access to:
Unlimited words in the paraphrasing tool and grammar checker

Access to all seven paraphrasing modes: Standard, fluency, expand, shorten, formal, simple, and creative

Four synonym options per word

Unlimited freeze words and phrases

6,000 words limit in the summarizer

Faster processing – Quillbot won't take as long to summarize text, paraphrase your writing, or check for plagiarism. In the free version, this process takes a few seconds.

Advanced grammar rewrites

You can compare the results of all paraphrasing modes at a glance on your desktop.

Access to the plagiarism checker allows you to check 20 pages per month, at 250 words each.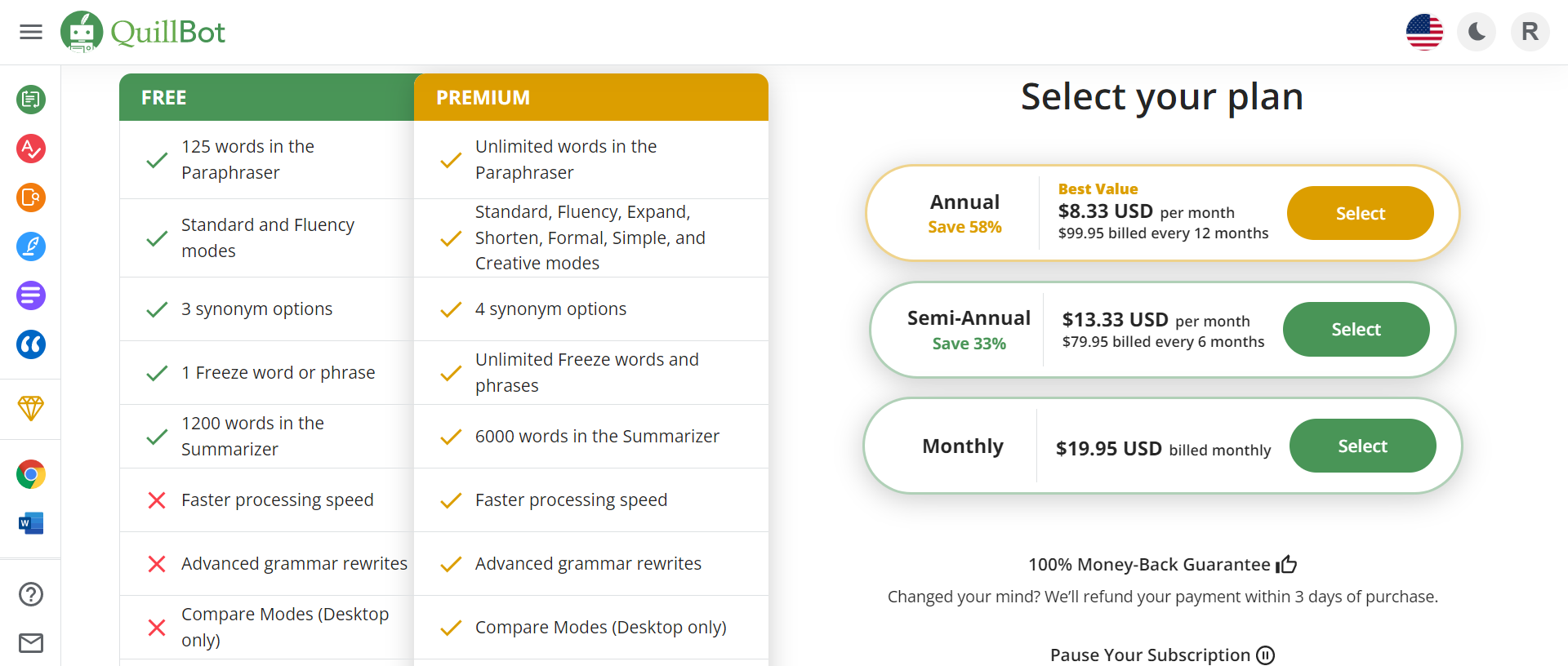 Speedwrite's Pricing
Speedwrite follows a similar pricing model. When you sign up, you get a pre-set number of free predictions. Then, you can see how many you have remaining from your dashboard. After that, however, you'll need a premium plan to get more monthly predictions.
Its premium subscription unlocks everything Speedwrite offers and is available on a monthly, semi-annual, or annual billing basis.
The prices are as follows:
Monthly Billing: 

$19.99 per month

Semi-Annual Billing: 

$11.65 per month

Annual Billing (the cheapest): 

$8.33 per month
By cost alone, Quillbot and Speedwrite are close competitors. However, in terms of features, Speedwrite doesn't offer as much for your money. For example, you can only access 6,000 predictions per month. There are no alternative tiers if you need fewer or more predictions than that.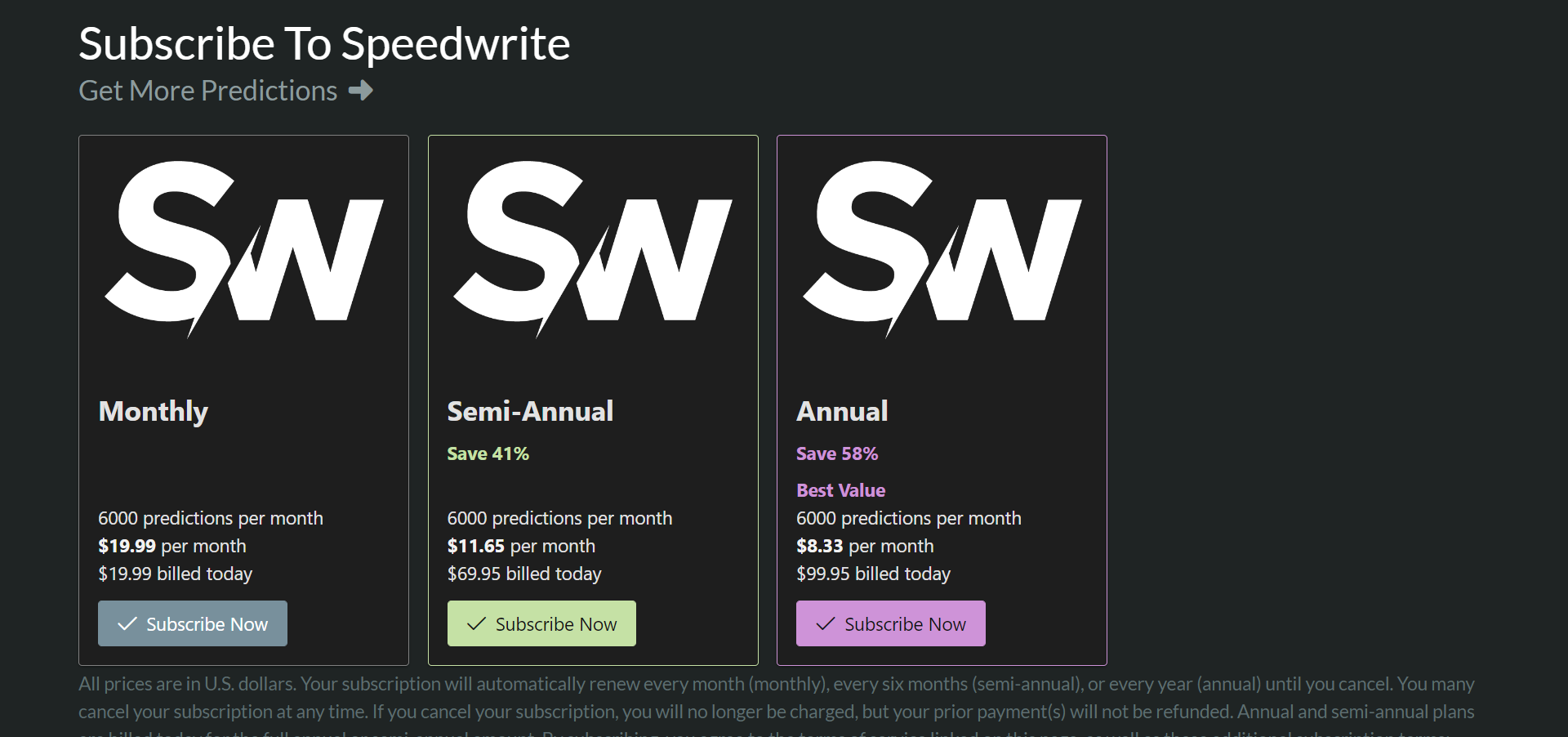 Quillbot vs Speedwrite: Pros and Cons
Before I wrap up this comparison article, here are Quillbot and Speedwrite's key advantages and disadvantages:
Quillbot's Pros
There's a free plan available. This provides access to a citation generator, paraphraser, summarizer, and grammar checker.

It's easy to use – all features are self-explanatory, and the tool comes with a sleek, clean interface.

The summarizer is excellent for simplifying more complex research.

Pricing is pretty affordable if you choose to pay annually.

There are up to seven modes available to help you strike the right tone of voice. 

Quillbot's plagiarism checker helps you create all necessary attributions.

While the plagiarism checker limits how many pages you can check, none of Quillbot's other features are limited. This makes it better value for money than Speedwrite, which becomes useless when you run out of predictions.
Quillbot's Cons
Most tools have fairly strict word count limits on the free plan. 

Even on the premium plan, the plagiarism checker only lets you check 20 pages per month (at 250 words each)

Only the annual plan is affordable – if you don't want to commit for that long, you pay significantly more.

There are no team or business features.

Quillbot doesn't currently offer volume discounts for institutions or organizations.

Quillbot's AI isn't the most powerful on the web. Where spelling and grammar are concerned, there are more effective solutions. For example, Grammarly.
Speedwrite's Pros
Like Quillbot, it boasts simple, straightforward, and affordable pricing,

You get a generous 6,000 predictions per month.

There's a free trial available with limited free predictions.

Speedwrite's text usually boasts good grammar and spelling, surpassing the abilities of many competitors when it comes to reformulating larger chunks of text.
Speedwrite's Cons
There isn't any flexibility if you require more or fewer monthly predictions.

Speedwrite doesn't offer any additional features beyond its rewriting tool.

Its website doesn't create the best impression. Some of its website copy isn't written very well for a tool advertising good grammar. 

You still have to check over the repurposed text for accuracy.

You use one prediction for every paragraph, which should only include one critical thought. If you're creating a lot of content, you'll soon use up all of your predictions.
Quillbot vs Speedwrite: A Note on Plagiarism and Text Quality
When comparing Quillbot and Speedwrite, it's important to remember which audiences these tools were created for and where their limitations lie.
Speedwrite is a tool specifically designed to help you quickly generate content from existing sources. This makes creating new web copy effortless.
Its goal is to help you pass plagiarism checks with regurgitated text. Unfortunately, it doesn't pay much attention to the quality of the text or even the facts presented.
As a result, you must check your facts and grammar before paraphrasing the text. Unfortunately, it offers no assistance in correcting these elements and doesn't provide its own plagiarism checker. 
On its website, Speedwrite compares its paraphrasing capabilities to Quillbot. Without officially naming Quillbot and criticizing it for failing to pass plagiarism checks after paraphrasing text (Having compared both tools, I quickly recognized the screenshots and the different paraphrasing modes.)
I consider this a little disingenuous, as Quillbot clearly states on its website that it isn't intended to repurpose someone else's writing to render it completely original.
Instead, Quillbot's designed to help you improve your writing and provide proper citations so that your papers pass plagiarism tests and find acknowledgment in an academic field. Therefore, it fulfills a very different function from Speedwrite's article spinning. 
Whereas Quillbot can help you become a better writer, Speedwrite offers no advice or correction. In other words, if you're not a native and skilled English writer and repurpose text with its generator, you might still struggle to ascertain the quality of the generated copy.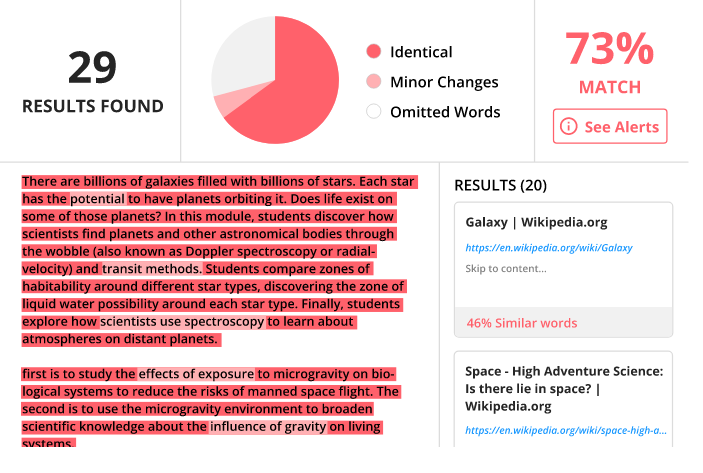 Should You Use Auto-Generated Text for Your Content?
You might also ask yourself whether using an auto-generator for your written content is a good idea. This is, of course, entirely up to you.
Tools like Speedwrite can save a great deal of time if you're trying to post new content regularly. You should, however, ask yourself what the purpose of your content marketing is. 
If you publish SEO-orientated content, note that Google is consistently updating its algorithm to try and find better quality content.
It aims to identify authoritative sites that know what they're talking about and are creating helpful, original, informative content. Quality trumps quantity where Google is concerned, and the best way to reach customers and make an impact is to use your unique voice. 
In short, if you use an AI-writer like Speedwrite, be sure that you still take the time to proofread and fact-check your work before you publish it.
FAQs
Question: Does Quillbot or Speedwrite offer a free trial?
Answer: Quillbot doesn't offer a free trial for its premium plan. However, if you want to see whether the premium features are right for you, you can sign up and get a full refund within the first three days. Just don't forget to cancel! Speedwrite's free plan is more akin to a free trial, as you'll get limited predictions before you're forced to upgrade to the premium plan.
Question: Where can I use Quillbot and Speedwrite?
Answer: Quillbot can be used with your internet browser. It comes with a co-writer that helps you predict text, checks your grammar, and proposes synonyms to strike the right tone. Its plagiarism checker, summarizer, paraphrase, and grammar checker are also all available on its website. If you have an account, you can add the Quilbot extension to Chrome and use its paraphrase and grammar checks inside Google Docs. Finally, you can download Quillbot and install it into your MS Word toolbar. In contrast, Speedwrite is only available in-browser, with its simple auto-generator.
Question: What customer service is available with Quillbot and Speedwrite?
Answer: Quillbot is contactable via a ticketing system on its website. Here, you'll also find various self-help resources, such as a blog with writing and formatting tips for students, frequently asked questions, and guides. As for Speedwrite, you can either email the team or get in touch via their Discord channel for human support. There's also an FAQ section on their website, but navigating it to pinpoint the info you're after is a bit tricky.
Quillbot vs Speedwrite Compared: My Final Thoughts
Although you can use Quillbot and Speedwrite to reformulate texts, I think it's safe to say they're two very different tools created for various purposes. As a result, which one's right for you will depend on a straightforward question: Do you want to write your own content from scratch?
If the answer is yes, Quillbot is the right tool for you. Quillboth helps you create credible citations for your text, check for plagiarism, and improve your spelling and grammar. In addition, it enables you to restructure and paraphrase sentences according to whichever tone you want to strike.
As you're supposed to input original content, the paraphraser doesn't reformulate everything. Instead, it helps enhance what you've already written.
In contrast, if you don't want to write your own content, then Speedwrite is your solution. Speedwrite helps you auto-generate 100% original content from sources like Wikipedia.
Then, you can edit the results to make minor improvements and export the text, ready for publishing. This helps you get content out much quicker when you're not in the headspace too much writing and editing yourself.
Personally, I think Quillbot offers the better value for money because it imposes fewer limitations and comes with more features for the same price.
Additionally, Quillbot helps you achieve a higher quality of writing. With the direction that Google is taking to reward more original and high-quality content, I think that Quillbot better equips content creators to produce more SEO-friendly prods. That's why, for me, Quillbot deserves more attention out of the two.
That's enough of my opinion – let me know what you think in the comments below. Will you be giving Quillbot or Speedwrite a go? In either case, let me know why. Speak soon!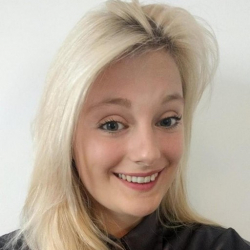 Latest posts by Rosie Greaves
(see all)