More and more of our interactions are digital. Subsequently, we're forced to put our thoughts into the written word. When our professionalism, academic success, or simply the opinion of our peers depends on how we write, there's a lot of pressure to perfect our prose.
But with one in four people struggling with spelling, punctuation, and grammar, it's no surprise that email anxiety is a thing. Fortunately, digital spell-checkers have come a long way since their first conception in 1971.
Nowadays, there's a flurry of online tools you can use -and not just in your Word documents. But across email, social media, MS office, and Google docs – to name a few!
Grammarly is perhaps the best-known grammar and spell checker. I've used Grammarly throughout my freelance writing career, and I love it!
I can't recommend it highly enough. However, cheaper options still do a pretty good job – so if you're on a tight budget, you might be in the market for an alternative.
With that said, I'll compare Quillbot vs Grammarly to see how these similarly featured paraphrasing tools compete. There's lots to get through, so let's get started!
Bottom Line Upfront
Quillbot vs Grammarly both offer spelling, grammar, conciseness, and plagiarism checks. However, Grammarly offers more features and provides more advanced suggestions for your sentence structure and writing overall.
It also comes with collaboration and business-related features, making it a more scaleable option for organizations. All in all, although Grammarly is a little more expensive, I think it's worth the cost for serious writers.
Quillbot vs Grammarly: Their Key Similarities and Differences
Before I dig into the meat and potatoes of this review, let's quickly run through the key similarities and differences between Quillbot and Grammarly:
The Similarities
Both Grammarly and Quillbot offer a plagiarism checker

Both Grammarly and Quillbot provide spell and grammar checking

Both tools can help you correctly cite your academic work.

Both offer a Chrome extension.

Both provide a tool you can add to your MS office suite.

Both offer free and premium plans.

Both provide access to an in-browser editor where you can paste text to correct it.
The Differences
Grammarly offers a plan explicitly designed for businesses, whereas Quillbot doesn't. Grammarly offers useful business features like style guides, brand tone, user permissions, and reusable snippets.

Grammarly offers considerable discounts and plans for educational institutions, whereas Quillbot doesn't deliver as much in this department.

Grammarly comes with tone detection and suggestions, whereas Quillbot doesn't offer these features.

Grammarly integrates with more browsers and channels than Quillbot.

Quillbot offers a summarizer tool, whereas Grammarly doesn't provide a comparable feature.
About Grammarly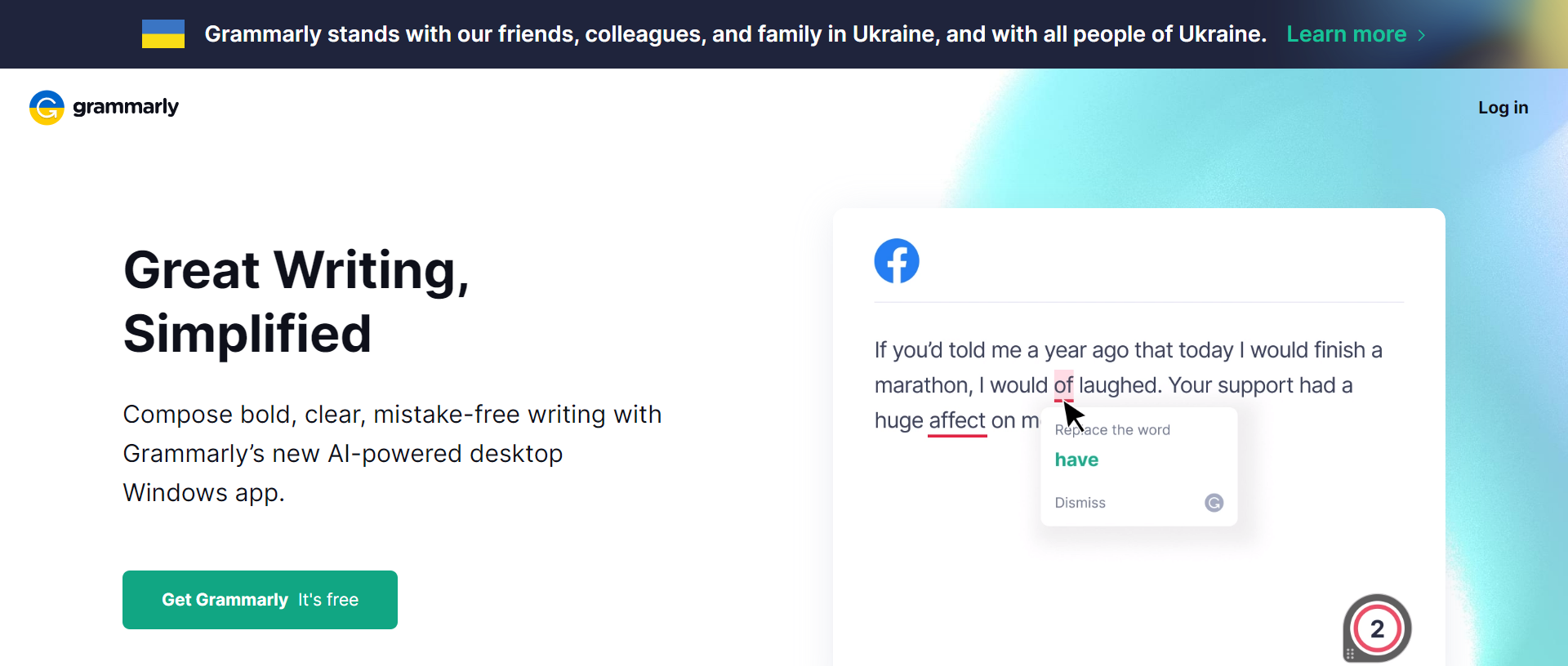 That's enough preamble; let's dig a little deeper into who Grammarly and Quillbot are and what they offer…
Grammarly launched in 2009 and has grown to become one of the most popular grammar checkers in the world. Its user base includes over 30 million individual users worldwide and 30,000 teams.
Grammarly provides real-time spell and grammar checks, tone suggestions, plagiarism checks, etc., across email, social media, Google Docs, MS office, and more.
You can even download the Grammarly keyboard for your phone, which makes suggestions as you type. Grammarly is AI-powered and uses advanced machine and deep learning to improve its services.
Grammarly has struck so much popularity that it's won several awards. For example, it was recognized as one of the most innovative AI companies by TIME and one of the top 100 software companies by Forbes. Impressive, right?
About Quillbot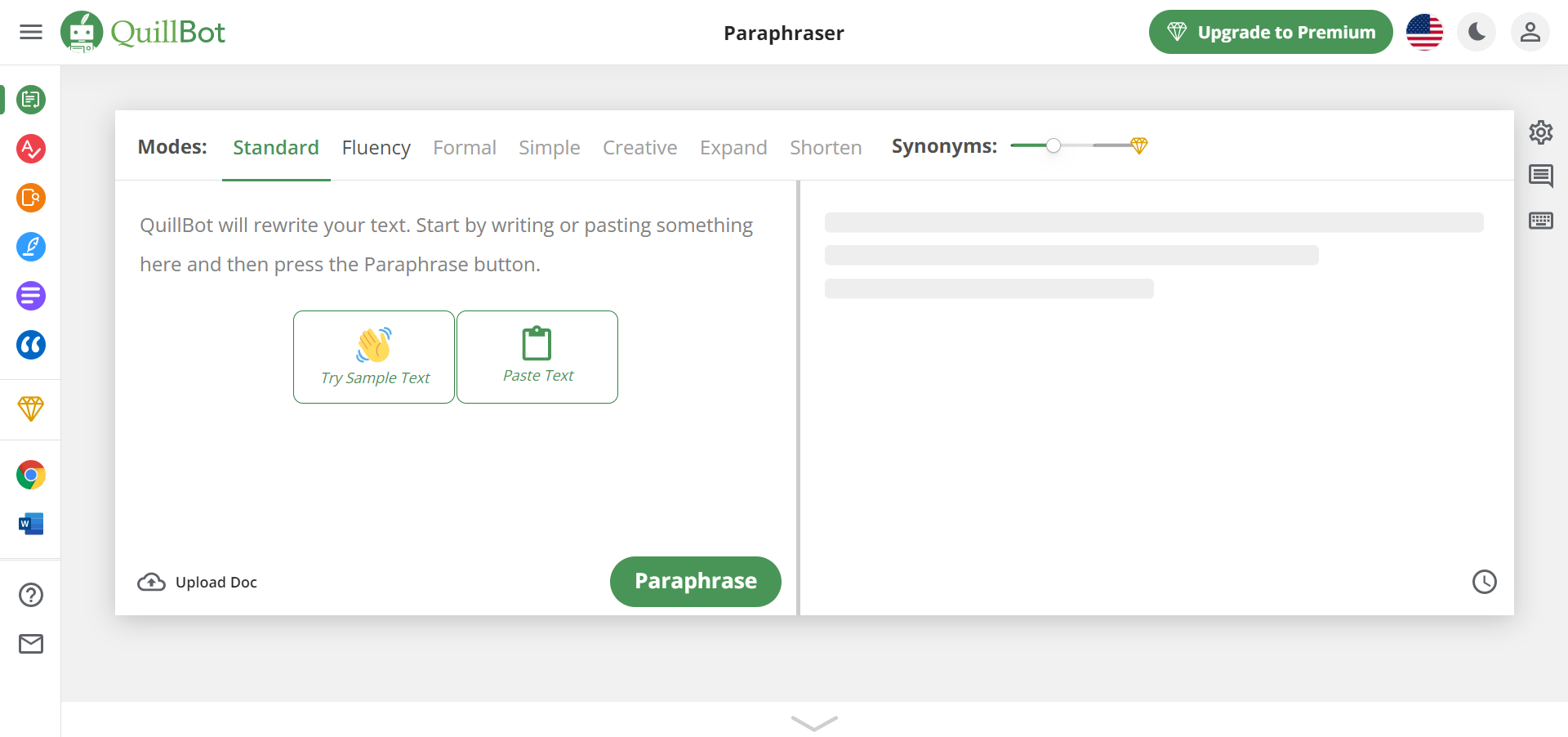 Compared to Grammarly, founded in 2017 by a team of three, Quillbot is a considerably newer addition to the spell-checker market.
Fast forward to today, they employ dozens of team members and continue innovating upon their services. I think it's worth noting that although Quillbot offers grammar checking, allows you to create citations, and offers co-writing features and a plagiarism checker, Quillbot calls itself a paraphrasing tool rather than a grammar checker.
I.e., its primary purpose is to help you make your writing more concise and offer summaries for your larger bodies of text. Lastly, you can add Quillbot to Chrome and MS Word.
Quillbot vs Grammarly: Key Features Compared
As I've already mentioned, Grammarly and Quillbot have similar features, but some significant variations exist. With that said, let's first cover their shared features:
Spell and Grammar Checks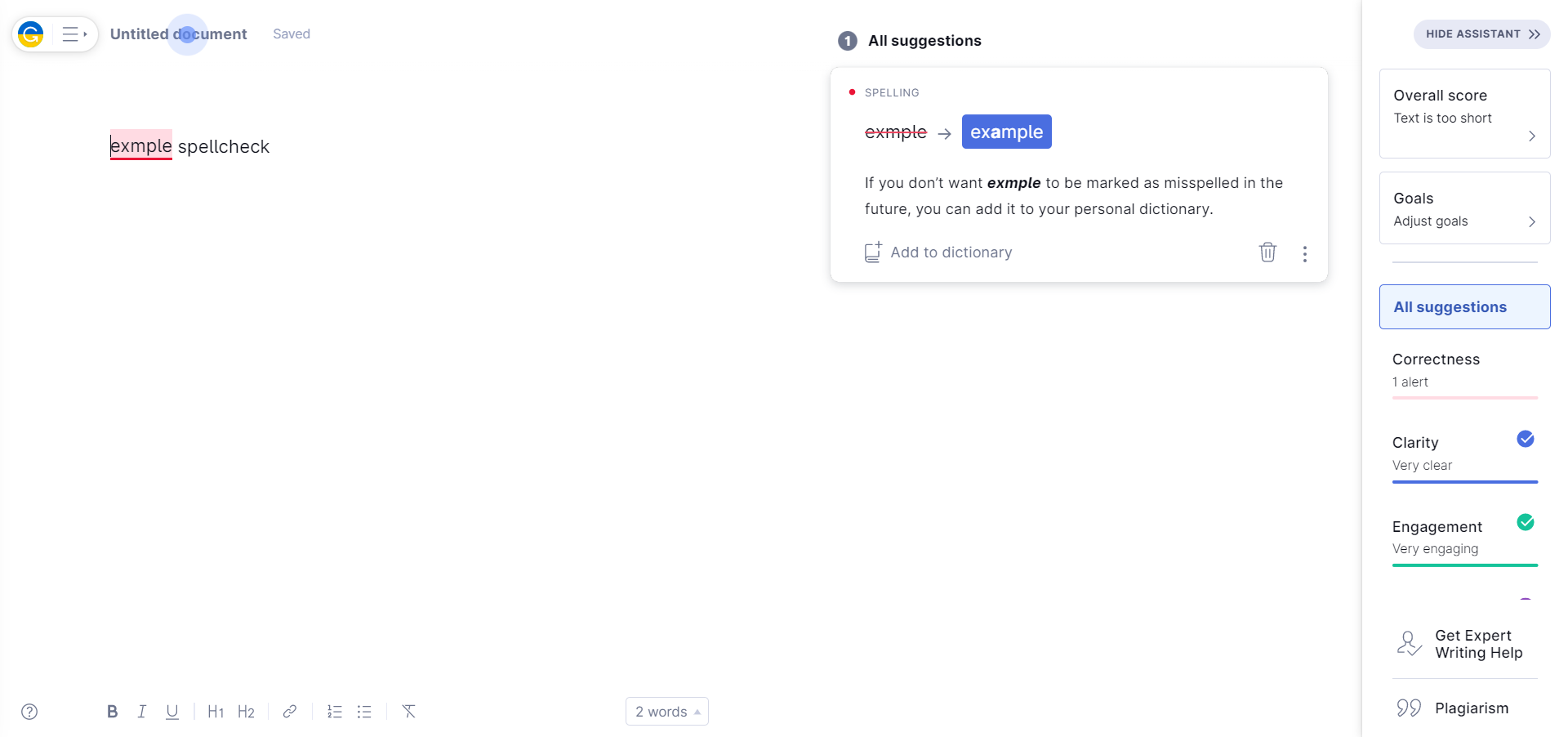 Both Quillbot and Grammarly offer spell and grammar checks. These highlight mistakes in your text and propose the correct solution, enabling you to replace the word with a simple click.
The result? Never mix up your "they're," "their," and "there" again! Spellcheck catches whopping typos and even subtler spelling mistakes. On top of that, both come with punctuation checks that ensure you don't misplace commas or full stops.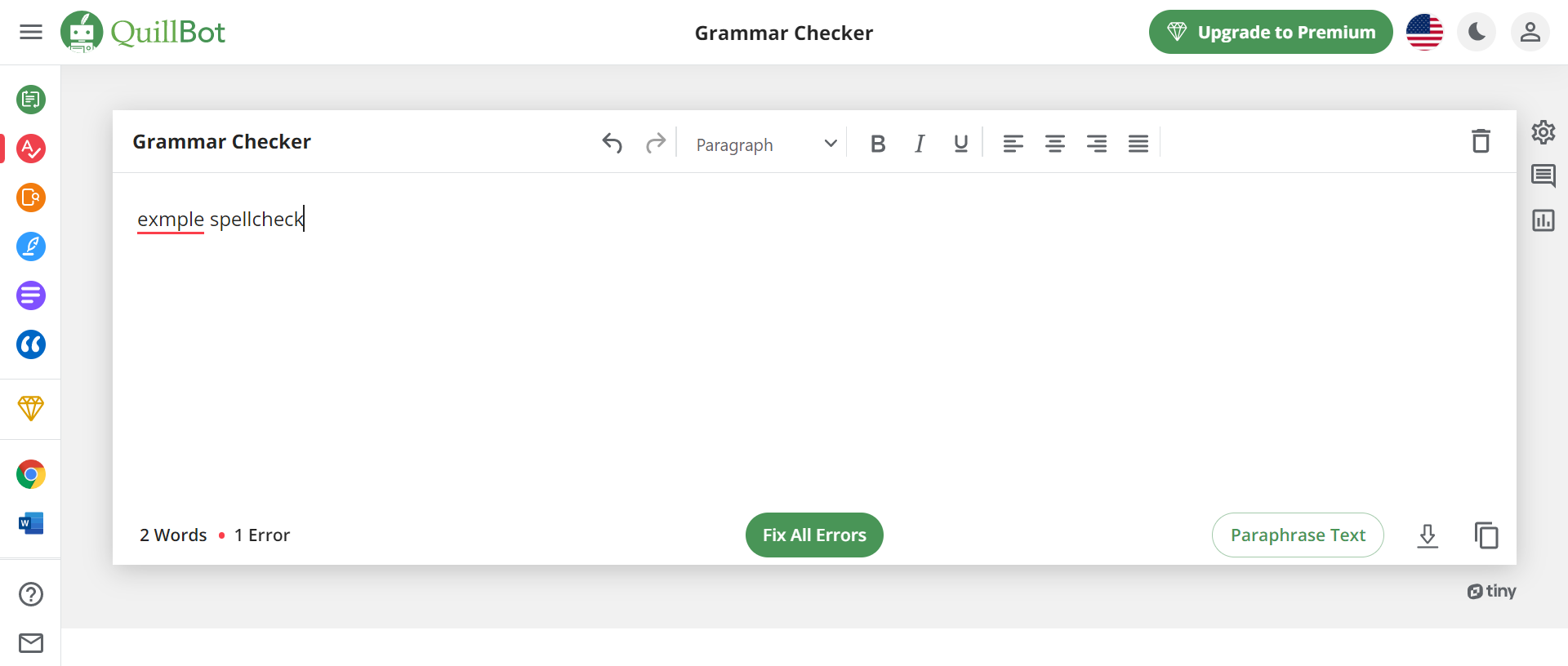 With both Quillbot and Grammarly, you can either paste your text into their in-browser editor or install a browser extension that automatically checks your text as you type.
You can also opt to fix all of your errors with just a click or approve/dismiss each individual Quillbot/Grammarly suggestion across the document.
Using these features, you can rewrite entire sentences with both Grammarly and Quillbot and improve your English fluency.
Plagiarism Checker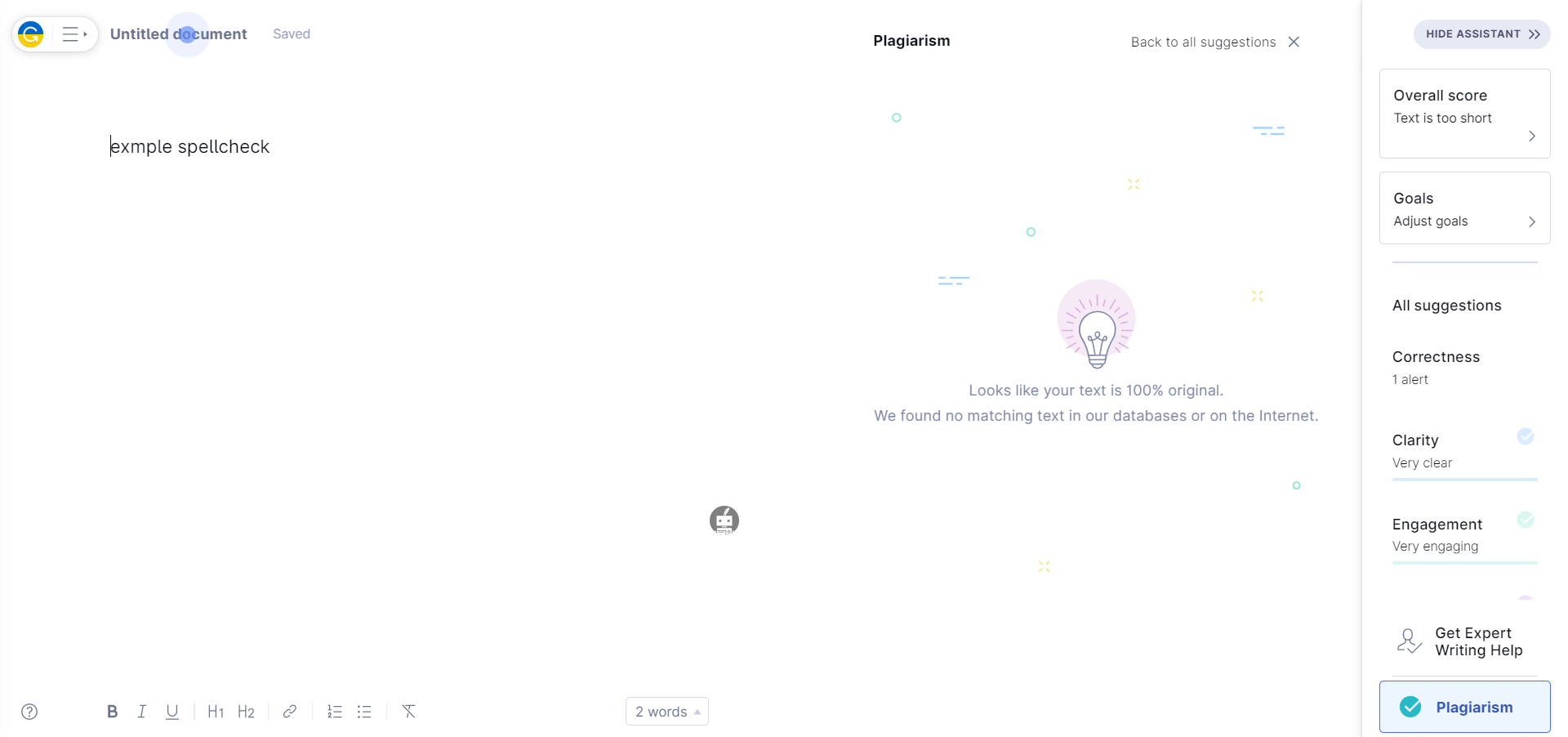 Quillbot's plagiarism checker is still relatively new, whereas Grammarly has offered plagiarism checks for a while. I'll quickly explain how plagiarism checks work.
In short, each tool compares your writing against a database of different texts to ensure that what you type is sufficiently original so that you can't be accused of copying someone else's work.
These checkers tell you what percentage of your text overlap with an existing body of work and how severe the plagiarism is. It also highlights the affected areas so you know what to change.
Quillbot's plagiarism checker allows you to check up to 20 pages (up to 250 words per page) per month with its premium plan.
Whereas with Grammarly, there is no cap on how many documents you can check. These tools can also check where attribution is lacking so you can properly cite your source, which leads us to our next feature…
Conciseness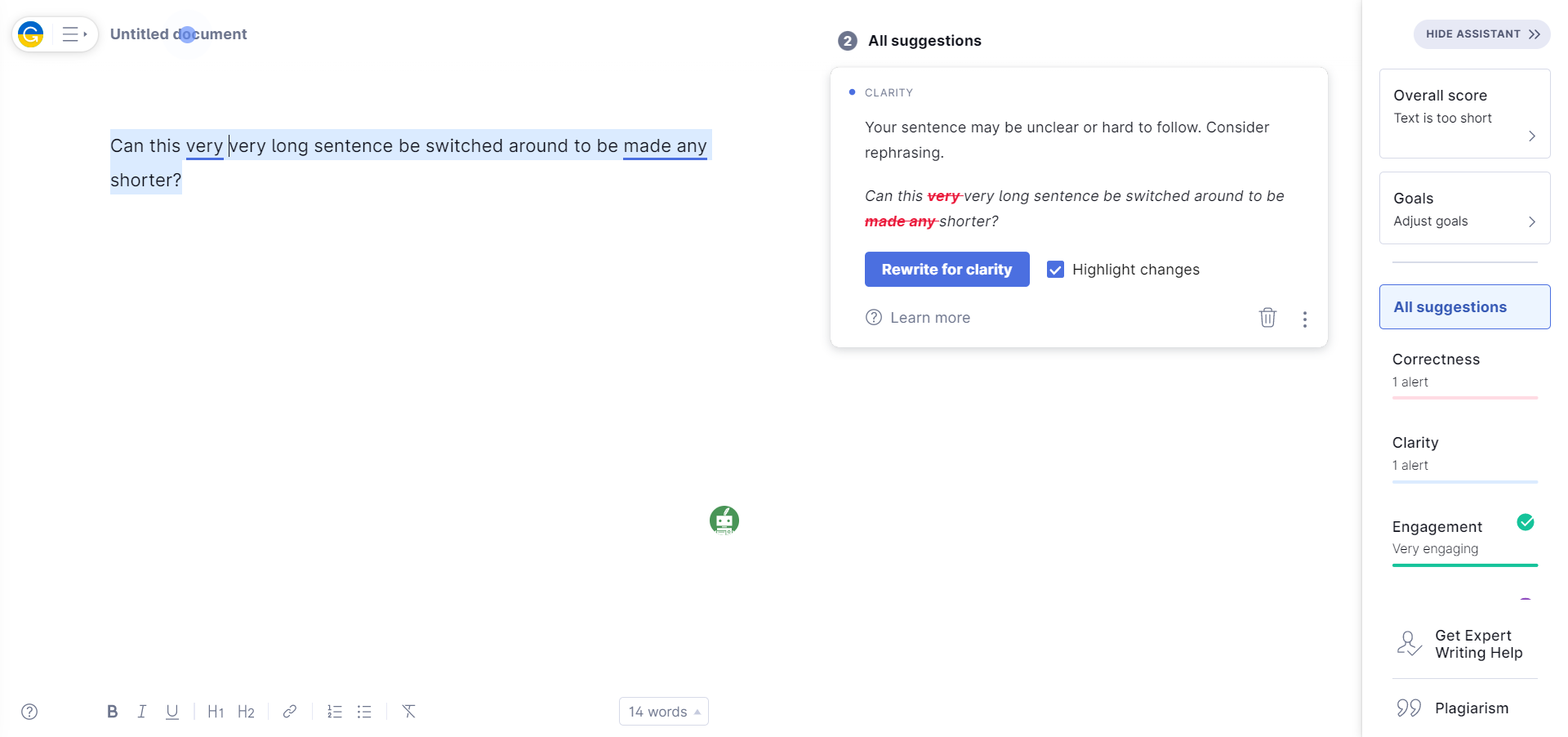 Another feature employed by both tools is their conciseness functionality. This helps you remove unnecessary words to improve the conciseness of your writing.
Quillbot and Grammarly scan your work to see if your text could benefit from simpler formulations. If they can, they'll propose less convoluted alternatives.
Synonyms and Vocabulary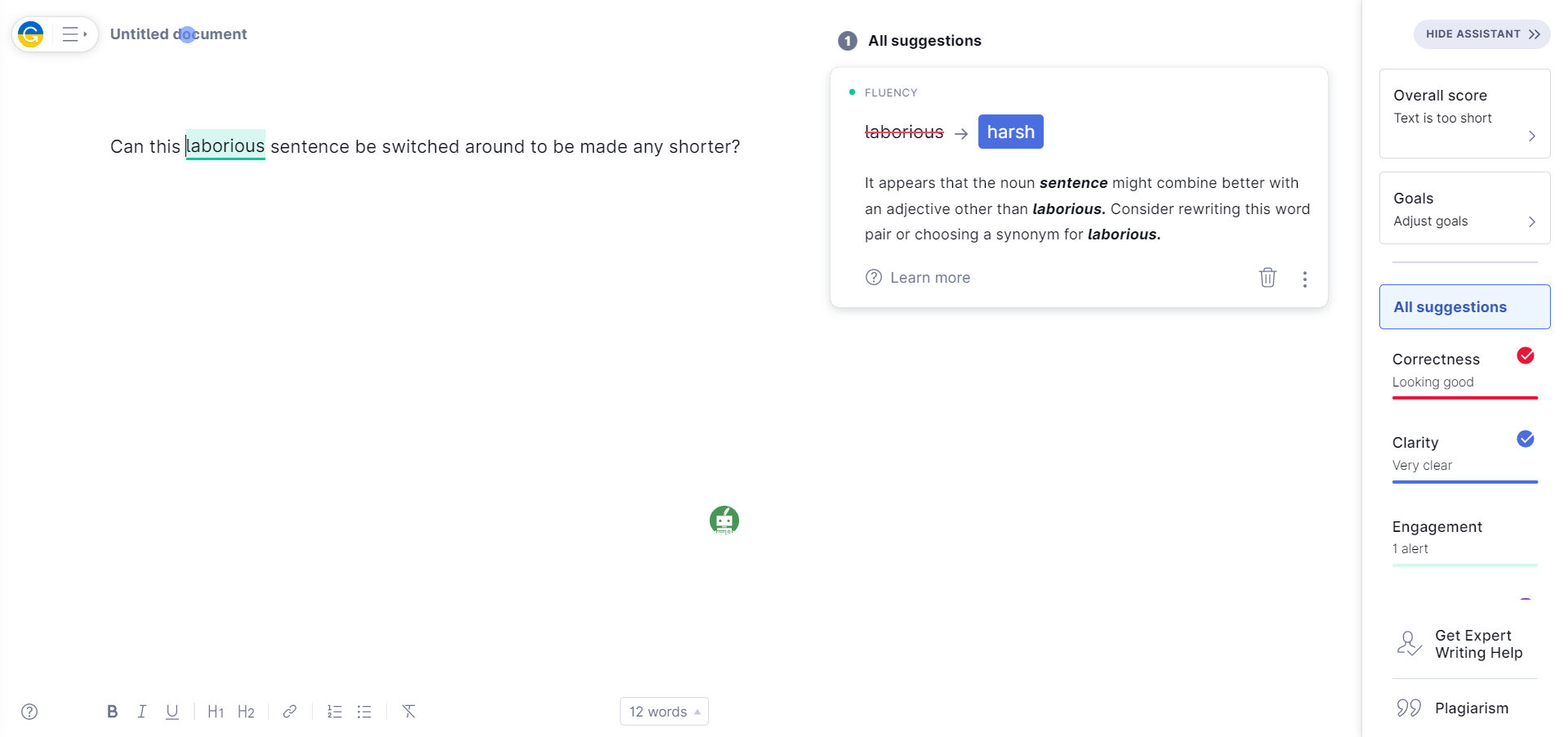 Both Grammarly and Quillbot provide a choice of synonyms to enhance your text. This works wonders for improving your vocabulary and choosing more relevant or interesting wording to make your writing more engaging. Grammarly makes these proposals as you write.
On its premium plans, it marries your chosen tone to pick more compelling word variations.
In contrast, Quillbot ties its synonym options with its paraphrase tool, whereby the word variation depends on your chosen writing modes. More on this later.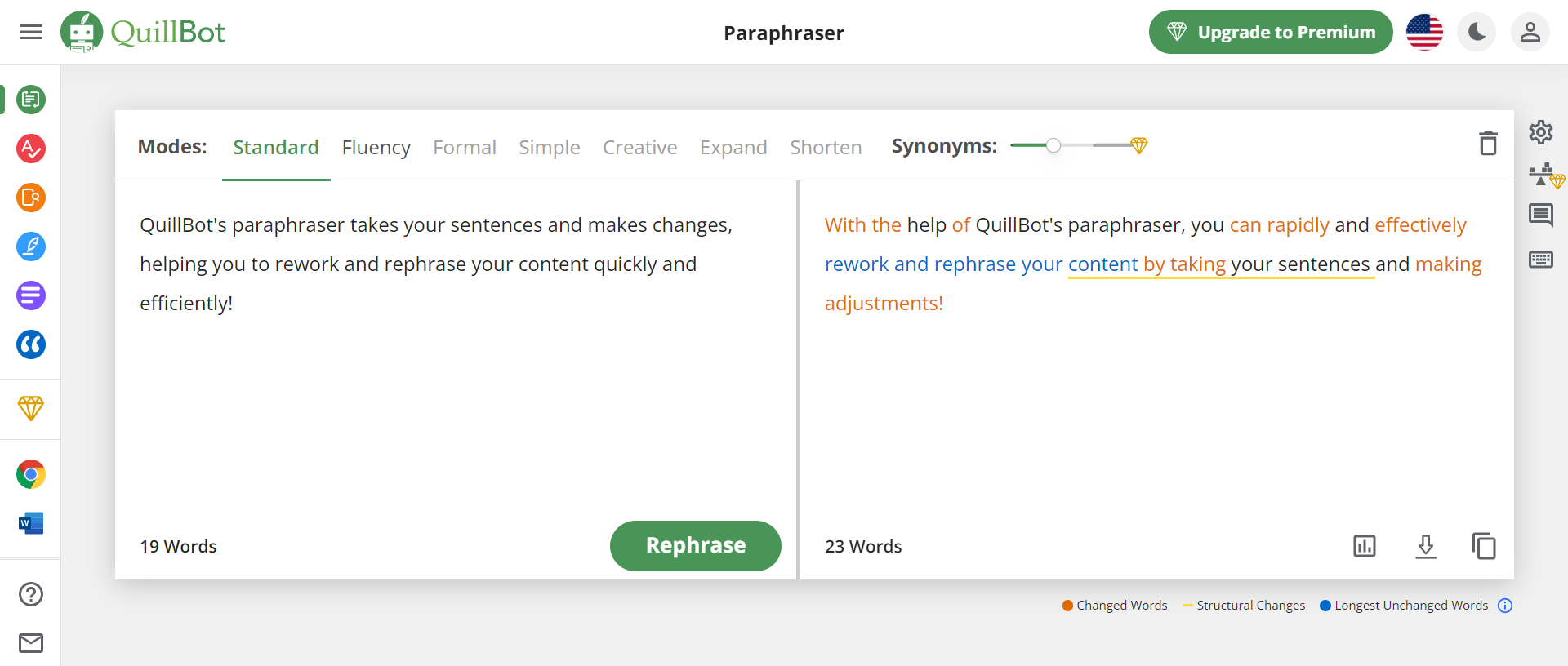 Unique to Quillbot…
Now that I've covered Grammarly and Quillbot's most notable shared features, let's turn our attention to some of the features explicitly unique to Quillbot.
Summarize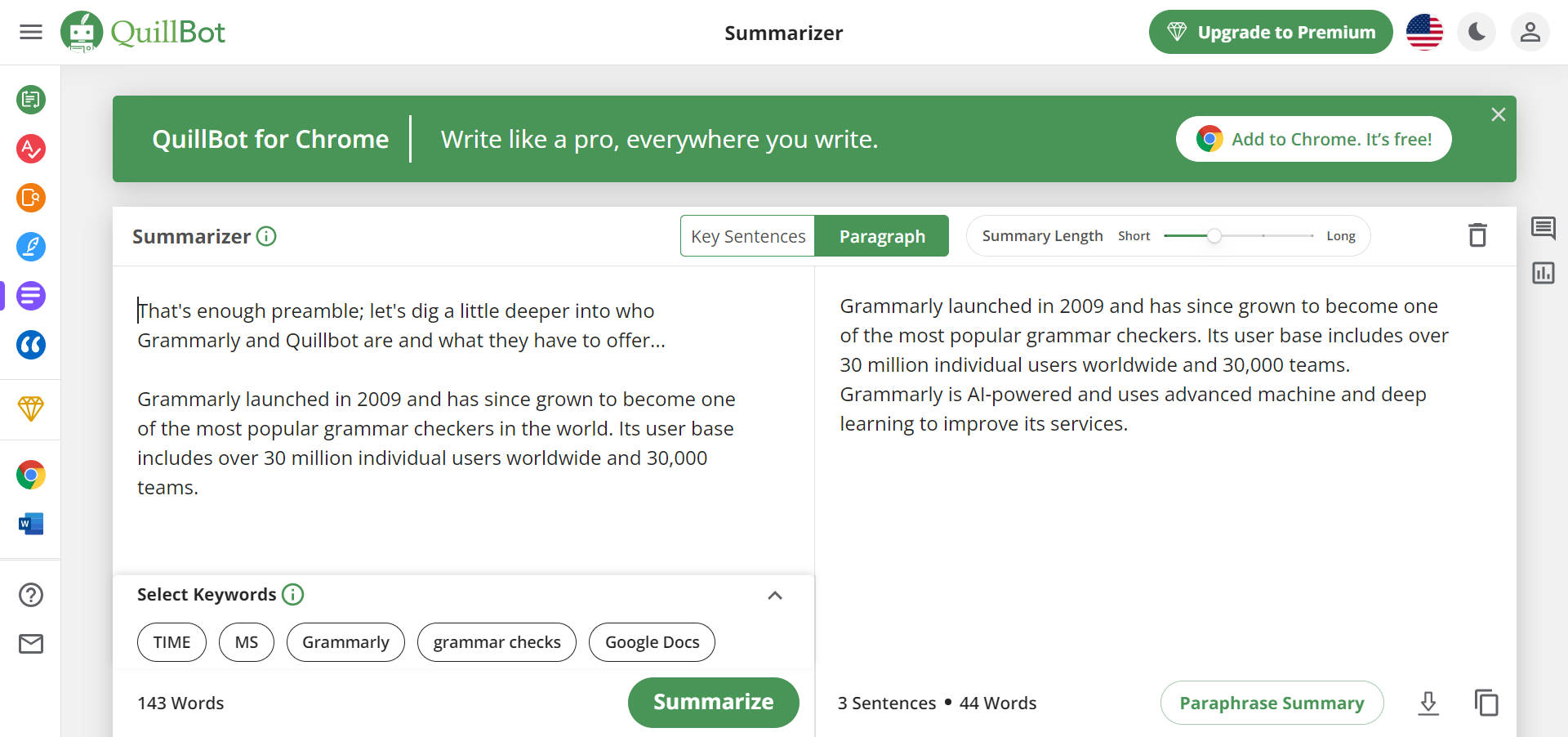 Quillbot has a neat in-browser Summarizer tool. Here you can paste a body of text into it, and it will provide a summary that captures the critical elements of the text.
You can choose to review key sentences in a bulleted list or as a summary paragraph. You can also decide whether to request a shorter or longer summary and copy or download it when you're happy with it. This isn't just helpful for checking whether your writing's key message is on point.
You can also use this to quickly get insights into large bodies of text and capture the most important details. For example, if you're conducting research for school or work, you can quickly check if a document is worth your time.
Quillbot's premium plan empowers you to summarize up to 6,000 words at a time in the summarizer tool.
Paraphrase
Quillbot's paraphrasing tool allows you to write more concisely while enabling you to opt to make your sentences more formal and detailed.
On the free plan, you can choose from two modes. Whereas on the premium plan, there are five extra modes. These modes allow you to enhance your text in several ways, using more or fewer synonyms to express your meaning.
For example, a formal mode might propose a more complicated word, whereas the simple mode will choose the most uncomplicated, commonly known expression. The available modes are as follows:
Standard

Fluency

Expand

Shorten

Formal

Simple

Creative
On the premium plan, you can also select freeze words. These words or phrases won't be changed while you try different modes. Freeze words are helpful if you want to preserve a branded formulation or a unique reference that Quillbot might not recognize.
Finally, if you're on the premium plan, you can review the wordings of each paraphrasing mode from one screen and compare to see which one you like best. Please note that this only works if you're using a desktop.
Citations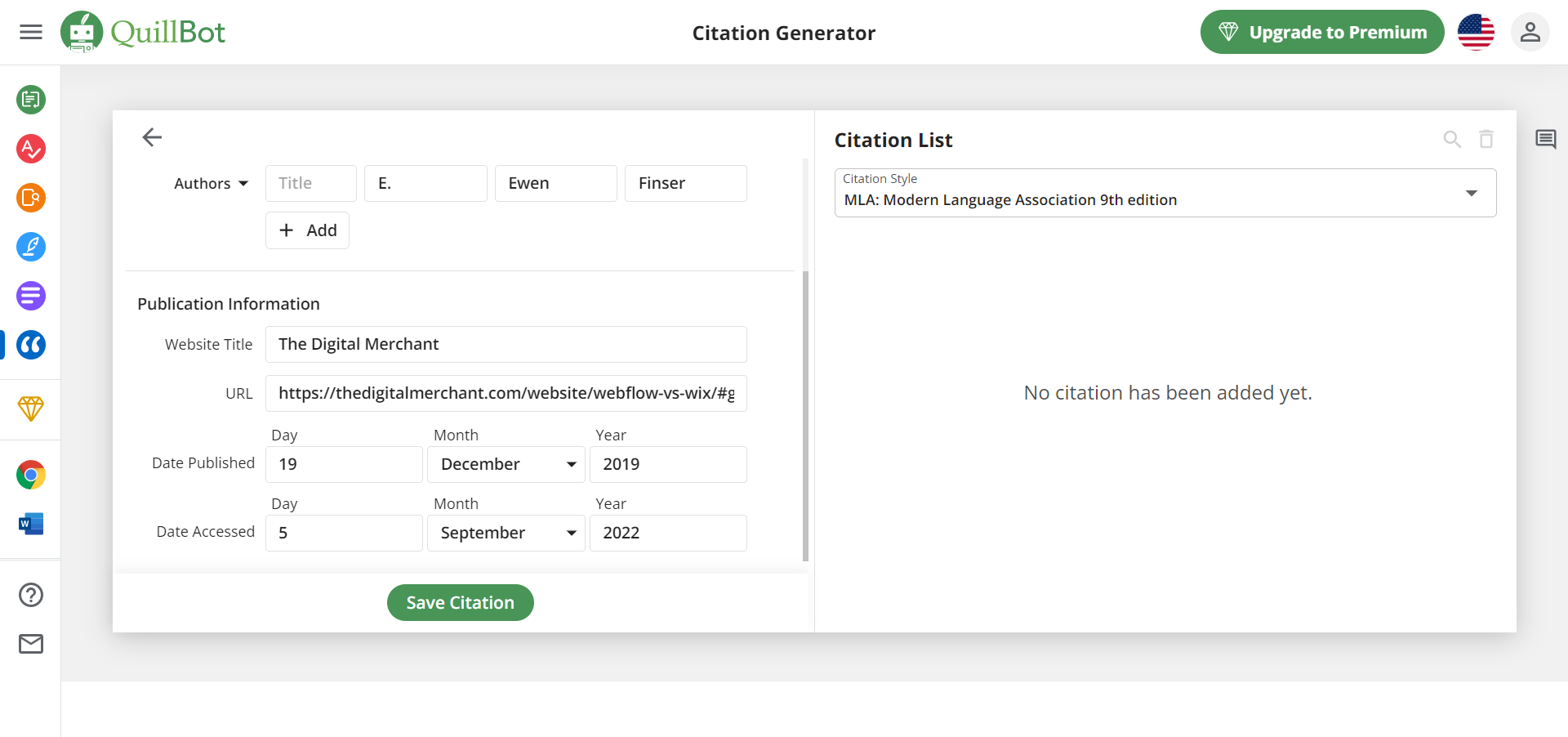 Getting citation formats right can be difficult, especially in academic writing, as the syntax is so strict! Fortunately, Quillbot provides a free citation generator on its website. Just enter the name of a book or website and choose which citation style is relevant to your work.
The generator then proposes the correct citation format in the proper syntax. If necessary, you can also manually supply missing information from citations. Then, when you're done, you can copy and paste it from Quillbot to your work.
In contrast, Grammarly helps identify where citations might be needed through its plagiarism checker, but it doesn't provide a similarly handy citation generator.
Unique to Grammarly…
Now I'll take a look at some of the features Grammarly offers that Quillbot doesn't:
Tone Detection and Suggestions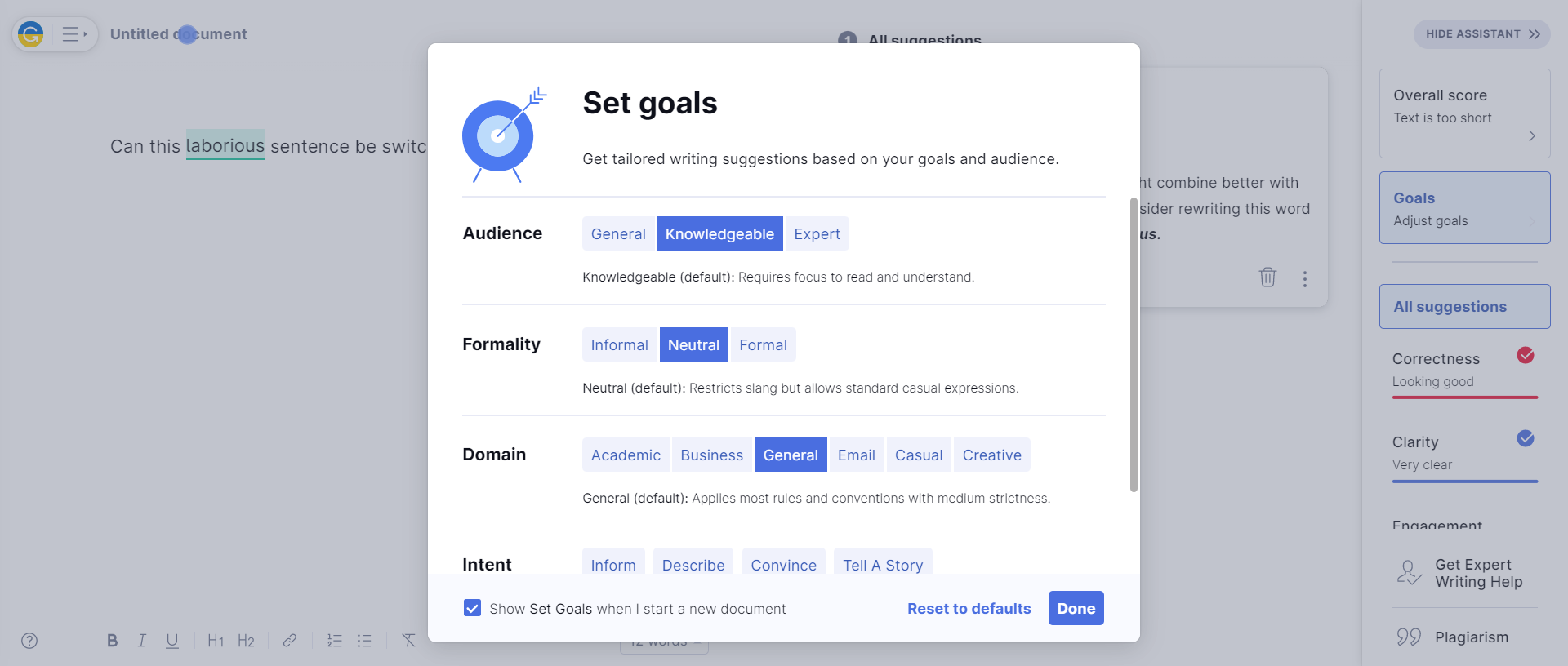 Like Quillbot's paraphrasing modes, Grammarly helps you adjust your text for a particular tone or feel. First, the tool scans your text and analyzes its tone, telling you how you come across in messages, emails, longer texts, etc.
Grammarly can detect 20 different tones, ranging from regretful and accusatory to excited and joyful. It will even tell you when you maybe sound a little egocentric. If you're unhappy with the tone of your writing, you can tell Grammarly what you're aiming for. With the premium plan, you can choose to sound:
Confident

Friendly

Diplomatic

Sincere

Constructive

Formal
On the free plan, Grammarly tells you how you come across, but it won't give suggestions to help you achieve a specific tone.
Grammarly also detects opportunities for you to seem more inclusive, using a database of words that have proven to sound more appealing to minorities. Even better: Grammarly explains why your word choice might be inappropriate or insensitive to help you make more informed decisions on whether to change it.
Finally, Grammarly allows Business plan users to determine a brand voice to help keep your team aligned with a specific tone. Brands can choose the tone they want to go for and which they wish to avoid. Then Grammarly will direct employees towards that tone as they write.
Formatting Suggestions
Unlike Quillbot, Grammarly also helps improve your formatting. For instance, Grammarly identifies opportunities to use bullet points and lets you know where a page break or a new line feels more appropriate.
Snippets
Another business feature is the ability to quickly create snippets to reuse in any body of work. Snippets ensure your team benefits from on-brand and consistent messaging. Needless to say, this is ideal for teams that want to follow a script when interacting with customers.
For example, you could create and paste a standard formulated apology or promotional offer, which your employees can quickly paste into their emails to customers and customize.
Style Guide
The style guide is yet another Business plan feature. This enables you to create a glossary of terms to be used in conjunction with your brand.
That way, team members know not to stray away from this vocabulary. For example, suppose you have a specific name for a feature with particular capitalization. In that case, you can use Grammarly's style guide feature to help keep this consistent. Handy, right?
Analytics
Grammarly's simple analytics provides a visual way to see how your Grammarly account holders are improving their writing with time.
This is especially useful if you're an educational institution. For example, an English language school could use Grammarly to help them measure how their pupils' writing skills are progressing. The analysis tool also reports on the tone used by team members in their writing and outlines how much time Grammarly has saved them and you.
Account Roles and Permissions
With Grammarly's Business plan, its dashboard comes with the option to assign different roles and permissions to team members.
Only trusted members can edit features like reusable snippets and style guides. Business accounts also come with SAML single sign-on, which means your users can log onto multiple website applications with Grammarly already activated without having to sign into Grammarly again.
Quillbot vs Grammarly: Pricing
Next, I'll jump into Quillbots and Grammarly's pricing. Both come with free plans. However, neither offer free trials on their premium versions. In addition, Quillbot offers only a three-day money-back guarantee, whereas Grammarly offers seven days to refund your initial payment.
Quillbot's Pricing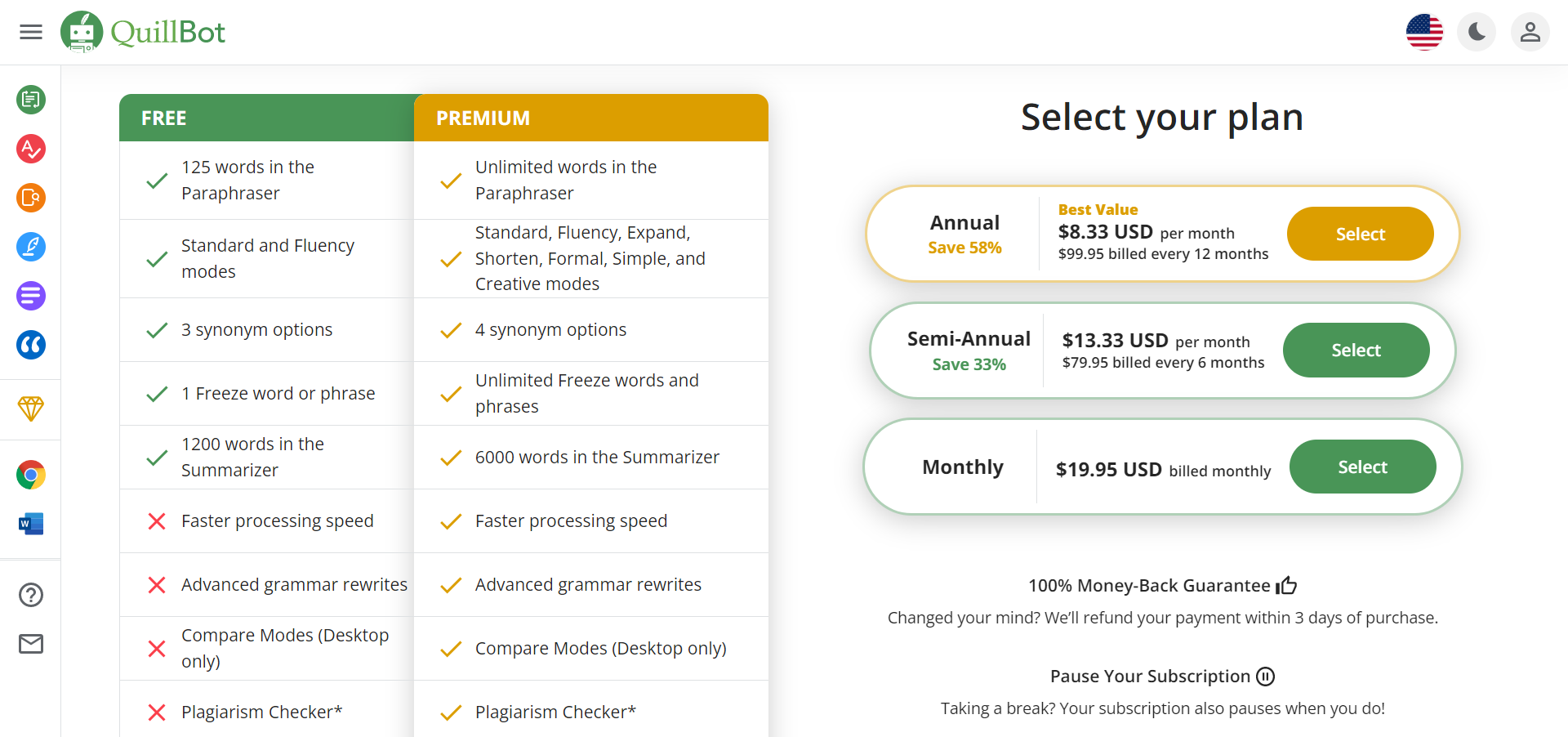 I like that Quillbot's pricing is very straightforward. First, the free plan comes with a range of limitations (as to be expected) but provides access to basic functionality. More specifically, the free plan enables you:
To check 125 words in the paraphrase

Access to standard and fluency modes

Three synonym options for each word

One freeze word or phrase

To process 1,200 words in the summarizer
You can also add Quillbot to Chrome for free to benefit from spell and grammar checks wherever you are. Then, there's a single premium plan. Pricing depends on whether you pay monthly, semi-annually, or annually. The annual pricing is the best value, costing just $8.33 per month. With the premium plan, you get:
Unlimited words in the paraphrasing tool

Unlimited freeze words and phrases

Four synonym options

Access to standard, fluency, expand, shorten, formal, simple, and creative modes.

You can process 6,000 words in the summarizer

Advanced grammar rewrites

Faster processing speeds (i.e., the editor won't take as long to paraphrase, summarize or check for grammar.)

Compare modes (only on desktop)

Access to the plagiarism checker
Grammarly's Pricing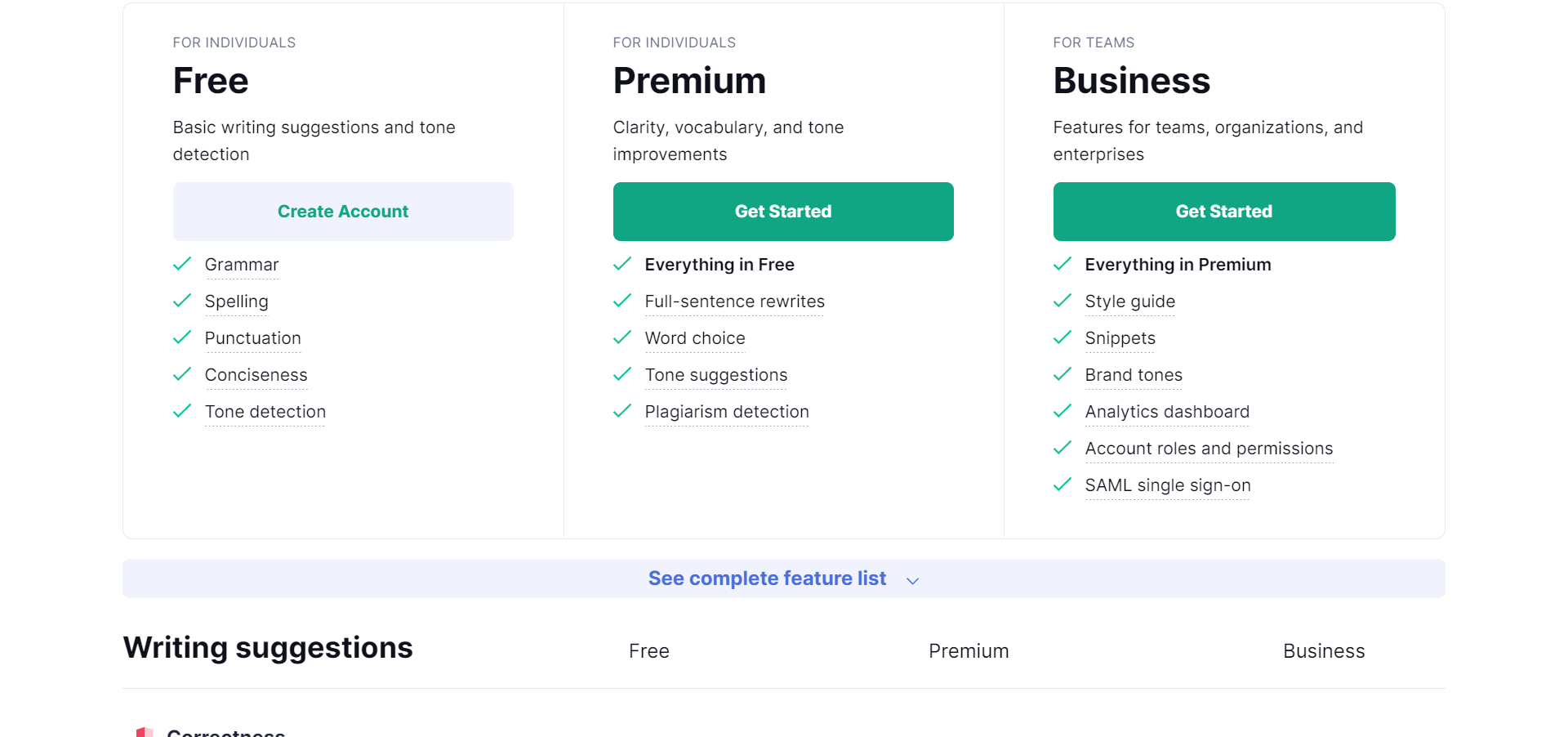 Grammarly offers a few extra pricing tiers. However, like Quillbot, it provides a free version, including a browser extension to help you check for spelling and grammar nearly anywhere on the web. The freemium plan includes unlimited checks for:
Grammar

Spelling

Punctuation

Conciseness

Tone detection
However, if you want more extensive help to improve your writing, upgrading to the premium plan for $12 per month becomes almost essential (incidentally, this is the plan I currently use). This is the plan that unlocks:
Checks for consistency in spelling and punctuation

English fluency checks

Full-sentence rewrites

Formatting suggestions

Word choice and word and sentence variety suggestions for higher engagement

Tone suggestions (sound confident, friendly, diplomatic, constructive, sincere, formal)

Suggestions for more inclusive language

Plagiarism detection
Unlike Quillbot, Grammarly offers a range of features suitable for teams in its Business plan. This sets you back $15 per user per month (based on annual billing) and offers every team member on the plan the benefits of the Premium package, plus:
The ability to create a style guide to help team members choose the right terminology for your brand copy

Create reusable snippets that can be pasted into any content

Establish a brand tone to ensure team members stick to your brand's voice

Access to an analytics dashboard to see how team members are improving their writing over time

You can manage account roles and permissions

SAML single sign-on
It's worth noting that the pricing above is based on annual billing, and with the Business plan, larger teams can get further discounts.
So be sure to contact Grammarly directly for more information on that. Monthly pricing isn't displayed, so be prepared to find more expensive plans at checkout if you don't want to commit to a whole year of Grammarly.
Quillbot vs Grammarly: Support and Resources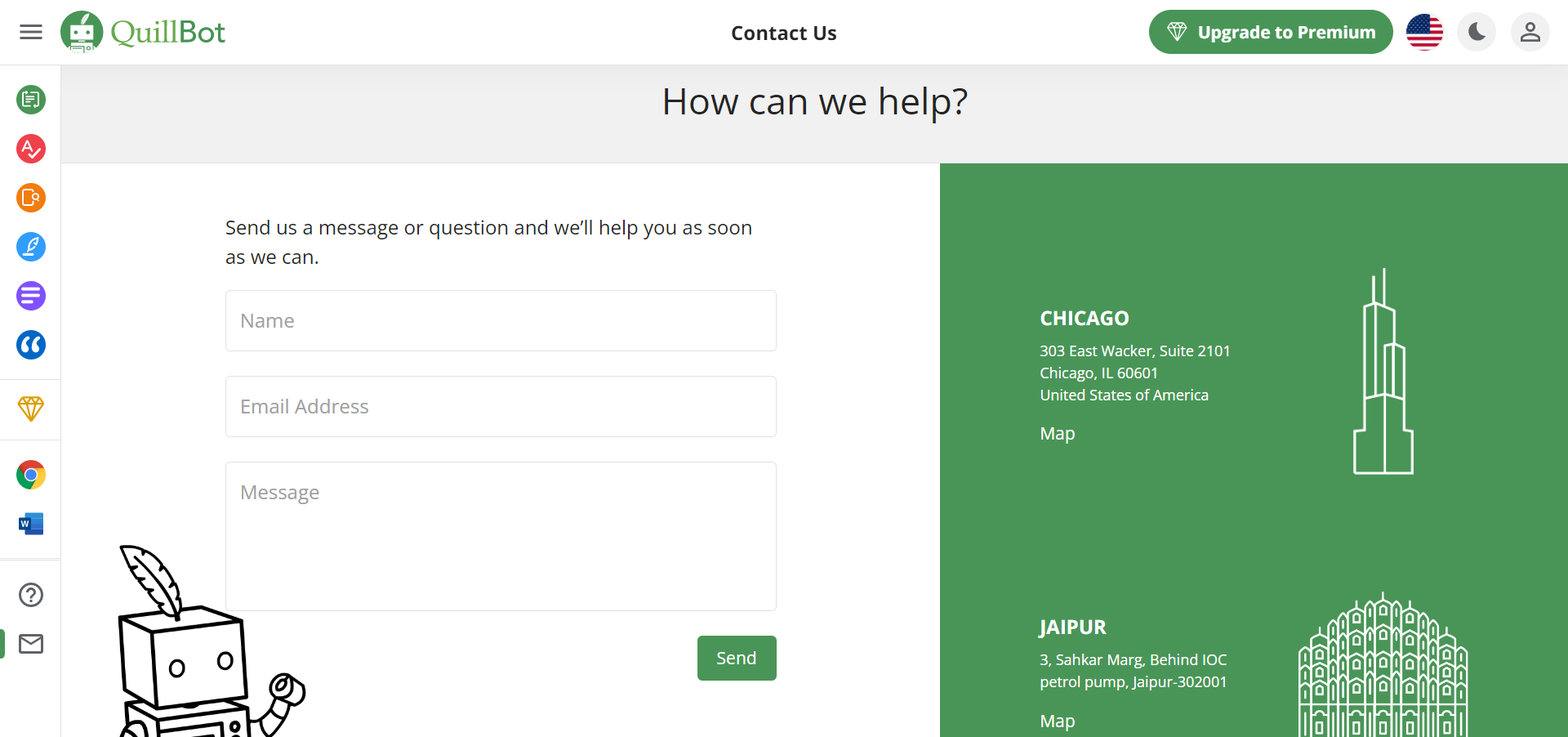 Quillbot and Grammarly are very straightforward, but if there are issues with your account or subscription, you'll want to make sure someone is there to help.
Quillbot's team is contactable via a ticketing system. On top of that, it provides self-help resources, such as courses and blog articles on writing and researching in English. The online help center also includes commonly asked questions and provides info about each Quillbot feature.
Similarly, Grammarly also offers support via a ticketing system. However, you can also get in touch via Facebook, Twitter, and LinkedIn. The team aims to respond within 48 hours of receipt of any request. Their help center also covers Grammarly's features and has troubleshooting articles, tips, and tutorials. Grammarly also has a blog with lots of helpful writing advice.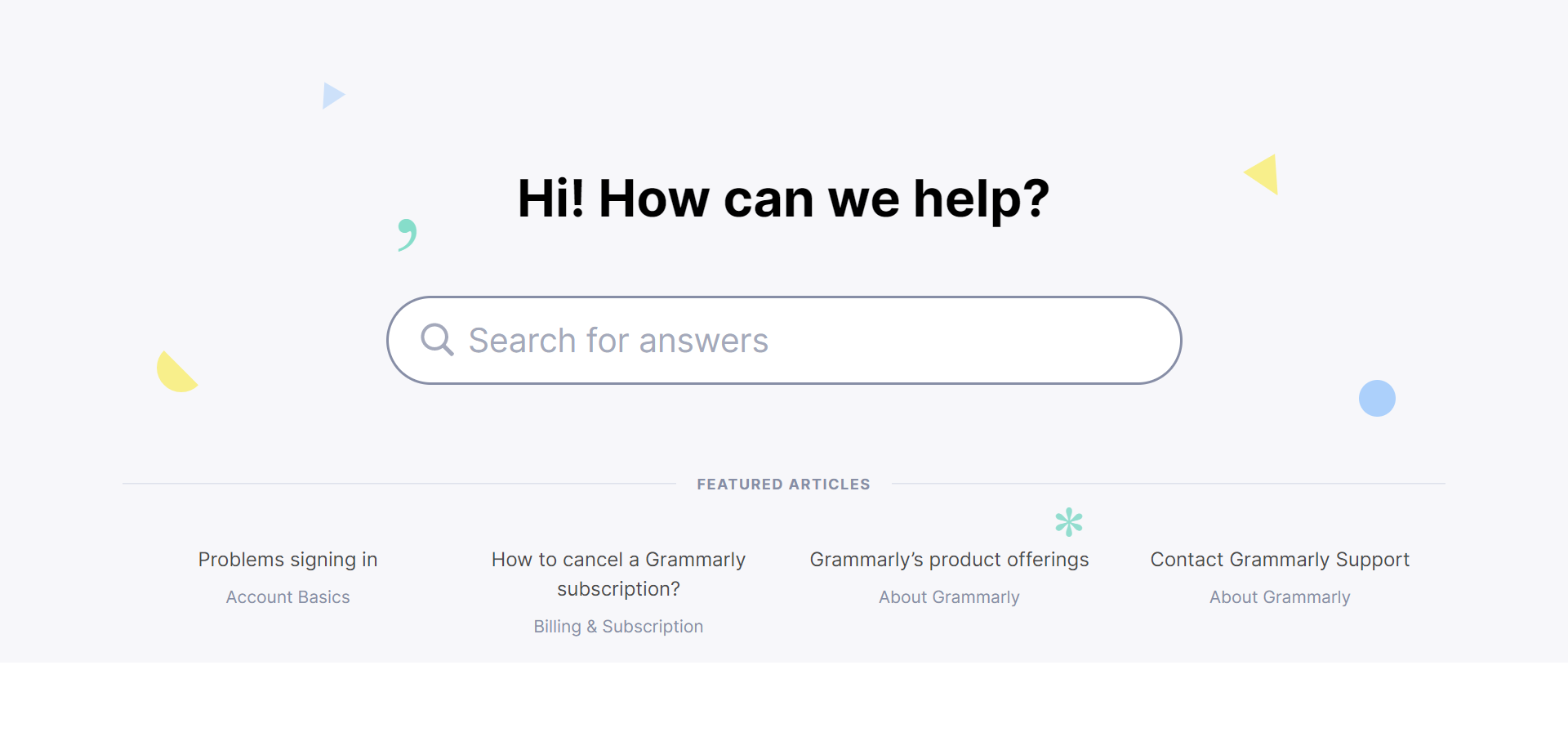 Quillbot vs Grammarly: Pros and Cons
Before we wrap up, here are both tools' most noteworthy pros and cons.
Quillbot Pros
A citation generator is included in Quillbot's free plan.

Quillbot is easy to use

It works with Chrome and MS Word.

The summarizer tool makes research easier.

The paraphrasing tool is useful.

Users benefit from affordable pricing (particularly if you opt for annual billing)

You can optimize your work for seven different tones with Quillbot's premium plan.
Quillbot Cons
It doesn't detect tone as Grammarly does. I.e., it doesn't tell if you sound appreciative or self-absorbed, for example, and so it's not as helpful in adjusting your social writing for email and social media. Instead, Quillbot focuses merely on academic factors, like formal or simple writing, creativity, etc.

Premium plagiarism checks are limited to just 20 pages per month.

Quillbot doesn't offer features explicitly designed for businesses.

There are character limitations on both its free and paid versions

– for example, its plagiarism checker and the summarizer.

The spell and grammar checker isn't as advanced as Grammarly's.

Grammarly uses more advanced machine learning to understand a sentence's more subtle context better.

The plagiarism checker doesn't compare against as many web pages as Grammarly, so if you want a more thorough plagiarism checker, you're probably better off looking elsewhere.
Grammarly Pros
It's effortless to use

It boasts advanced tone detection and suggestions to help you polish your writing.

I love that you get unlimited plagiarism checks with Grammarly's paid-for plans.

With Grammarly's Business plan, you can access business and team features, including style guides, brand tone, analytics, and snippets.

You can use Grammarly in its browser editor or as an extension for a wide variety of browsers and tools.

If you're a larger business or institution, you'll get access to volume discounts.

Grammarly is more advanced in detecting structural mistakes and rewriting whole sentences. It uses deep machine learning and advanced AI, which continue innovating its language understanding.

AI-powered checks provide more advanced suggestions for your chosen tone.
Grammarly Cons
It's slightly more expensive for individuals.

Its citation generator isn't included in its freemium version.

You can't summarize texts, which is a handy research feature Quillbot offers.
FAQs
Question: Where can I use Quillbot and Grammarly?
Answer: You can use Quillbot's Editor, the co-writer, in your internet browser. Additionally, you can use its Chrome and Microsoft Word extensions.

Grammarly also offers an in-browser editor and Chrome and Word extensions. However, it goes even further by providing Opera, Firefox, and Edge extension tools.

Grammarly also works across your email and social media and even checks text in software like WordPress or Shopify. It also works across the entire Google Suite and MS Office suite.
Question: Does Quillbot or Grammarly provide discounts for students?
Answer: Quillbot doesn't offer official partnerships or discounts for students or educational institutions. The best way to save money is to opt for its annual plan.

In contrast, Grammarly does partner with educational institutions. So, for instance, you can get volume discounts if you're an educational institution using Grammarly for a class or group, and even bigger discounts if you buy it for the whole institution.

There are also business-related volume discounts, so you'll save a little on per-member pricing if you have more than 10, 50, or 150 users. After this point, you'll need to contact the team to negotiate a deal.
Question: How does Grammarly use AI?
Answer: Grammarly uses AI and deep machine learning to fuel its grammar suggestions. The AI observes language at every level, including characters and individual words, all the way through to grammatical structures in sentences or even full texts and paragraphs.

To optimize its AI, Grammarly has fed it a vast collection of sentences labeled in a way the AI can understand. This involves showing the AI both proper and improper punctuation and marking which use is correct or incorrect.

Natural language processing is a specific branch of AI that performs tasks like essay scoring, machine translation, and sentiment analysis, all of which Grammarly uses.
Question: Can I use Quillbot to rewrite articles for content?
Answer: Quillbot is sometimes seen as software that can spin existing articles to pass plagiarism checks. Such platforms can be useful if you want to get content published quickly but don't have the time or energy to write a fresh piece.

However, Quillbot isn't designed for this purpose, and its paraphrase rarely changes text so significantly that it would pass a plagiarism check if your text was copied from another source.

Instead, Quillbot helps you to improve your own writing by offering more concise and engaging ways to formulate your sentences. It's not intended for rewriting existing content.
Quillbot vs. Grammarly Compared: My Final Verdict

I think it's clear to see that Quillbot and Grammarly both have lots to offer, and each tool has features that make it stand apart from its competitors.
In short, Quillbot is a little more affordable, which I think makes it more attractive for anyone trying to stick to a tighter budget.
However, overall, Grammarly boasts a more extensive suite of features. For $12 a month on its Premium plan compared to Quillbot's $8.33, you benefit from a more powerful spelling and grammar checker that can make more meaningful structural suggestions.

Grammarly also comes with a decent tone detector and doesn't limit how much text you can run through its editor and plagiarism checker. Also, when it comes to checking for plagiarism, it has access to a more extensive database of web pages to compare to, making it a more reliable tool.
Quillbot simply can't match the technology Grammarly has perfected over the years. However, suppose you want a summarizing tool and a free citation generator to help with your research.
In that case, Quillbot might be perfect for you.  As you can see, it depends on where your priorities lie. If you're serious about upping your writing game, I think spending a few more dollars each month to invest in Grammarly is a good idea.
Also, businesses and educational institutions needn't hesitate, as Grammarly clearly offers more features, group accounts, and discounts explicitly for these purposes.
Overall, I'm inclined to name Grammarly my winner in this head-to-head comparison. But, enough about my thoughts, which is your favorite grammar-checking tool, and which features do you use the most? Let me know in the comments below!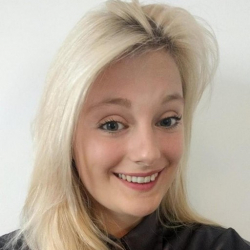 Latest posts by Rosie Greaves
(see all)