With a user-friendly drag-and-drop editor and a wide assortment of website templates to choose from, Wix is a popular choice for small business owners interested in creating their first website. It was also the CMS platform that I used to build my first website in 2008. Since that time, the platform has grown and evolved adding new features, apps, and SEO tools.
As of 2021, over 200 million people have used Wix to build and launch their websites. But why is it such a popular choice for first-time website builders and what differentiates the platform from WordPress, the most popular competitor?
In this guide, I am going to dive into the finer details of the Wix platform, what it offers, and how to know if it is the right CMS for your needs.
Bottom Line Up Front
Wix is a popular CMS platform for new website creators due to its incredibly user-friendly design. I recommend Wix for those that are intimidated by the website creation process. It will allow you to create a website easily with its drag-and-drop design interface and over 900 free website templates to get you started.
What Is Wix?
This now-popular CMS platform was first created in 2006 by founders Avishai Abrahami, Nadav Abrahami, and Giora Kaplan. After trying to build their own websites they realized that the process was difficult, especially for those without previous coding knowledge.
The realization inspired them to create a user-friendly platform that would empower anyone to create a website regardless of their skills and experience.
Since that time, Wix has grown to incorporate over 1000 innovative features, over 900 free website templates for easy website creation, and more. It is used by small business owners and website creators in a total of 190 countries around the world.
As a CMS focused on providing entry-level and beginner-friendly options, Wix does offer a free plan with limited features and a Wix domain. But you can upgrade for more features and opportunities. This allows the platform to appeal to a wide assortment of users at different stages in their online marketing journey.
Key Features Wix Offers
The Wix platform provides some great features for newer or beginner website creators. These tools are designed to speed up and simplify the website creation process. They have also rolled out additional features to support your marketing efforts and elevate your online presence. Here are a few features that you should consider when deciding whether Wix is right for you.
Variety of Plans and Pricing
For those that are unsure about investing in a CMS or looking to experiment with Wix before committing to a paid plan, Wix offers a free option. You can build, publish, and share your website for free if you are comfortable with your website using a Wix domain.
This means that the URL will be yourname.wixsite.com/yoursitename. Free websites are limited to 500MB both in bandwidth and storage. The website can remain on the free plan as long as you are comfortable with that limitation.
Upgrade to a paid plan easily from your Wix account if you decide to do so in the future.
Wix premium plans allow you to use a custom domain. Other features, depending on the level of your plan, include removing Wix ads, increased bandwidth and storage space, a free Site Booster app, ad vouchers, and a professional logo design. There are also Business, eCommerce, and Enterprise plans for those with more advanced needs.
Premium plan options include:
Combo: $16/month
Unlimited: $22/month
VIP: $45/month
These prices are all based on a yearly subscription. Monthly pricing is not available.
Wix ADI
If the idea of website creation is overwhelming, even with a drag-and-drop builder, Wix offers a unique opportunity with the Wix Artificial Design Intelligence (ADI). This feature leverages the power of artificial intelligence to create a ready-made website including images and content. After the website has been built, you can easily customize its design to make it your own, if needed.
This is a great opportunity for those that are focused on establishing an online presence as quickly as possible without needing to spend time on the finer details.
You will be asked to provide some basic business details including your name, logo, and contact information. You can choose from 6 themes including Clean, Minimal, Timeless, Chic, Sophisticated, and Midnight. After selecting your theme, the Wix ADI will prepare some sample homepage designs for you to choose from.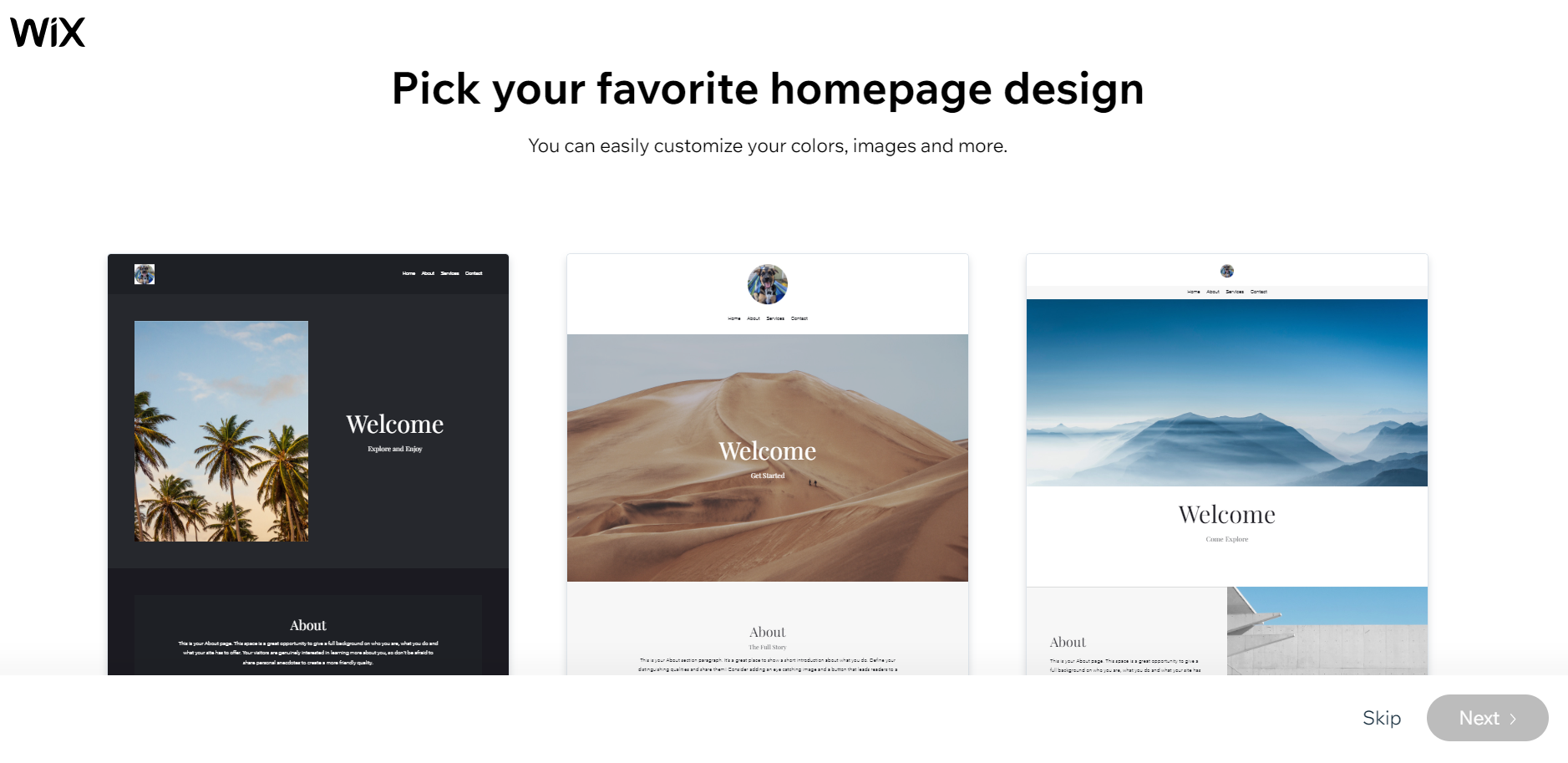 When you have settled on the basic look of your site, you can add the necessary pages to the site with a single click including About, Contact, Services, Projects, and Products. These pages are all preformatted to fit your chosen website theme. Finally, you will be taken into the Wix Editor where you will have the opportunity to make changes, add elements, and customize your website design before finalizing and publishing it.
Wix Editor
For those that are interested in a little more control in their website creation, you can jump right into the Wix Editor. Here, you will have the opportunity to select from the wide assortment of pre-built templates that are available and customize them to suit your business needs.
This includes adding pages, videos, images, headings, and other key elements. You can also easily change the website color palette and fonts, resize, or move elements, and make other changes to the overall website appearance.
Some elements available through the Wix editor that you can add to your website include:
Text
Stock images and free Wix illustrations
Buttons
Galleries
Forms
Video players including YouTube, Facebook, Vimeo, Dailymotion, and Wix Video
Slideshows
Hover Boxes
You can also set up your website to include a blog, online store, booking platform, or membership community. This selection of options will meet the needs of nearly all beginner to intermediate-level website creators.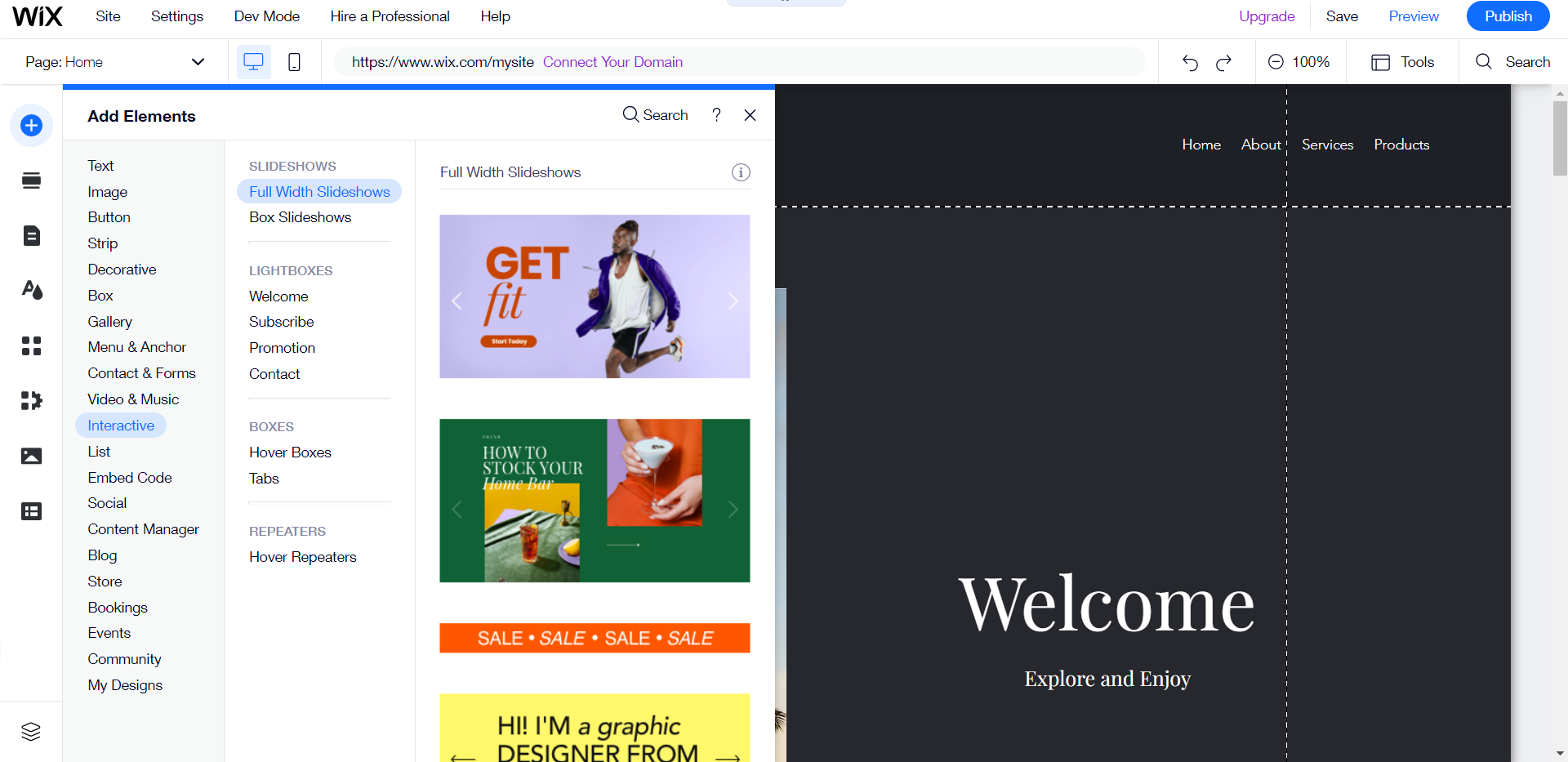 If there is a missing feature that you want to add, the editor also offers the opportunity for website creators to add a custom element using snippets of code. This may not add full customization functionality but it helps to bridge the gap between a standard drag-and-drop editor and a more robust and professional website creation experience.
Wix eCommerce
If you are interested in building a website for an online store, you will need to find an eCommerce solution that you can trust.
This can be a challenge for those that aren't familiar with the different options available. That challenge is further complicated by the different integrations and ensuring that everything is in place to register sales, process payments, collect customer information, and manage your available products or services.
There are several popular eCommerce solutions available, but Wix eCommerce has earned its place on the list of options to consider. Much like the Wix Editor, Wix eCommerce allows you to easily build a functional and on-brand storefront quickly and easily with little to no previous experience.
This is an eCommerce platform that incorporates everything you need in a single easy-to-use dashboard. This eliminates confusion and helps to prevent many of the avoidable errors that new online store owners experience when starting out.
To launch your store, you will need a Business Premium Plan, which starts at around $27/month.
Build your storefront by selecting one of over 500 pre-built online store templates. Just as you did with the Wix Editor, you will then update and customize your site by changing the brand colors, incorporating your logo, and making any other necessary adjustments.
When the store has been built, add products and set up both the payment methods and shipping. After everything has been finalized, choose your domain and publish your new online store for it to go live.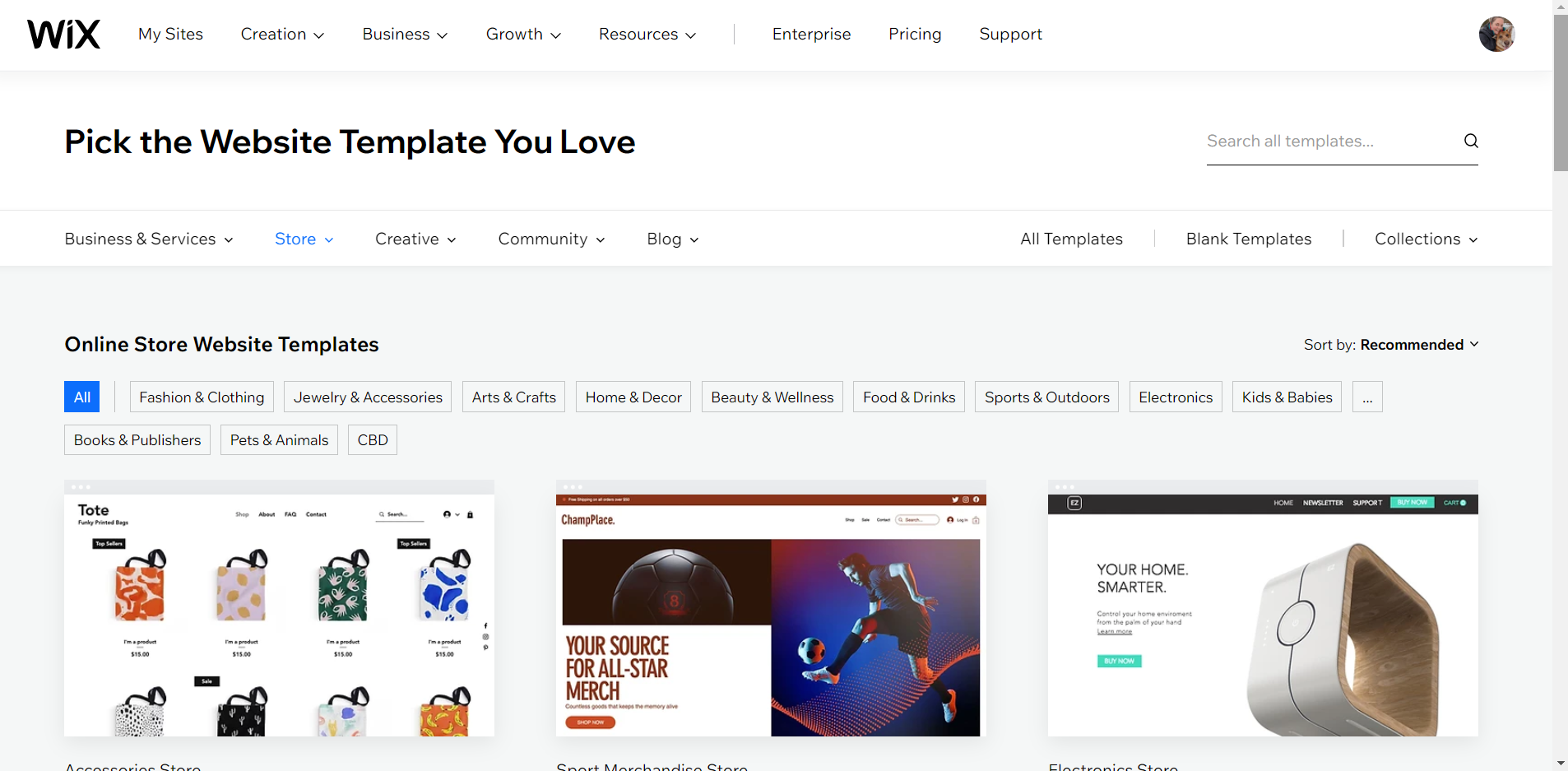 With the use of Wix Payments, you can accept more than 50 different worldwide payment options including major credit cards, debit cards, and Apple pay. Or, you can choose to connect other payment processing solutions including PayPal, Stripe, and Square.
To expand upon your sales, list and sell your products on a variety of different sales channels all managed through the Wix dashboard including eBay, Amazon, Instagram, and Facebook. This allows you to easily maintain a centralized inventory and easily track all sales in one easy-to-navigate location.
Wix Bookings
For business owners with a service-based business, the Wix CMS platform can also be used to schedule services and appointments as well as to collect payment online. This is a valuable tool for business owners that are looking to sell, book, and manage:
In-person appointments
Video meetings and sessions
Classes
Courses
Membership plans and packages
The Wix mobile app allows you to view and manage bookings in a calendar dashboard, making it easier than ever to balance your online and in-person commitments. You can also set business owners, block out designated times when appointments can be booked, sync calendars with all members of your team, and accommodate multiple time zones with ease.
After a client has made a booking, the Wix CMS will create a detailed portfolio with all information provided allowing for ongoing client management.
Logo Maker
One important aspect of starting or rebranding your online business is the creation of a recognizable logo. This is arguably the most memorable aspect of your brand when it comes to ongoing brand recognition and loyalty. Additionally, it helps to convey your brand personality and can even play an important role in establishing trust with your potential customers.
If you're concerned about logo creation and the costs of hiring a professional designer, the Wix Logo Maker may provide the ideal solution. After providing the name and tagline for your business, you will be asked to rate a series of different logos. This helps the program to analyze and assess your preferences and creative vision.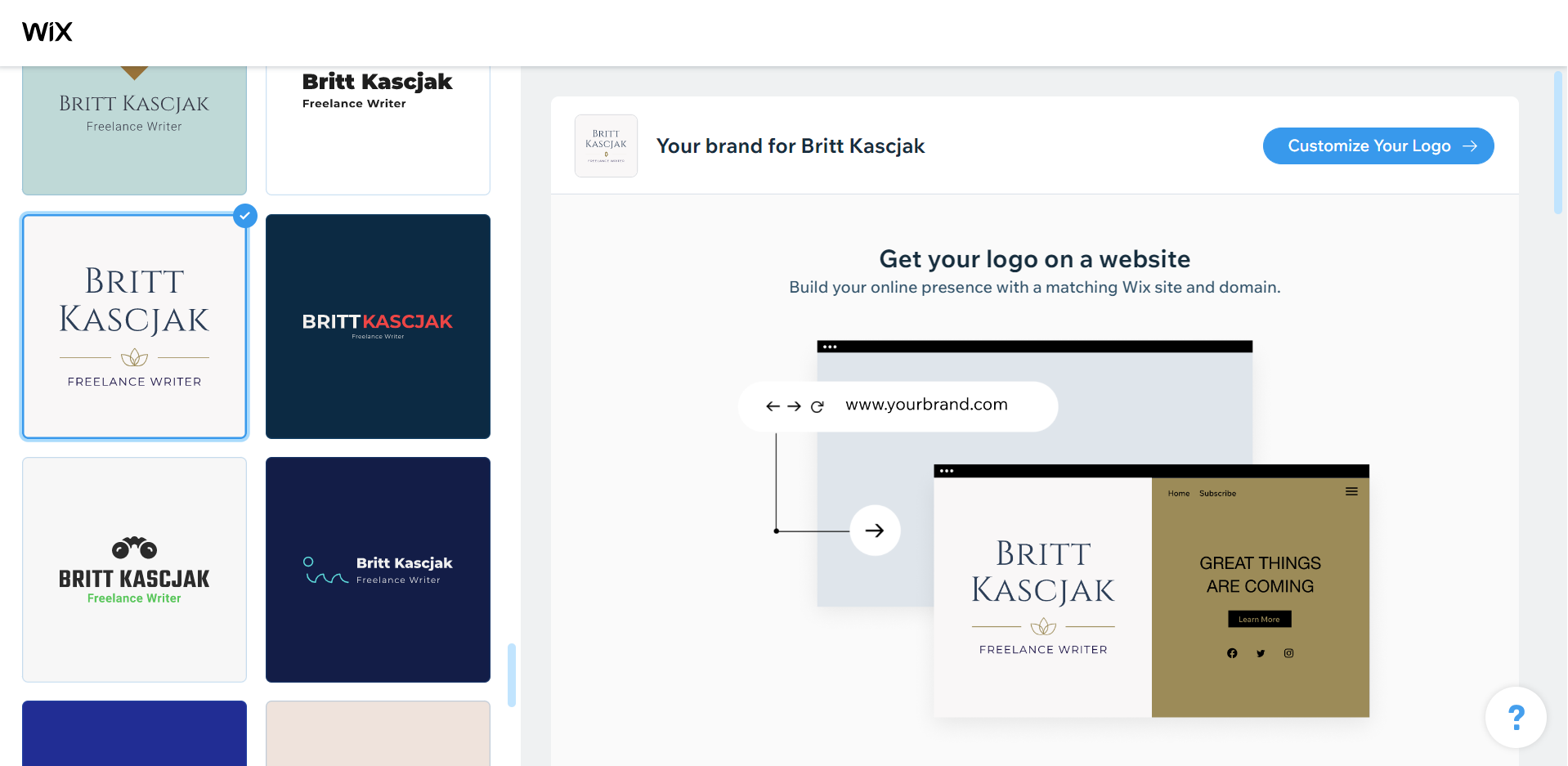 The Logo Maker will then a selection of different basic logo ideas for you to choose from. If you select a logo from the list of options on the left, you can view the branding associated with that logo including a basic website mock-up, a sample business card, and a selection of potential brand merch including t-shirts, tote bags, and stickers.
Select 'Customize Your Logo' if you find an option that catches your attention but isn't quite right. This will give you the opportunity to make changes to the colour palette, text, and imagery used.
Wix Marketplace
In addition to providing you with a reliable and easy-to-use CMS for designing and maintaining your website, Wix also provides access to Wix Marketplace. This is a platform where you can be paired with a professional agency or freelancer that you can hire to complete a variety of different business-related tasks.
Some of the tasks that you can search for include:
Website design, redesign, or site migration
SEO services
Marketing & advertising
Written content
Online store optimizations
Custom logo design
Brand development
Photography and image editing
Database setup and integrations
You will be asked to complete a form that explains what you are looking for which will allow you to be matched with professionals that can meet your needs. You can then ask questions, discuss your goals, and obtain quotes for the work that needs to be done before selecting the right person for the job. When you have decided upon a professional, set a timeline and other project details and watch your business goals come together.
Wix Learn
Building upon the mission of the Wix founders to empower people with little to no experience, Wix also offers a robust educational platform with online courses, webinars, tutorials, and certifications. This is a great opportunity for you to build upon your skillset and grow in your role regardless of the industry that you are in.
This educational platform extends beyond just how to use the Wix CMS for your business needs. Topics covered on Wix Learn include digital and social media marketing, the building of mobile apps, photography to support your marketing needs, keyword research for content creation, and the basics of coding.
The courses provided are broken down into smaller, bite-sized pieces with short video lessons. Certifications allow you to earn credentials to further build upon your expertise and authority, key factors that Google and other search engines use when assessing the credibility of your site and your search ranking. These credentials can also be added to your CV and LinkedIn to build upon your personal authority.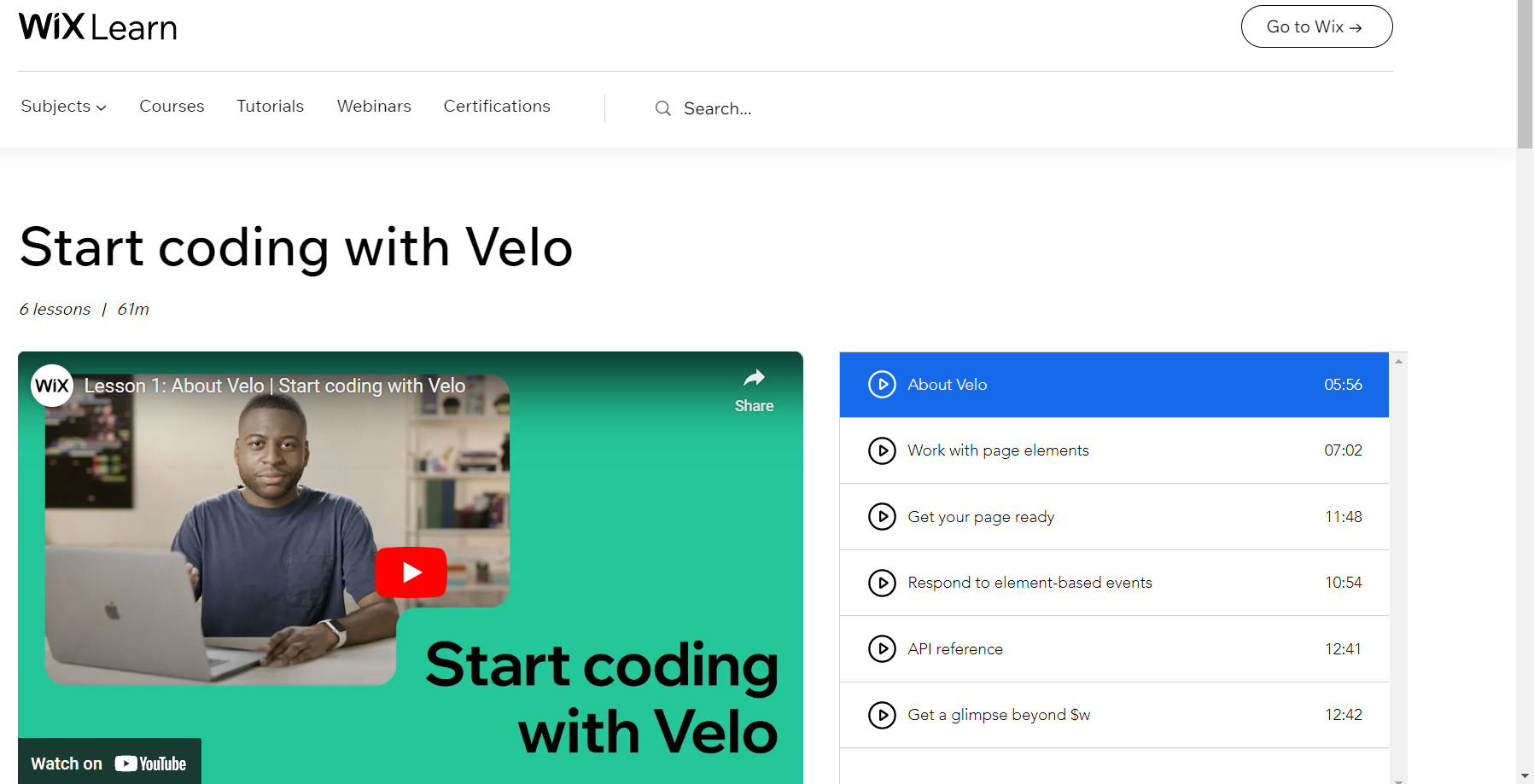 SEO Tools Suite
Wix provides a suite of tools designed to help you improve your search performance by targeting search engine optimization (SEO) on your website. These tools help you establish every element of your SEO strategy from the XML sitemap to your page loading speed.
Some important built-in features provided by these tools include the ability to:
Customize meta tags and URL structure
Create canonical tags
Update your robots.text file
Set-up 301 redirects
Trigger instant Google indexing
Image optimization
Integrate external CDN providers
They have also integrated the Google Search Console into the Wix dashboard to allow you to easily track and monitor your website's search performance. For those that are more focused on traffic from social media, the tools also provide you with the ability to customize how your pages will look when they are shared on popular search engines like Facebook, Twitter, and Pinterest.
You will also have access to the Wix SEO Learning Hub, a collection of educational and informational articles and resources to better understand Search Engine Optimization. Topics include SEO basics, SEO strategies, on-site optimization, keyword research, SEO tools, analytics, and reporting tools. There is also an SEO-focused podcast called SERP's Up diving into insights and news from the world of SEO.
What Are The Disadvantages Of Wix?
There are many benefits to using Wix for bloggers and small business owners, but there are also some disadvantages to consider when selecting the right CMS for your online business needs.
One of the biggest complaints that many website builders and developers have when it comes to Wix is the many design limitations. Unlike website builders that allow you to use coding to create exactly what you have in mind by customizing every element of your website, Wix relies on its editor and the use of pre-built website templates. You may find that you need to be flexible with your design ideas to work within the limitations of the program itself.
Take the time to seriously consider the different website templates available. Once you have created and launched your website, you can't simply switch between templates the way that you can with themes on WordPress. To change templates, you will need to start over from the beginning.
The other big disadvantage of Wix compared to other CMS options is the cost. It does come at a higher price point than many of the other popular platforms available. But this does include every aspect of your website creation and publishing in one easy-to-use package. You are paying for the user-friendly dashboard and editor as well as the tech support and additional resources that are available to every Wix user.
Finally, Wix websites have a reputation for being slow compared with websites created by other website builders. This is an important consideration with Google placing more importance on page speed for search performance.
This is often due to the fact that the Wix websites are built with a larger number of elements on the website homepage, slowing it down. This may be the result of inexperienced website builders creating their sites based solely on aesthetics and not understanding the tech components behind these design choices.
To speed up your website, limit the number of elements on each page. I recommend limiting yourself to no more than 10 elements on any one page, including your homepage.
FAQs
Question: Is Wix hard to learn?
Answer: Unlike more advanced CMS options, Wix is designed to be completely beginner friendly. With a drag-and-drop website editor, the option for fast ADI website creation, an easy-to-use eCommerce tool, and a wealth of free training, it is the ideal tool for those with no previous online business experience. For this reason, it is often identified as the most popular CMS choice for beginners.
But it should be noted that the drag-and-drop editor can be confusing or frustrating for those that are used to using a code-based CMS. It can also feel limiting in terms of the options available to customize the look and function of your website.
For experienced website builders, the platform may appear to be over-simplified, preventing you from creating your ideal site. For those that prefer working in code, you may be better served by WordPress or another CMS that allows for that functionality.
Question: How do I make my Wix site look good?
Answer: As with any CMS platform, there are tricks to creating the best possible Wix website. This starts by selecting the best template for your needs. Take time to explore the templates available including the overall layout and the opportunities it provides to incorporate your content.
If your content is heavily image-focused, you will want to choose a template that allows you to showcase that design element. On the other hand, if you are limited in the visual aspects of your marketing, you may want to choose a template that relies more on written content with fewer spots designated for pictures and videos.
Before your start building (or reworking) your website, decide on a color palette that matches your brand personality and identity. Bright, playful primary colors may better suit a children's clothing brand. But, if you are building a website for a more upscale jewelery store, you may want to choose a color palette that presents a more mature and refined appearance.
When selecting visual elements, be sure to choose pictures and videos that are high-quality. This could include original photography of your products or services or the use of professional stock photography.
Other elements that help add to the overall appearance of your website include scrolling effects, hover effects, and slideshows. But be careful not to overdo it. The more features and elements you add to your website, the busier it becomes. Having too many different elements all at work at the same time can be overwhelming for your website visitors.
Question: Does Wix own my website?
Answer: One significant concern when creating a website with Wix is who owns the website and its content. The ownership of your website and content is determined based on who owns the account that it was created under. If your site is connected to a premium domain, ownership is then based on the person that is listed in the registration of that domain. This means that you can operate or even sell your Wix website as you see fit.
However, for a free Wix website, this requires the existence of a Wix account. This is where things can be confusing for some website owners. If Wix determines that the account has violated their terms of service or given just cause to shut the account down, the website may be pulled without consultation with the site's owner. This can occur even if the reason for removing the account is still in question.
For this reason, it's recommended that you keep an updated backup of your website information separate from your Wix account.
Question: Can Wix handle high traffic?
Answer: The ability of a website to handle a large number of visitors will depend on the available bandwidth. This is the amount of data that can be transferred to your website visitors at a specific period of time.
Both the Unlimited and VIP premium plans provide unlimited bandwidth, meaning that they are able to handle thousands of visitors at once if your site attracts that level of traffic. If you have purchased a smaller website plan, you may need to upgrade to accommodate your website's needs.
Question: What is the difference between Wix and WordPress?
Answer: The biggest difference between Wix and WordPress is the way that it is set up from a technical perspective.
WordPress is a free, open-source platform that allows you to create a highly customizable website. But it needs to be connected to a web host for your website to go live. It also involves a significant learning curve in learning how to navigate the WordPress dashboard and leverage the many available features.
When you sign up for an account with Wix, the package it provides includes both hosting and the drag-and-drop editing platform. It is easy to learn how to build and customize your website and you are supported by top-notch tech support if assistance is needed.
Bottom Line
While Wix is an incredible user-friendly CMS solution for first-time website builders, it does come with some limitations. When your website is first launched and created, making significant changes to the website may involve starting over from scratch.
Read More: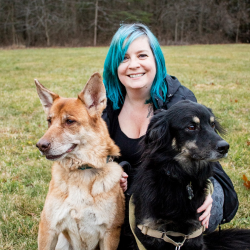 Latest posts by Britt Kascjak
(see all)