I've been a longtime user of QuillBot so this review is well overdue! If you are trying to figure out if QuillBot is right for you, this article is for you.
I first signed up for QuillBot about a year before the whole "AI craze" in 2021. While I initially signed up to use it for a very specific purpose – rephrasing content third to first person – I've since discovered the Chrome App extension and use this everyday as well.
But I don't think QuillBot is necessary for everyone.
In this article I'll lay out the backstory, main features (there are a handful of distinct use cases), and which businesses or individuals might get the most value out of QuillBot (and who might not).
Let's dive in.
What is QuillBot Exactly?
QuillBot, an AI-based writing tool, has been designed to assist users with different writing tasks.
Its primary function is as a paraphrasing tool, using artificial intelligence to reword your writing in various styles. However, it also includes other features like a grammar checker, plagiarism checker, and a summarizer.
With the ability to integrate with Word, Google Docs, or as a Chrome extension, QuillBot provides users with the convenience of accessing its features in whichever tool they usually work with.
Diving Deep into QuillBot's Features
Quillbot actually has a few distinct use cases built into it's feature set. For example, I initially primarily used the paraphraser function to rewrite sentences.
That said, there's 4 core use cases for Quillbot and then a hybrid use case with Co-Writer:
QuillBot Paraphrasing Tool
The QuillBot paraphrasing tool is arguably the most used and most loved feature of QuillBot. This tool allows users to type directly into QuillBot or paste in an existing section of text. It uses AI to rephrase the writing, giving it a fresh feel while retaining the original meaning.
The paraphrasing tool comes with several rewriting modes, each designed to cater to a different writing style or purpose. The modes include Standard, Fluency, Formal, Creative, Shorten, and Expand – with each mode providing a unique spin to your text.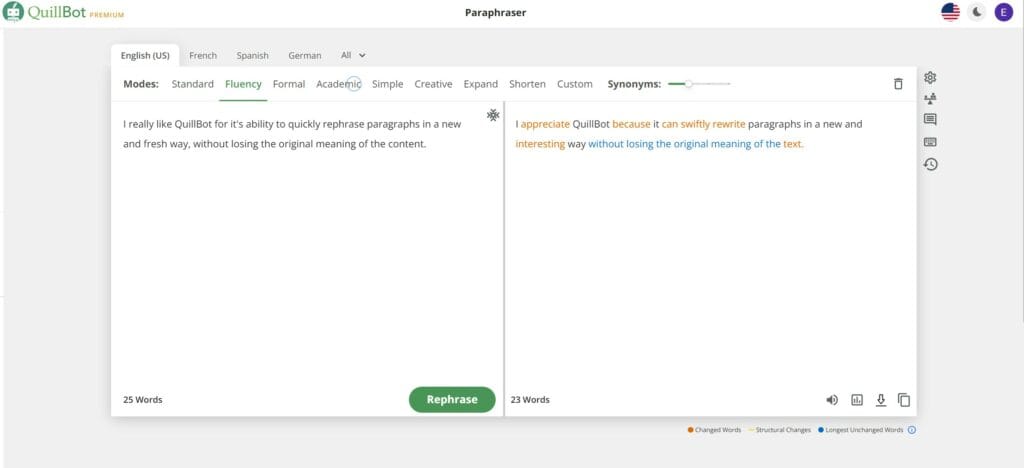 QuillBot Grammar Checker
Grammar can make or break the quality of your writing. QuillBot recognizes this and provides a free grammar and punctuation checker tool. While this tool is beneficial, most writers probably already have a grammar checker solution such as Grammarly or ProWritingAid. Nevertheless, it's a handy feature to have at your disposal.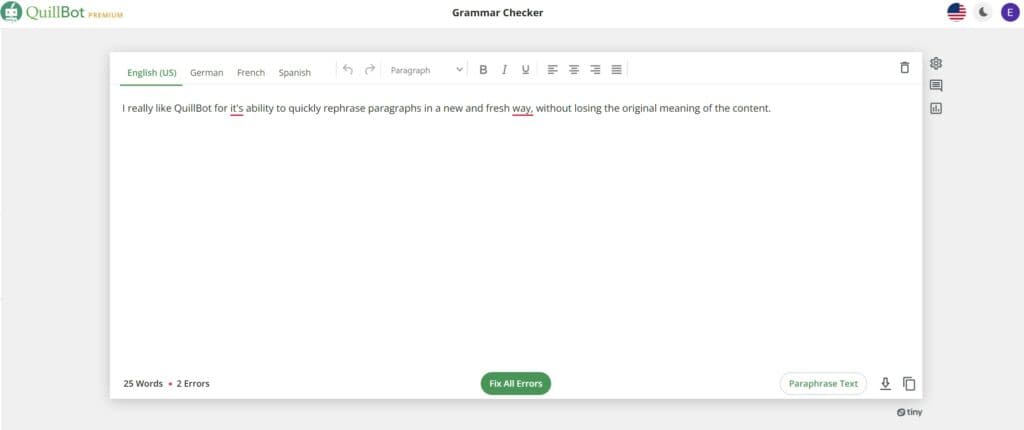 Plagiarism Checker
In an era where original content is gold, QuillBot's plagiarism checker comes in handy. It's not just for academic writers; bloggers, authors, and content creators can also benefit from this feature. It helps ensure that your writing is unique and hasn't inadvertently used material you've read elsewhere.
I find this super helpful to have, particularly if I'm creating a piece of content that's been heavily summarized or paraphrased from other sources.
Summarizer Tool
The summarizer tool is another gem in QuillBot's feature set. It uses AI to distil extensive reading material into summarized key points and findings – a handy feature for writers dealing with large amounts of research.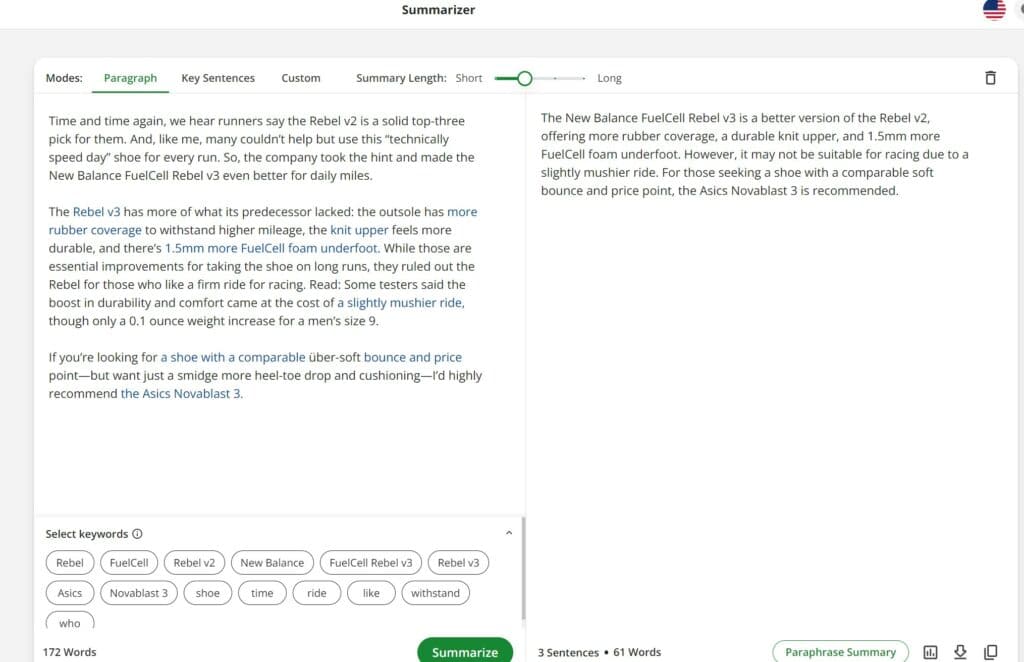 NEW: QuillBot Co-Writer
This is a relatively new feature that kind of brings it all together in one comprehensive work document. Think of it as a really smart, AI-enabled Microsoft Word.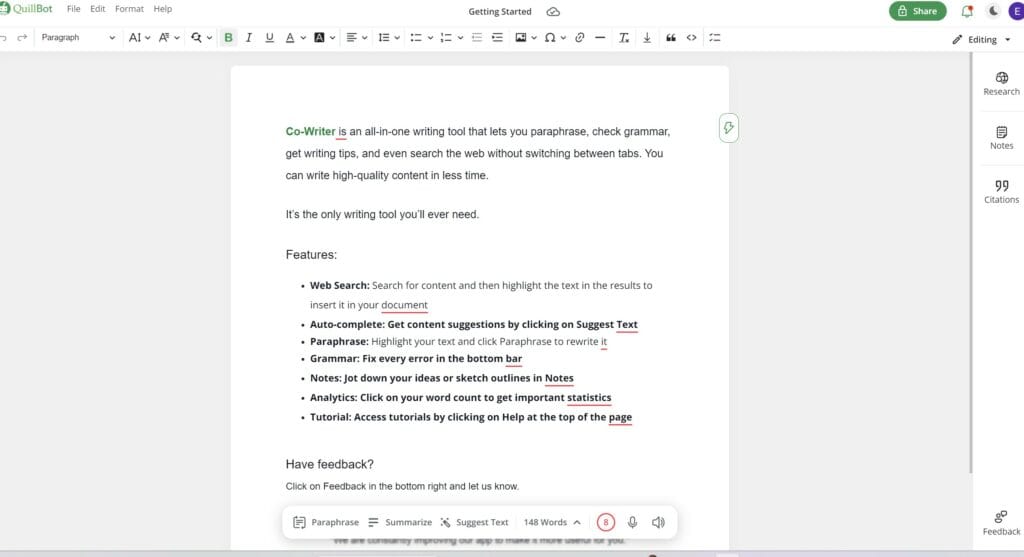 Besides syncing all of the previously mentioned modules into one document workflow, Co-Writer offers a "suggest text" feature that functions similarly to many other AI content tools by offering some contextual information to add next.
But, what I REALLY like about this new feature workflow is the ability to search the web and academic resources in-app, easily pulling in text for quotes, citations, summarizing, or even paraphrasing.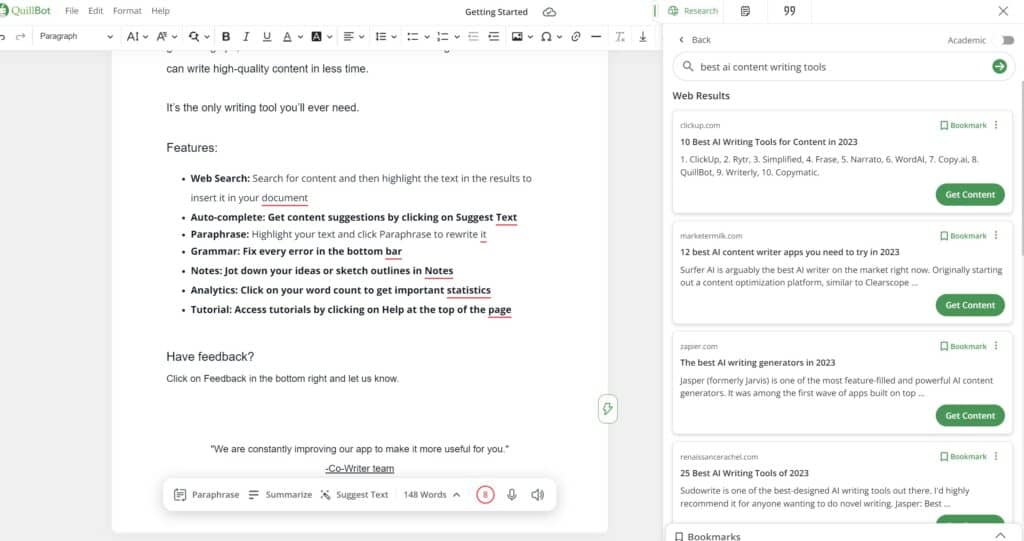 Who is Quillbot Ideal For?
While Quillbot's innovative use of AI makes it an interesting tool, it may not be ideally suited for all writers.
For instance, self-published authors may not find the need for AI paraphrasing often.
However, if authors need to rewrite their work frequently or need to digest large amounts of research, Quillbot might prove to be a valuable tool.
Advantages of Quillbot
These are the key reasons I like Quillbot (and why I'm still a monthly subscriber):
Shortening Long Sentences: The tool is proficient at shortening long sentences without losing the original meaning.
Finding Synonyms: Quillbot can find suitable synonyms to replace repetitive words, enhancing the diversity of your vocabulary.
Restructuring Sentences: It can restructure sentences to make them more readable and engaging.
Correcting Grammatical Errors: Quillbot can identify and correct grammatical errors, improving the overall quality of your writing.
Enhancing Creativity: The tool offers different writing modes such as creative, formal, and standard, allowing you to customize your content according to your needs.
User-friendly: Quillbot is user-friendly and can be used by individuals of all writing proficiency levels.
Integration: The tool can be integrated with software like Microsoft Word, Gmail (I use it to quickly tighten up my emails) and Google Docs, making it convenient for users to improve their writing within these platforms.
Paraphrasing Tool: It provides one of the best paraphrasing tools, enabling users to avoid plagiarism while maintaining the essence of the original text.
Multilingual Support: QuillBot supports multiple languages, assisting users in producing high-quality content in various languages.
Disadvantages of QuillBot
These are some disadvantages I've experienced personally with QuillBot, especially as many new AI competitors have sprung up:
Lost Meaning: QuillBot may sometimes alter the original meaning of sentences during paraphrasing.
No Offline Capability: It relies on an internet connection, which might not always be available or stable.
Can Struggle with Complexity: It doesn't always maintain the same level of quality when rewriting complex sentences.
Free Plan is Limited:There's a word limit for free users, which can be restrictive.
QuillBot Pricing Plans
QuillBot is available in both a free and paid version.
The free version allows you to paraphrase up to 125 words and summarize up to 1200 words of research.
The paid version, however, offers unlimited paraphrasing and a summarizer tool with a 6000 word limit, among other benefits.
If on the paid version you can opt for a variety of different pricing intervals: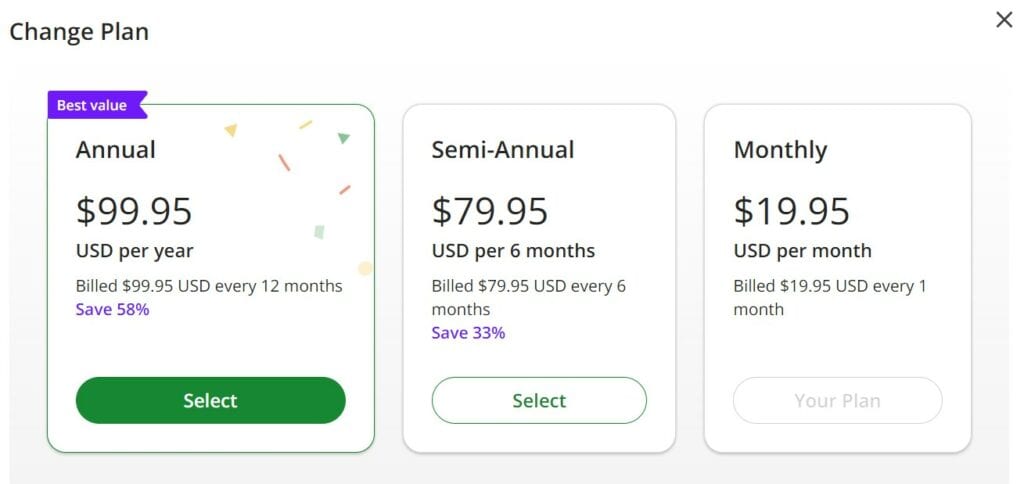 For company or teams you can also add additional seats for $7.50/month per user, with lower pricing as you scale for larger teams.
Alternatives to QuillBot
While Quillbot's paraphrasing capabilities are impressive, there are other tools in the market that offer similar features. For example, Grammarly or ProWritingAid can help you rewrite your work according to a more formal or straightforward style.
Because Quillbot actually does many things, it competes with a broader array of generative AI products AND grammar checking tools.
Here's the full list of the other competitors I'd consider in the same general area as QuillBot for at least one of their core features:
Grammarly: Grammarly goes beyond just paraphrasing and offers advanced grammar, punctuation, and style corrections. It also provides context-specific writing suggestions, which distinguishes it from QuillBot. Further Read: Grammarly vs Quillbot.
Hemingway Editor: Hemingway stands out for its simplicity and focus on improving readability. It highlights long, complex sentences and common errors, making it a great tool for those looking to simplify their writing.
Spinbot: Spinbot is a free, automated article spinner that rewrites text to make it unique. Its main advantage is that it does not impose a strict word limit for free users, unlike Quillbot.
Paraphrase Online: This tool specializes in paraphrasing, and its key distinction is that it combines synonym changing, sentence rewriting, and text spinning into one service.
Ginger Software: Ginger offers comprehensive writing assistance, including grammar check, text rephrasing, and translation. Its standout feature relative to Quillbot is its personal English trainer module to help users improve their language skills.
LanguageTool: LanguageTool supports more than 20 languages for grammar and spell-checking, making it a more multilingual-friendly alternative to Quillbot.
ProWritingAid: ProWritingAid offers detailed reports to help writers improve their writing style, grammar, and sentence structure. It goes beyond Quillbot by providing in-depth writing reports, making it a good tool for serious writers and authors.
Writesonic: Best known for its advanced AI writing capabilities, Writesonic offers a diverse range of writing tools from blog post generators to ad copy creators. A significant advantage is its ability to generate creative and plagiarism-free content which sets it apart from Quillbot. It also provides a broader spectrum of document types such as emails, landing pages, and product descriptions. Writesonic's AI understands the context and maintains the original meaning, reducing the risk of semantic distortion, making it an excellent alternative to Quillbot.
WordAi: WordAi uses artificial intelligence to understand text and is capable of automatically rewriting sentences. It stands out with its ability to understand the meaning of sentences, ensuring that the rewritten text is as close as possible to the original meaning.
RewriteGuru: RewriteGuru offers a free paraphrasing tool that uses advanced AI to rewrite any text. Its main advantage is its extensive database of synonyms, idioms, and phrases, which aids in producing high-quality rewritten content.
CleverSpinner: CleverSpinner is known for its affordability and quick paraphrasing capabilities. It's a cost-effective alternative to Quillbot for users on a budget.
The Final Verdict on QuillBot
I really like the multi-capability toolset of Quillbot. The proof is in the pudding and I'm still a subscriber and have been for some time.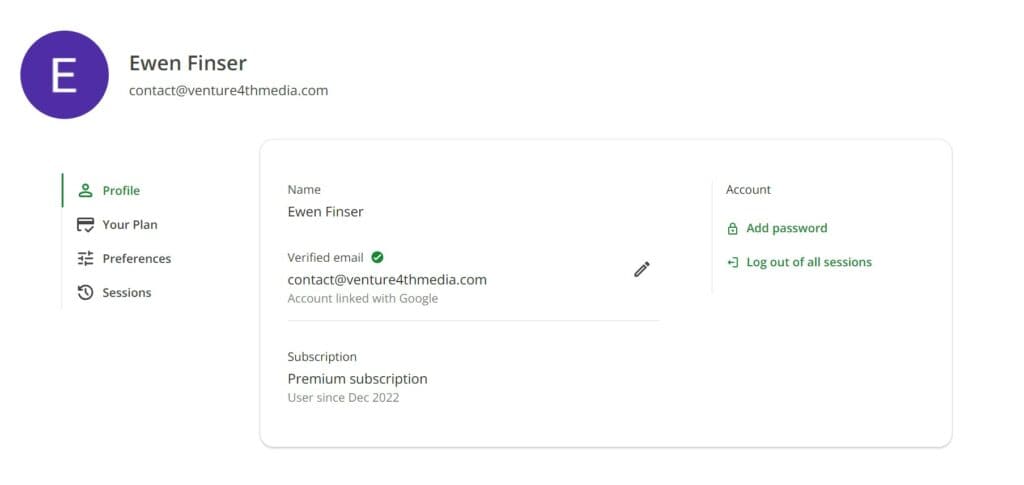 While initially I just used the paraphraser and in-app grammar checker in Gmail, I'm increasingly using the Co-Writer interface to create in-depth content and organize my workflow. This is the module to watch, in my opinion.
I wouldn't just pay for the grammar checking capabilities today and ChatGPT probably could get you 90% of the way there with the paraphraser. It's the Co-Writer interface and Swiss-army knife toolkit that makes it impossible for me to go back to plan old Word or Google Docs.
If they can continue refining this toolset to compete with WordAI, Jasper, Writesonic, I may be cancelling some other subscriptions…
That said, I can also see some really solid use cases for genuine academic research (the "Academic" toggle in the "Search Web" Co-Writer module is key here). The plagiarism checker is solid and probably cheaper than a separate Grammarly subscription.
Bottom Line Summary: All in all, QuillBot is one of the better AI writing tools I've been using AND it's been around for longer than most of the other tools, which has some serious advantages in this fast moving ecosystem (fewer bugs, better workflows, and better support).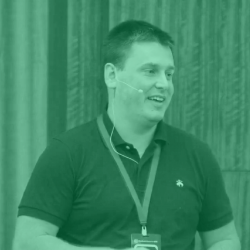 Latest posts by Ewen Finser
(see all)