This Grammarly alternatives review compares the best grammar and spell checker software without the shortcomings of Grammarly.
Let's start right from the beginning. Why would you want to scout for the best Grammarly alternatives around?
Well. Professionals. Editors. Copywriters. Bloggers. Students. Journalists. Job seekers. What do they all have in common?
They write. A lot.
But even the best writers misspell and leave a couple of slimy grammatical mistakes in their texts.
Yet, grammatical mistakes and obvious writing mistakes can easily take away from your clarity, tarnish your credibility, and make it painful for readers to follow you. That is where the best grammar checker software comes in.
But before we discuss the most recommended offline and online editing software, how about we recap what the top Grammarly alternatives are up against.
Skip the Chatter. What's My Bottom Line Up Front?
7 Best Grammarly Competitors
What criteria are we looking at here?
Most Similar User Interface to Grammarly? For example, Ginger is a great option because it offers a large catalog of grammar, punctuation, and spell checker similarities to Grammarly. Both programs' user interfaces also look and feel the same, so it might take little to no learning time to master Ginger if you are coming from Grammarly.
More Powerful Editing? However, ProWritingAid could be your saving grace if you need the powerful detail, grammar correction, and suggestions offered by Grammarly without the $29.95/month price tag.
Best Integration with WordPress? Hemingway Editor 3 is particularly resourceful if you want a tool that'll help you improve your readability and make your prose flow.
Best for B2B Writing and Sales Copy? WhiteSmoke could be a great fit for business correspondence.
Academic Writer? PaperRater is good for editing academic papers by students and professors.
Fiction Writer? AutoCrit's specialization favors fiction writing and manuscript editing online while JetPack affords WordPress users the once-over tool in a larger resource.
What is Grammarly Good For?
Probably the most popular online proofreading tool, Grammarly uses artificial intelligence to find grammatical errors in blocks of texts. The mistakes include spelling, style, alliteration, comma splice, run-on sentences, fragments, and then some.
Grammarly works in almost all types of devices including Windows, Mac, Android, and IOS. It even has a mobile keyboard for IOS Android for editing on the fly.
Grammarly users can also add bang to their writing using all popular web browsers since the editing tool also works (has plugins) in Chrome, Firefox, Safari, and Edge. Sorry Opera users.
You can download the editing software to your Mac or PC, although you'll still need an internet connection to use it. Yet, Grammarly avails a Microsoft Word and Outlook plugin that becomes available as a menu item on the respective Office menu ribbon.
The Grammarly interface is clean and attractive, making it easy to find details about a grammar mistake and what to do about it. Yes, Grammarly suggests how to correct a blunder, something a bunch of grammar checker tools let you figure on your own.
But Grammarly is not perfect, despite a ton of useful features (and its near addictive utility).
Grammarly Cons
If you are big on Google Documents (Google Docs) productivity, Grammarly is yet to work over there. There's not a plugin for Apple's iWork office suite, either. Also, you can't edit your work offline.
UPDATE: Grammarly can now integrate with Google Doc instances using Chrome! This is definitely a big step up for Grammarly; there's still some reasons to consider other solutions.
To top those off, anything beyond the basic free plan costs just over $12+ per month. This can be a big line item for an aspiring writer.
Perhaps you find the many Grammarly features confusing and its real-time editing tool distracting.
Finally, Grammarly has a great core feature set, but it's more of a generalist tool. If you are an author, copywriter, or other functional content specialist, there are other tools more specifically suited.
Whichever reason you have for looking elsewhere, here are the best grammar checkers to replace Grammarly with; free grammar checkers, freemium, and paid editing software (that integrates better with Google Docs and other systems).
Note: We'll include the pros and cons, and differences between the particular Grammarly alternative and Grammarly in prose form, so you might want to read on…
Top Programs Like Grammarly
1. ProWritingAid
A bunch of similarities between ProWritingAid and Grammarly make the former a decent Grammarly alternative.
You can use ProWritingAid to check text for pretty much all issues you can with Grammarly. Those include spelling, writing style, colloquialism, clichés, redundancies, repetitions, sentence structure, pronouns, adverbs, and more.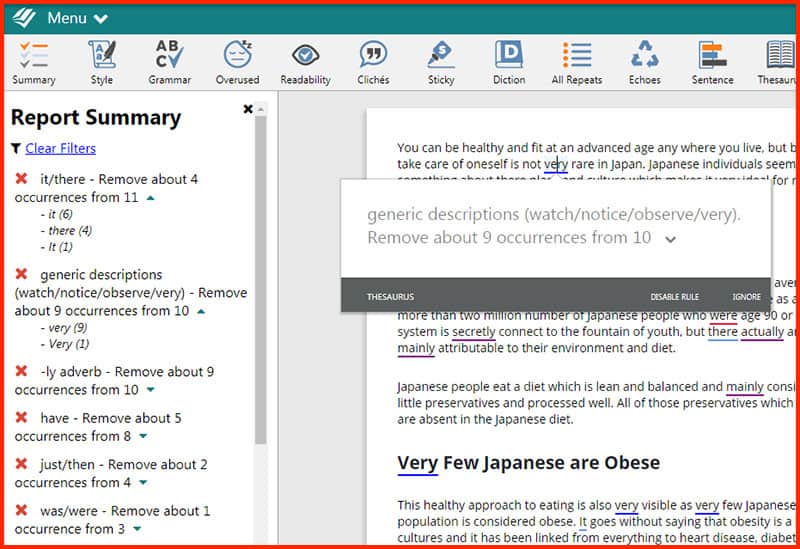 The proofreading tool is also available as a desktop app download. But you can access its online alternative native checker app like you would Grammarly.
You can also integrate Pro Writing Aid with one of the popular web browsers in no time. That way you can easily spot and yank out any grammar issues when composing an email, blog posts in WordPress, a Facebook or Twitter post, or creating a LinkedIn Pulse post.
Like Grammarly, expect to use it to proofread text in US, UK, Australian and Canadian English. Also, you can choose from a thesaurus drop-down menu to add zing to your vocabulary and avoid cliché expressions or words, as well as check that you cranked out an original post to avoid plagiarism.
Also, you can add more members to your ProWritingAid account, for example, if they are a part of your writing, editing or publishing team.
However, it does cover a few more bases that Grammarly misses.
First, ProWritingAid works in Google Documents while Grammarly does not. Also, the online editing software enables you to create and save a favorite/house writing style, so you can set it as a template for future write-ups.
You can also have your developer integrate ProWritingAid with your app thanks to the availed ProWritingAid Web API.
The ProWritingAid Free version lets you edit up to 500 words at a time, limits you to 19 writing reports, and only usable with an internet connection.
However, an upgrade to ProWritingAid Premium adds Ms. Word, Chrome, Open Office, Markdown, Scrivener, Google Docs, and Mac plugins, as well as unlimited word limit and a desktop app version on top of the free bundle.
ProWritingAid may not provide all the nuts and bolts similar to Grammarly (like a mobile app), but at $50 per year for business and other communications, $60 per year with a plagiarism checker tool for scholars, and a lifetime value fee of $175, the tool is one of the affordable, best Grammarly alternatives out there.
2. Ginger
Here's another popular online grammar checker software. The solution incorporates several features too, including a plagiarism checker, online translation tool, and a grammar checker (its main fodder).
It is a close Grammarly substitute because, like ProWritingAid and WhiteSmoke, it is a full-on grammar, punctuation, and spell checker. It also offers a freemium plan, too. And even its user interface looks and feels pretty much like Grammarly.
Like Grammarly, it'll highlight writing snarls in real time, so you can correct them as you go.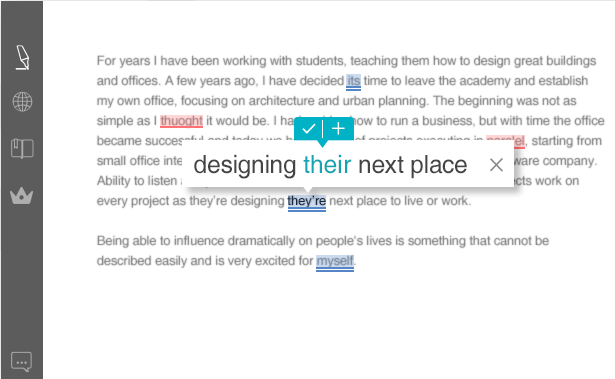 That can be a good or bad thing, considering real-time editing can easily be distracting and overwhelming—with all the research, linking, and more writing areas to focus on in the actual writing process.
But that can only be a problem when using it on the web since you can switch it off when installed as a device, web browser extension or mobile integration. Yes, you can plug it into your favorite web browser as well as use it on both desktop version and mobile devices.
If writing on a third-party platform, you can copy and paste the text into Ginger and it'll highlight all the areas it finds need improvement or correction. Expect Ginger to provide a few correction suggestions.
Ginger Sentence Rephraser lets it edit your text based on context. Like the Hemingway Editor 3, you can use it to ensure your sentence and sentence structure are top-notch and come out right. That makes it one of the most advanced proofreading tools in 2019 and beyond—bringing it a leap closer to editing like a human editor.
Again, like Grammarly, Ginger helps edit different versions of the English language and uses several styles to cover different types of documents and users. The writing style options include Academic, Business, Creative, and more.
Struggling to nab the right word?
Ginger has a resourceful thesaurus of synonyms and what not to choose from as well.
A unique feature of Ginger is it can help you translate a write-up into 50 other languages. Those include German, French, Spanish, and Japanese. The Ginger translation tool is free to download and use, too.
Ginger also steps up to offer grammar, punctuation, and spell checker benefits on Slack, Zendesk, and WhatsApp for professional chats on social. You can have Text Reader read your text out loud so you can examine any clunky areas or on the fly spell check. You can also use Ginger Dictionary to find word meanings. Or sermon a personal trainer to help you advance your writing further.
If you struggling to beat a snaring deadline, you can hit "Approve All" and all suggested corrections will automatically incorporate into the text. Keep in mind that not all suggestions pointed out are actual mistakes, so you might still have to go over your document before hitting "Publish" later on.
At a third the price of Grammarly (paid annually here), no wonder many professionals, students, authors, and copyeditors/copywriters/content creators find Ginger offers value for money.
3. Hemingway App (Hemingway Editor 3)
Hemingway Editor takes a slightly different route to grammar check functionality. By focusing on your texts' readability, the online proofreading tool lets you discover, reconsider and flush out clunky sentences.
So while Grammarly and a majority of Grammarly alternatives focus on the nitty-gritty such as punctuation and spelling errors, the Hemingway Editor focuses on eliminating wordiness, pompous wording, wrong and excessive adverbs' usage, as well as highlighting passive voice usage for revision; sentence structure is its forte.
It does that by indicating lengthy sentences as "very hard to read", highlighting those in red/maroon—in real-time, too.
When you cut back on the wording, the highlighting color consequently turns to yellow for "hard to read", until your sentences are short and sweet (and not highlighted).
That is especially valuable to creatives, copywriters, bloggers and business writers since shorter sentences carry more punch and are easy to follow up on for most readers.
Like Grammarly, you can edit your text in the online app or prefer to download the Hemingway Editor 3 for Windows or Mac.
It also maintains formatting, links and HTML headings. You can now upload and download Ms. Word add-in, PDF, Markdown, Web page, and TXT files from and to your computer.
Plus, you get to have all your corrections in the edited download like you would after editing a document with Grammarly. That way you can learn from your mistakes and improve your writing skills.
Better still, you can now use the Hemingway Editor to publish posts directly to Medium and WordPress, a feature that was conspicuously missing just recently. No more copy paste.
Grammarly vs Hemingway Editor 3
The Hemingway Editor will help you cut fluff from your writing at almost no charge at all.
And once you download it to your computer, the native app does not need an internet connection to automatically edit your prose. Although you'll want to connect it to the web after some time to receive updates.
Another thing…
Unlike Grammarly and other top editing software, the Editor lets you format your headings and body text. You are free to bold, italicize, underline, bullet, and even headline without breaking a sweat.
Expect to publish a live post or draft directly to your CMS, blogging platform, and more from the Hemingway App. You can export those in HTML or Markdown formats, too. It also suggests corrections you can use to spruce up your document and make it dapper.
All of that will come at a one-time charge of just $19.99.
That does not make it any tougher to use than Grammarly.
However, the app is not the OG of grammar checkers.
Because it does not dig into details such as spelling and grammar, you might want to use it in combination with another online proofreading tool like Grammarly, ProWritingAid, WhiteSmoke, or Ginger for that.
4. WhiteSmoke
It's not a smoke and mirrors show with White Smoke when comes to effective grammar checks.
A premium editing tool, WhiteSmoke combines grammar checker tool solutions with plagiarism and language translation functions. Expect to use it across desktop and mobile devices, as well as the four of the popular web browsers (as a browser extension).
Also, anticipate it to have support for correcting about 16 grammatical, writing style, and supplemental issues. Some issues you can use WhiteSmoke to smoke out include spelling errors (and how to spell variations), sentence structure, redundancies, and more.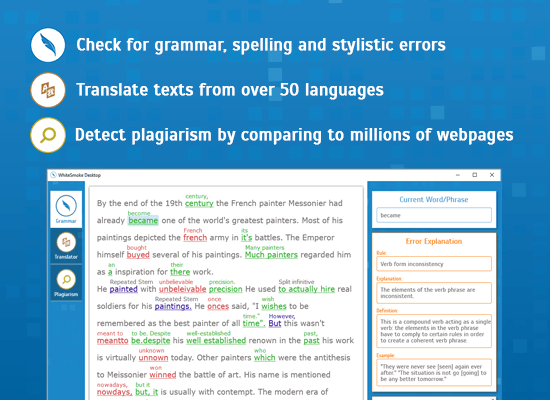 Like Grammarly, you can correct writing eyesores in real-time (if you don't mind the distraction). You can also check the text you enter into various social media network's writing boxes, LinkedIn Pulse, email, WordPress, and other writing platforms.
But what's unique about WhiteSmoke compared to Grammarly?
WhiteSmoke vs Grammarly
If you want to reach wider blog readership, chat with international clients, correspond with non-English native speakers on social media, WhiteSmoke Translator will empower you to translate text into 55 languages. And it consistently scores decently compared to the likes of Google Translate.
Content creators love it because they can get over a hundred professional writing templates; from Thank You, condolences and Sorry notes to cover letters, reports, and resumes, the online editing tool is quite resourceful and makes it easy to compose professional correspondences.
And while Grammarly's Blog posts give daily tips and tricks to add power and pizzazz into your writing, WhiteSmoke leaves nothing to chance by availing video tutorials, grammar hacks, word choice and how to use different aspects of the English language error-free.
WhiteSmoke Essential, the $50 per year base plan, lets you check off basic grammar and plagiarism, as well as make simple translations. The Premium and Business versions are hefty with more features, though.
WhiteSmoke Premium lets you incorporate a Windows or MacOs integration, get all browsers' support, and afford one-click proofreading.
However, the Business version adds new spank by introducing a 3-computer license, phone support, and extended warranty download on top of the Premium and Essential benefits.
You'll also get a 4-day trial to decide whether it's for you as opposed to a free version like Grammarly Free.
5. Paper Rater
Especially popular for proofreading academic documents and other scholarly pursuits such as professional research writing, Paper Rater uses Auto Grader to rate papers. And then some.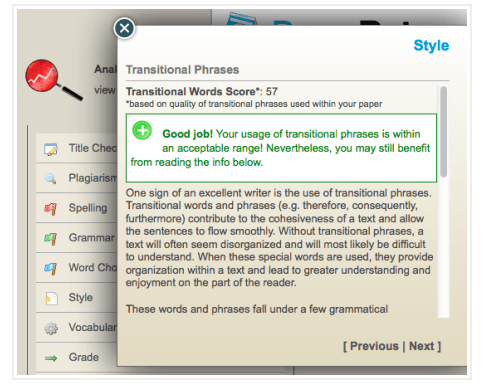 The online grammar and spell checker will proofread your write-ups without you needing to sign-up for a PaperRater account. Its Grendel AI engine can help students improve their grades. The engine ranks papers, assigns them a grade and offers suggestions for improvement.
Keen users can learn to write better scholarly, creative and web content using the suggestions—instead of getting lazy by becoming dependent on the software—which is the whole point of using the best online proofreading tools.
Grammarly vs PaperRater
While Grammarly has an Academic Mode to do spell check and grammar checks on scholarly material, PaperRater feels more niche and handles academic papers with more grace and academic focus (especially the premium version).
Another major PaperRater feature is its decent plagiarism checker. The company gets to compare and track any copied works from its large papers' database—comprising of anonymous work completed by scholars from over 140 countries globally.
The automated proofreading software will let you detect passive voice, vocabulary, and sentence beginning use. Like Hemingway Editor, you can watch sentence length and variability, readability analytics, and get suggestions on phrases to avoid.
PaperRater says its tool is and will remain free for the longest time. However, you can see a ramp up in grammar, punctuation, spelling and plagiarism detection with the paid PaperRater version.
The paid version will let you upload .doc, .docx, .txt, and .rtf files. You'll also have the plagiarism detection tool integrated into the proofreader, up to 20 pages/submissions at a time, more than 10 plagiarism checks per month (as in free plan), and up to 200 submissions per month compared to just 50 when using a basic/free PaperRater plan.
There are no browser extensions to install, a good or bad thing depending on how you'd prefer yours. The feedback you get is decent although you might want to not expect a professor's level of feedback.
6. AutoCrit
Fiction writers will have more than a critique in AutoCrit. The tool will let you analyze manuscripts. That way you can catch problematic areas that need improving such as word choice, dialogue, pacing, momentum, strong writing, and repetition issues. Here is an example of AutoCrit report: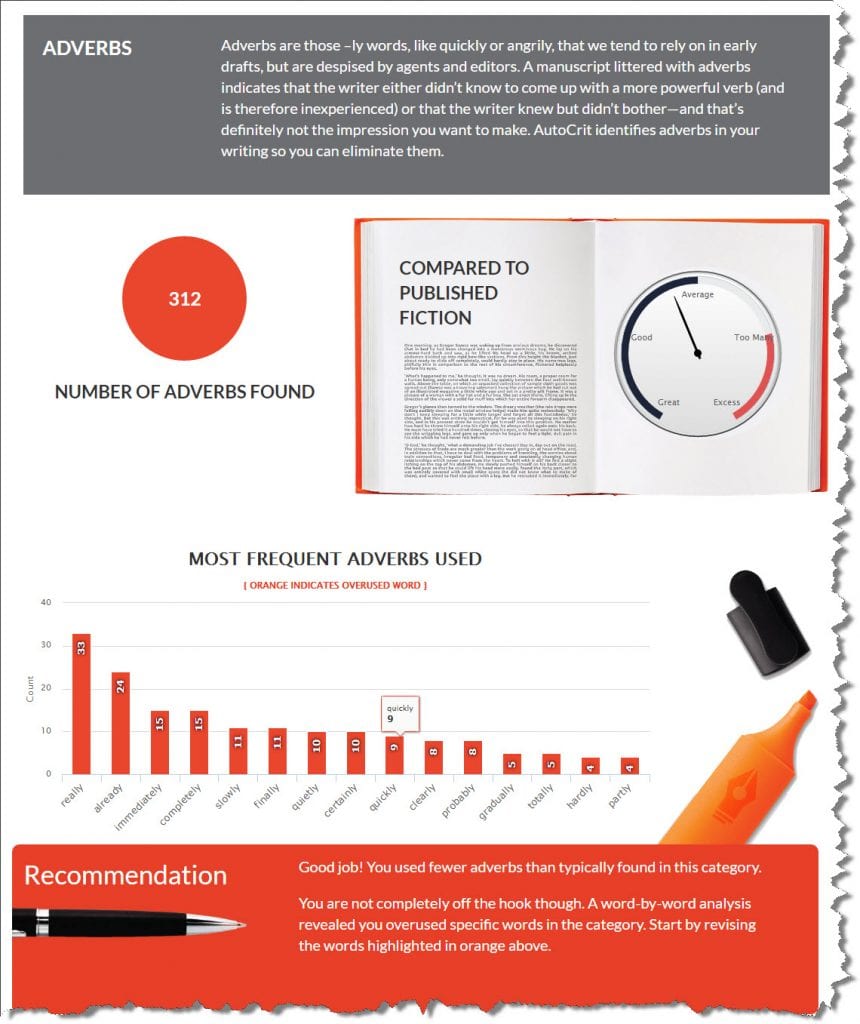 You can use it as a top alternative to Grammarly Creative Mode.
Like Grammarly, you can copy and paste your manuscript into the online writing box and get a quick report on aspects you might want to improve. Or you can upload a document to maintain formatting when you download it later.
AutoCrit vs Grammarly
The online manuscript proofreading tool will check for clichés, sentence beginning and construction patterns, word repetitions, and detect passive voice use. It will also help you determine if you could be using too many adverbs in your fiction work.
Also, from the user interface to the way it allows users to correct perceived snarl-ups, AutoCrit feels a lot like running your manuscript in Grammarly.
Except that AutoCrit's substantial fiction writing database has helped it develop into a powerful online manuscript editing software than Grammarly's do-it-all editing tool. AutoCrit Score compares new manuscripts to published works to help fiction writers level up to more advanced writing skills as seasoned fiction writers.
Unlike Grammarly, you can further specify what category of fiction writing to check against; romance, mystery/suspense, movie script, young adult, fantasy, short story or science fiction (Sci-Fi), your choice.
AutoCrit pricing is similar to Grammarly's, though.
AutoCrit vs ProWritingAid
ProWritingAid is generally a better tool for digital content generalists, whereas AutoCrit stands out in comparison as ideal for fiction or manuscript writers and editors.
7. JetPack (After The Deadline)
If you've waited long to find one of the best Grammarly alternatives for WordPress, JetPack might be for you. The online editing tool for WordPress is actually a portion of a larger WordPress tool incorporating WordPress themes, security, site traffic, and site ranking.
Like Grammarly, JetPack will help you catch spelling, punctuation and grammar issues in your WordPress drafts. It uses color codes to highlight problematic areas as follows:
Red: incorrect spelling or word misuse
Blue: Grammar mistakes
Blue: Issues with styling

Clicking on the colored line pops up an explanation of what you can choose to do next to dapper your post. You do not have to leave your WordPress writing pad to proofread the post on another grammar and spell checker.
Simply write down your post and then hit the ABC button in the JetPack menu ribbon to kickstart your editing session.
JetPack vs Grammarly
Expect it to help you detect bias language, wordiness/jargon, double negatives, redundancies, passive voice, adverbs overuse, clichés, and hidden verbs. You get to choose what to check for from a drop-down menu of grammatical mistakes.
You can also add words that are personal favorites or style to your personal dictionary. That way you won't have them flagged whenever you use them in the future.
While it works by using natural language processing and artificial intelligence technology to get the job done, it is more advanced than that. But perhaps not as detailed as the other online proofreading software solutions discussed here.
JetPack won't let you edit in a specific English version except in general. But it is a multiple-use WordPress tool that can help you spruce up your posts.
Grammar Checker Tool & Grammarly Substitute "Honorable Mentions"
There are a few other tools I've found and played around with a bit. These are either too new or not quite up to par (yet). I'll be evaluating and adding these (above) if and when they make the cut!
These are a few other options to consider as an alternative to Grammarly:
Readable: Not necessarily a grammar checker or Grammarly competitor, but more of a "readability" test to run your content copy through.
Sapling.ai: A next generation class of "artificial intelligence copywriting" tools, Sapling is more than a basic spelling mistake and grammar mistakes checker. Almost like a virtual writing tutor. That said, it's new and less tested.
Quillbot: Another "AI" tool, Quillbot is a simple browser based suite for paraphrasing (e.g. rewriting), citation generation, a summarizer, and a basic grammar checking interface, among other sundry tools.
Outwrite: Outwrite aims to provide a style and readability checker (which is great), but the spelling and grammar checking tool is clearly under-whelming compared to Grammarly. This makes it a problematic one-for-one Grammarly substitute.
LanguageTool: Worth mentioning because it supports 20+ different languages, including some harder to find markets.
Slick Write
Reverso
1Checker
7 Best Grammarly Alternatives: Which One to Choose?
With a bunch of great alternatives to Grammarly around, you can get the one that squares down to your online editing software needs by comparing them—which is what this post has done.
Most Similar User Interface? For example, Ginger offers a large catalog of grammar, punctuation and spell checker similarities to Grammarly. Both programs' user interfaces also look and feel the same, so it might take little to no learning time to master Ginger if you are coming from Grammarly.
More Powerful Editing? However, ProWritingAid could be your saving grace if you need the powerful detail, grammar correction, and suggestions offered by Grammarly without the $29.95/month price tag.
Integrates with WordPress? Hemingway Editor 3 is particularly resourceful if you want a tool that'll help you improve your readability and make your prose flow.
B2B Writing and Sales Copy? WhiteSmoke could be a great fit for business correspondence.
Academic Writer? PaperRater is good for editing academic papers by students and professors.
Fiction Writer? AutoCrit's specialization favors fiction writing and manuscript editing online while JetPack affords WordPress users the once-over tool in a larger resource.
Over to you.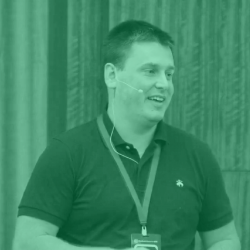 Latest posts by Ewen Finser
(see all)