When I graduated college, I knew I wanted to work in digital marketing but wasn't sure in which role. I took on several part-time and contracting jobs to get my foot in the door and explore as many digital marketing roles as I could.
One of the contracting roles I landed was actually on the other side of affiliate marketing — I worked for a wellness company and communicated with various affiliate marketers and content creators. In this role, I learned a lot about affiliate marketing from both the content creators' and business' sides.
Now that I am a content creator, I looked into affiliate marketing for my own blogs. And how could I not — most content creators use affiliate marketing to generate income. Earlier, I wrote an article about monetizing your blog. Affiliate marketing was one of the monetization methods I mentioned, and I explained this is a great solution for beginner bloggers and even experienced bloggers in a specific niche.
So, how do you get into affiliate marketing? One of the easiest first steps is joining an affiliate marketing network. An affiliate network is a third party between content creators and brands, so you don't have to cold call to find affiliates.
The company I worked for only collaborated with creators that generated high traffic, so affiliate networks are a great solution if you're a new blog that only attracts a small amount of traffic. But with so many affiliate networks out there, it can be difficult to choose the best one for you. In my best affiliate networks guide, I will list the most reliable and trusted affiliate networks that I would work with for my own blog.
Bottom line up front: 
I recommend ShareASale the most. They have partners in nearly every niche. ShareASale has also been in business for over two decades, so they have an excellent reputation. Their commission rates vary, and they take 20% of your commission, so I also suggest looking through all of the companies on this list.
My Top Picks at a Glance
Tips When Choosing the Best Affiliate Network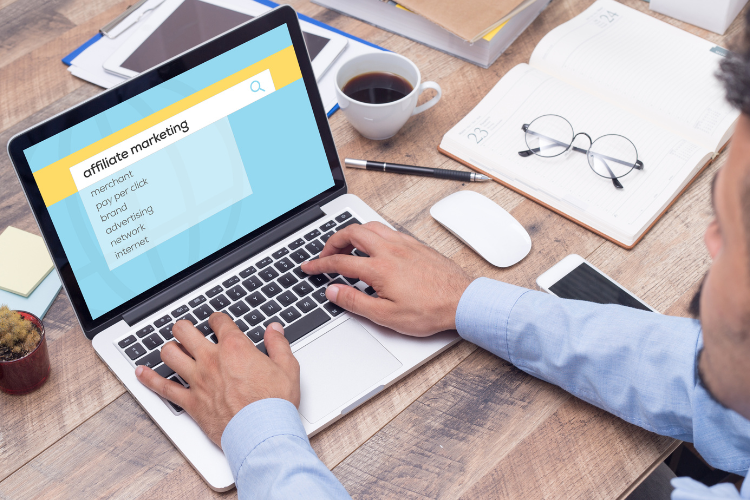 I suggest only starting out with one network at first. How do you even work through this list? Consider these tips.
Niche
Your blog likely has a niche. Wellness and beauty are popular affiliate marketing niches, but there are affiliate blogs that fit all industries. I've even seen photography affiliate blogs all the way to ones in the business niche. That's why I first recommend searching for affiliate blogs by niche.
If you promote products and brands in your niche, there's a better chance your audience will purchase the products. Plus, you can better engage your audience and maximize your earnings. All of the businesses here have different specialties. Some do specialize in popular niches, such as wellness and beauty. Others are more versatile to fit a wider audience.
Reputation
All of the brands I mention here have an excellent reputation, though some companies are more popular compared to others. I only chose companies that offer high-quality products and partner with reliable companies. This makes it more likely that your blog will develop a long-lasting relationship with these companies so you can create a solid affiliate strategy.
Even if you decide to look elsewhere for an affiliate company, always search for a brand with a quality reputation. You'll promote widely recognized products, improving your marketing efforts and better engaging your audience.
Commission Rates
Every business has different commission rates. I actually looked at one company for my own blog that only offered a 5% commission. While this low commission rate isn't uncommon, you'll obviously want to work with companies that offer a competitive rate.
Ideally, aim for a commission rate between 20%-30%. Understand that commission rates vary by product type and price. Some brands also set individual commission rates for different content creators.
Commission rate types also vary, depending on the brand and the product they're selling. If you're selling a subscription, you may also receive a separate commission when a customer renews their subscription. Some brands also don't require you to sell a product.
They may also offer a pay-per-action service, which means you receive a payment if an audience member completes a certain action, such as clicking the link or filling out a form.
How I Chose These Affiliate Networks
When I chose these affiliate networks, I considered the points I made above as well as these points.
No Fees
If an affiliate network requires a fee to join, that's the first red flag that the company is a scam. Affiliate networks are performance-based, which means everyone profits from a sale if it does well. Companies will charge a fee if they prey on beginner content creators, if they don't think you'll pull up your end, or if they don't want to pull up their end.
No matter the reason why a company may be charging you a fee, it's best to avoid that company, which is why I chose companies that don't charge affiliates any fees. However, there's a chance the company may take a percentage of your pay.
Quality Brands and Products
The best affiliate network isn't one that only works with numerous brands. While those are signs that the company is reliable, that wasn't the first factor I looked at. Instead, I ensured that the companies partnered with quality brands and products. I looked at brand portfolios and ensured the companies I saw were ones that I recognized and were relevant to the chosen niche.
Sales Tracking and Reporting
I also ensured the company offered a backend or some type of sales reporting tool. This way, content creators can track the sales of their campaigns. I also looked into the quality of these tools. Do the systems function well and have less downtime? Are these systems customizable?
The Affiliate Networks That I Recommend the Most
Without further ado, here are the affiliate networks that I recommend the most. Be sure to read the pros and cons of each network and consider the tips and advice I mentioned in the previous sections.
ShareASale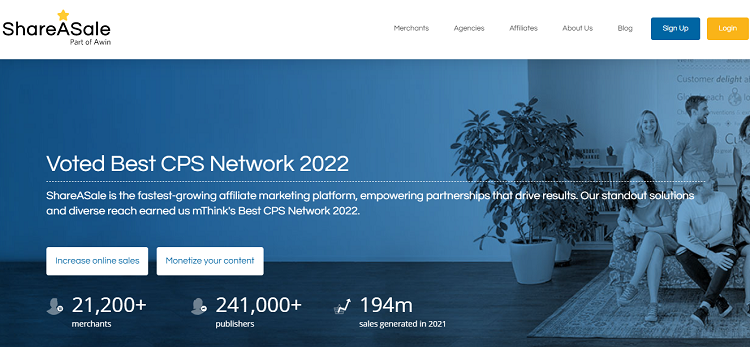 ShareASale is the number one affiliate network I recommend and one I have considered for my own website. They work with over 4,000 merchants in nearly every niche.
I even found a few partners for the music website I own. ShareASale has been in business for over two decades. Even with their positive reputation, they accept new blogs and won't kick you off their platform if you don't make a sale.
Pros
Solution for both new and experienced affiliate marketers
Programs for nearly every niche
Easy sign-up
Offers an affiliate dashboard
Different payout methods, from direct deposit to Payoneer
Cons
Takes 20% away from affiliate payouts
Every company charges a different commission rate
Amazon Associates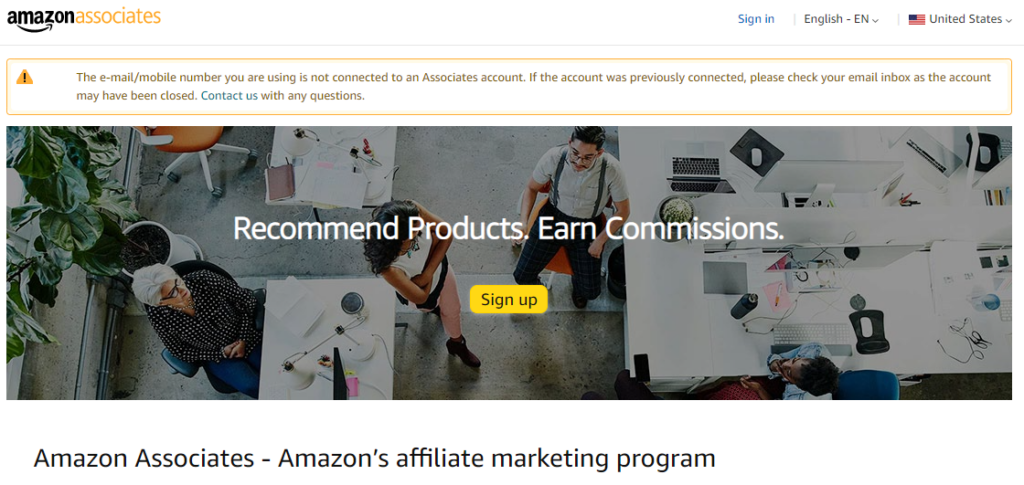 Amazon Associates is usually the first affiliate program that new bloggers join. While Amazon's commissions vary by product type and a lot of work is involved with this program, this is a good beginner's platform from the biggest online marketplace in the world.
Since Amazon is an international company, this is also one of the best programs for international affiliates. Amazon Associates is easy to use, and they provide training materials to get you started. If you ever have any questions, you receive great support and can access daily earnings reports. There's no fee to get started.
Pros
A great solution for new bloggers
Can promote products in nearly every niche
Simple to use
Earnings reports are available 24/7
Requires no minimum traffic amount
Free to sign up
Training materials are available
Cons
Reviewers complained about fees taken from their pay, but other sources say Amazon takes nothing from your pay
Commission rates vary by product type
FanFuel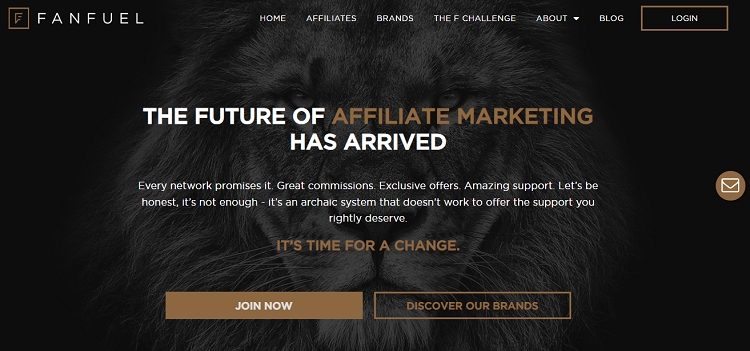 If your blog is in the wellness and beauty niches, you'll want to consider FanFuel as your affiliate network. One look at their brands page and I can see companies that I recognize and have even seen promoted throughout social media.
I also like the range of products they offer — everything from collagen creams to snoring treatments and even sexual performance products. I tend to see the same products in the health and wellness niches, so I like how this company satisfies all companies in the health and wellness niches.
Plus, I'm reading that the commission rates range from 40%-60%, which is higher than average. I'm not seeing if FanFuel takes a percentage of your pay.
Pros
Generous commission
Various payment methods
No traffic leaks
In-house resources and tools
Owned by Wolfson Brands, a reliable company
Cons
Only in the health, wellness, and beauty niches
Have to earn a minimum of $100 before you're paid
You may need to pay for some promotional resources
Market Health Affiliate Program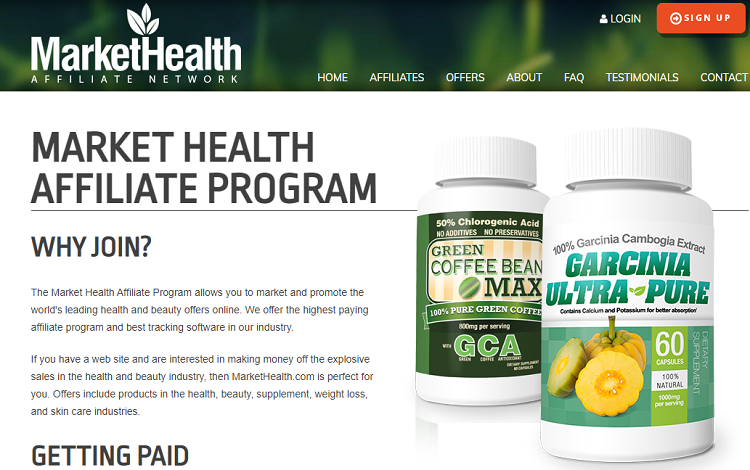 Market Health is another good company for the beauty and wellness niches. While they only offer promotions for their own products, you can still promote different products without joining different affiliate networks. If you look at their offers page, you can see they offer a range of products that you can promote. I see everyone from pet health to women's health and skincare. Plus, they offer geo-specific products.
Because Market Health offers its own products for promotion, you'll regularly be sent affiliate products which can result in consistent content and earnings. Market Health is also a reliable name — they have over two decades' worth of experience, so this is also a company that you can trust.
Pros
Smooth signup process
Offers an affiliate dashboard
Both percentage and set pay commission options
Products for different countries
Cons
Only in the health and beauty industries
Doesn't offer as many payout options
Need your SSN or any type of tax ID when signing up
FlexOffers

FlexOffers isn't usually the first pick for most affiliate marketers since their commission rates are pretty low compared to other companies on this list. But it's not like their rates are extremely low; they offer a 20% commission for referral buys, which is still pretty good. If you're a top performer, you get paid weekly. However, they do take a cut from your payout.
At the same time, FlexOffers has a convenient signup system and their support team is very friendly. From what I know about this company, this is one that truly wants its affiliates to succeed. Unlike some of the other companies I mentioned, FlexOffers doesn't specialize in a certain niche. While I do see popular wellness programs, other brands I'm seeing are in fashion, food/beverage, and even travel niches.
Pros
Easy signup process
10,000+ advertisers
Various products available for promotion
Features for various types of content
Diverse payment methods
Cons
Lower commission rates
Takes a cut of your pay
NordVPN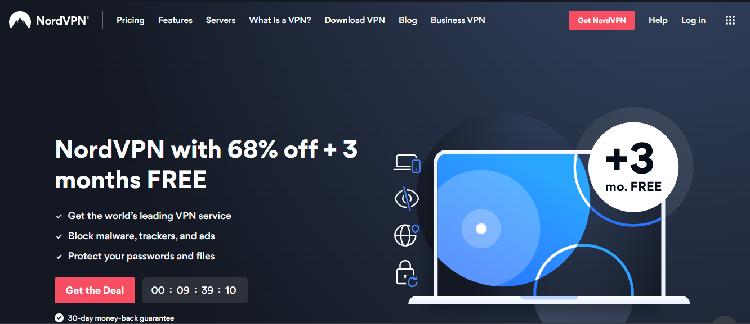 I have to be honest, I signed up with NordVPN through a crime/horror YouTube channel that I love. In all honesty, I'm glad I did. My boyfriend has another VPN program, and I think NordVPN has the most convenient interface with a high-quality VPN.
You may be reading this and are thinking, how can I include VPN promotion in my content? The benefit of partnering with NordVPN, or any other VPN company, is anyone can use (and should use) a VPN. For example, if you own a movie/TV blog, you can promote NordVPN as a way to watch your favorite geo-blocked movies and TV shows.
There are also other reasons to consider NordVPN's affiliate program. They offer a 40%-60% commission for new sign-ups, pays 100% for monthly plans, and offer a 30% commission for renewals.
Pros
High affiliate acceptance rate
Easy signup process
High commission rates with renewal/recurring commissions
Payout withdrawal is only set at $50
Receive a dedicated account manager
Provides marketing materials
Cons
Uses third-party affiliate software
Competition is high
Doesn't offer different languages
CJ Affiliate Network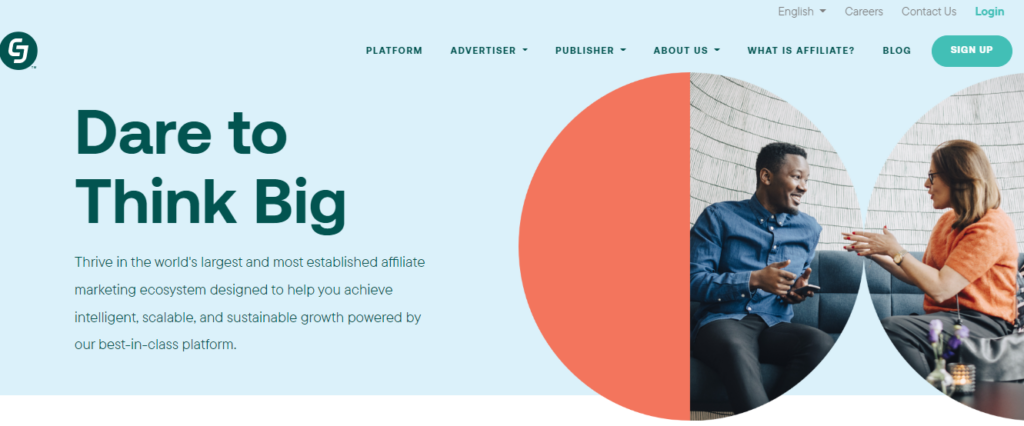 I heard a lot of other affiliate marketers recommend this company. CJ stands for "Commission Junction" and is one of the largest affiliate networks in the world.
What I like about this company and the high-tech solutions they have for both publishers and advertisers. Even if you're a new blog, CJ offers data-driven solutions that partner you with brands based on similar audiences, global footprint, traffic, and more.
I see Barnes and Noble is one of their partners, which stands out to me since I own a horror book and writing blog. If you have any questions, CJ affiliates are assigned a dedicated affiliate manager. This way, support runs smoothly. Their affiliate managers are also helpful to beginners; they can give insights and advice to new affiliates.
If you need more help, you can utilize CJU. This is CJ's training system that offers different resources and materials to host successful affiliate campaigns and improve brand relationships. The only big downside with CJ Affiliate is you need a website. But from what I'm reading, you can still use your affiliate links on other mediums, like social media.
Pros
Available in various regions and different languages
Good approval rate
Education and resources for beginners
High-tech resources
Various advertisers in all niches
Cons
I'm reading complaints that their sales tracking system isn't effective
Commission rates depend on the advertiser
Bluehost Affiliate Program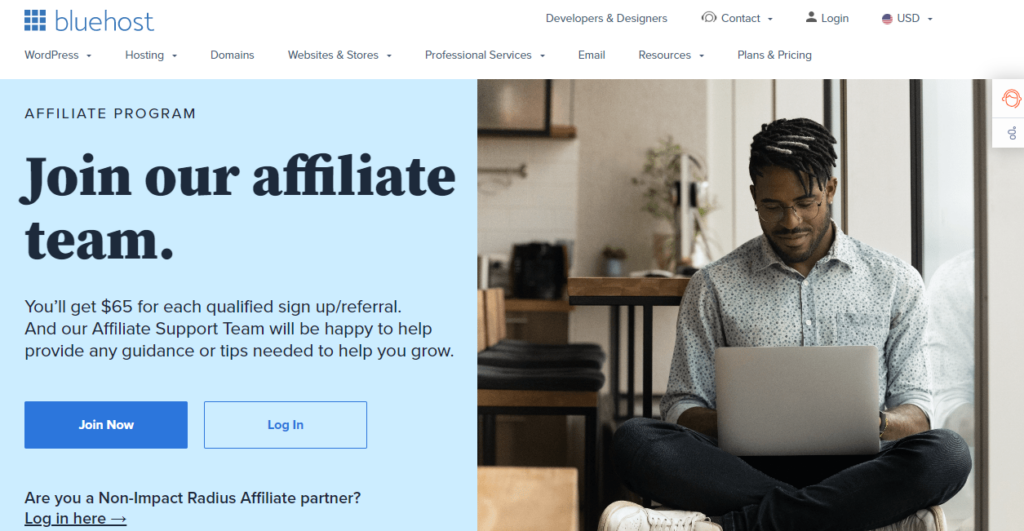 I actually already have a Bluehost account and recommend them anyway. If you host through Bluehost, I recommend joining their affiliate program to start. Ever since its inception, Bluehost has established itself as one of the most solid hosting companies.
I've been a Bluehost customer for five years and have rarely had any problems. Even if I did, they have an excellent support service that fixed my problems immediately.
I like how Bluehost has a set referral pay instead of percentage rates. I'm reading that you can earn at least $65 for one referral, which is great considering that Bluehost is a pretty affordable hosting company. And since every business needs a website these days, bloggers of all niches can utilize Bluehost's affiliate program.
Pros
No middleman
A good solution for new affiliates and bloggers in all niches
Great commission rates
Free to sign up
Support can assist new affiliates
Cons
They do outsource their support, but I never had issues
Bluehost doesn't offer commission for renewals
ClickBank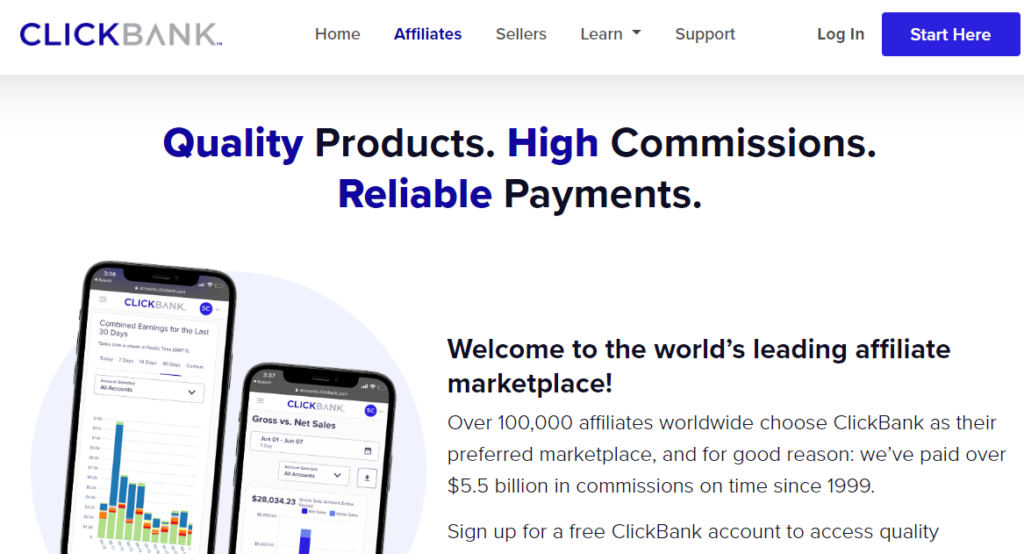 ClickBank is one of the original affiliate marketing programs. Since its inception in 1999, they attracted more than 100,000 to its platform. They have fallen by the wayside in the last few years — lost to their younger competitors. However, they're still a reliable company and offer extremely good commission rates, even as high as 90%! And if the products you promote offer recurring subscriptions, the earnings increase even more.
ClickBank attracts sellers from all industries. While they have standard popular niches, such as health and fitness, they also have lesser-known niches like self-help and even home/garden. In addition to affiliate programs, ClickBank also offers display ads.
There are some downsides to ClickBank. They do review all applicants, so getting accepted is more difficult compared to the other companies on this list.
Pros
Generous commission rates
Excellent support
Several niches
Experienced and reliable company
Cons
BeRush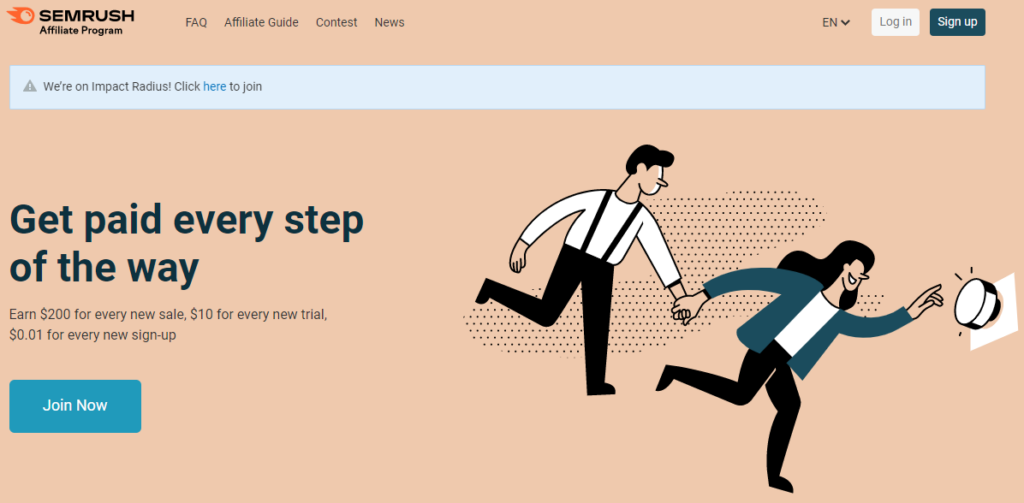 BeRush is an affiliate program owned by SEMRush. If you know anything about SEO, content, and digital marketing, you know all about SEMRush. I've been using their tools for years, specifically their content creation and SEO solutions. But if you blog about any topics in digital marketing and business, you can become a SEMRush affiliate.
SEMRush offers pretty impressive paid accounts. If your affiliate link leads to a paid account sign-up, you get $200 for that referral. Even if your affiliate link leads to a free trial sign-up, you get $10.
Pros
Impressive affiliate income
Still get paid when someone signs up for a free trial
Reliable SEO and digital marketing company
Different payout methods
Cons
A third party (Impact Radius) manages BeRush
Ideal for the digital marketing and business niches
Awin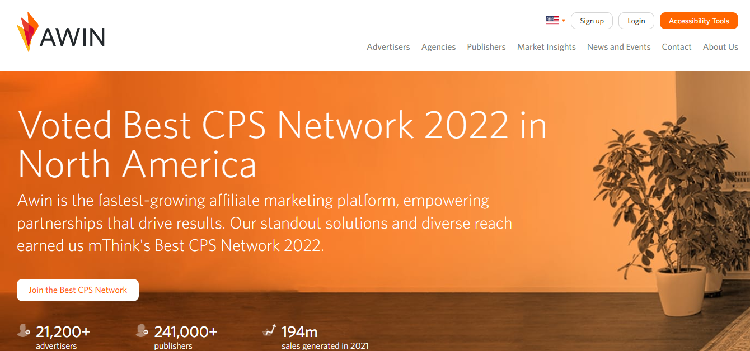 If you run a global blog or are based outside of the U.S., I suggest choosing Awin. This company has attracted publishers in over 180 countries and has over 14,000 worldwide advertisers. One look at their portfolio and I see some of the biggest company names, such as HP. Awin also has advertisers in various niches and in ones I don't see often, such as finance, technology, and business.
I love how Awin attracts top brands and products since I tend to see unknown brands and the same products across all of the blogs I follow. There are some downsides to Awin. I don't think this company offers the best affiliate dashboard and their technological offerings are lacking.
Keep in mind that Awin does charge a fee for a new sign-up; I know I said not to trust a company that asks you to pay a fee, but the $5 is the cost of verifying your bank account details and a background check. The $5 is refundable, but I understand that it does feel scammy.
Pros
Top advertisers in many niches
Advertises in lesser-used niches
Different types of advertisements, such as coupon codes and graphics
Active in various countries
Services are available in multiple languages
Cons
Commission rates vary by brand
Not the best support
Lack of technological solutions
Shopify Affiliate Program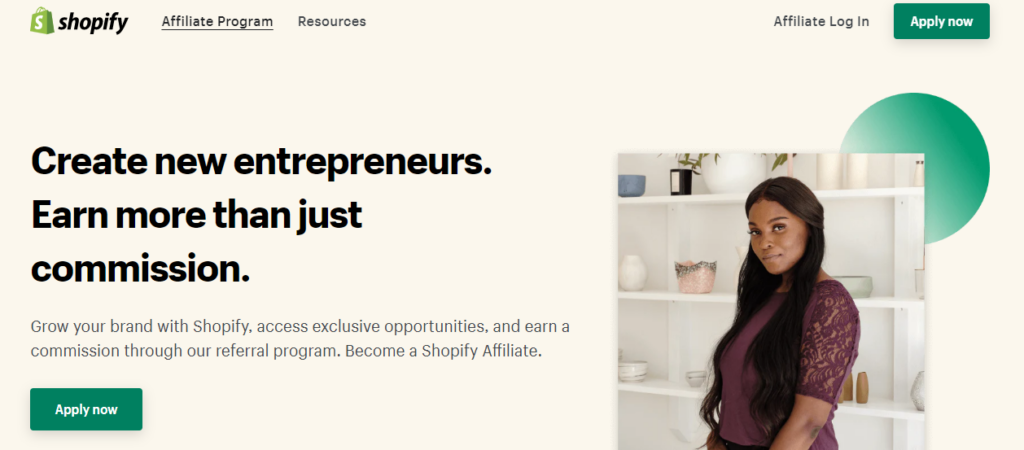 This is another affiliate program to try if you create content in the business niche, specifically the e-commerce niche. Shopify is one of the biggest e-commerce platforms and one I have used for some of my past clients. They're used globally and have a solid reputation.
When you promote Shopify to your website visitors, you're recommended a solid e-commerce solution for businesses of all sizes.
Shopify offers by far the best commission rates: 100% for new sign-ups! Plus, you'll receive 10% of the recurring monthly payments and a commission for plan upgrades, though I'm not finding how much you'll receive for an upgrade.
Pros
Some of the most generous commission rates
Recurring and plan upgrade commissions
Easy sign-up
Good support system
Shopify is a reputable business
The minimum payout amount is $25
Cons
Only ideal for blogs in the e-commerce and business niches
Many terms and conditions you should read first
Need a website
Elementor Affiliate Program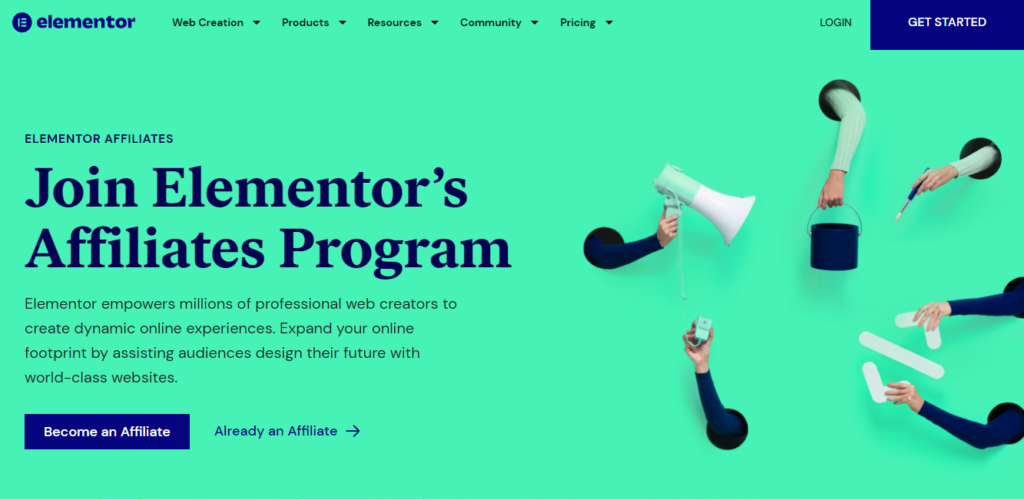 Elementor is a website builder. You may think that you won't be able to market this company unless you own a web development/design blog.
But if you use WordPress as your CMS platform, you'll be happy to know that Elementor is one of the most popular WordPress website builders. Elementor markets its website builder to those who want a great WordPress website without technical expertise, which is something that anyone with a WP blog can sell.
Elementor also comes with generous commission rates. You receive half of every sale. Some of their plans are pretty pricey, which means the payout potential is huge.
Pros
Nearly any blogger on WordPress can market Elementor
Offers regular graphics and other creative materials
Support system
Tracking tools
Generous commission rates
Cons
Only offer PayPal as a payment method
Affiliate Networks to Avoid
As a blogger, you want to do what it takes to make a living off of your hobby. You're not the only one who strives for this goal. Unfortunately, there are predatory companies who will prey on you.
I did a lot of digging to find the lowest-rated affiliate marketing networks, why you should avoid them, and what I think of them.
The Super Affiliate Network
This was the first company that appeared in my low-quality affiliate marketing company search. Even though they received a 4-star rating from the Better Business Bureau (BBB), their one-star reviews should be enough to avoid this company.
The first red flag, you have to pay to join. Super Affiliate Network makes it seem like this is legitimate since you'll have access to training in marketing and even the psychology of selling (that reviewers have reported isn't helpful).
But if you looked at the companies that I listed before, most of them offer these training materials to affiliates for free.
I'm also reading complaints from former affiliates on forums like Quora, many of them saying you don't earn as much money on their platform. I'm also reading their platform comes at a monthly subscription cost, and you even have to pay for the products you're promoting. This is a big nope in my book.
Affiliaxe
When you go to the Affiliaxe website, everything looks legitimate. But on Trustpilot, Affiliaxe received a 3.7 rating with numerous 1-star reviews. Some of the most concerning negative reviews detail random account closures and some affiliates not even receiving their pay.
Admitad
This company received an even worse rating on Trustpilot — a 2.8-star rating. The reviewers state something similar to Affiliaxe. You'll earn with this company but won't receive your payment. They also want more information about your website and audience than what I've seen from other companies. Super sketchy.
Tradetracker
This is another company that received low Trustpilot ratings. I'm reading that they didn't pay their affiliates. When their affiliates complained, Tradetracker deactivated their account. Other former affiliates said that Tradetracker didn't pay them because of "bank problems." Regardless of the reason, I would avoid this company.
Involve.Asia
I understand that affiliate marketing can be difficult if you live in another country and that there aren't as many international resources. If you're an affiliate marketer in Asia, I would still avoid this company. This company doesn't have as many reviews as the others on this list, but I'm reading complaints that they don't pay their affiliates and they don't answer emails when asked about the missing payments.
FAQs
Question: Which Affiliate Payment Pays the Most?
Answer: On this list, that would be Shopify. But with a large enough audience and the right strategy, you can profit from using any of these affiliate networks.
Question: I'm a New Blogger. Which Affiliate Network Should I Choose?
Answer: I would say Awin. They have the biggest global reach and offer some of the biggest brands and most legitimate products, which will make you appear more reliable. While they will conduct a background check, I don't think they're as strict about traffic amount as other companies on this list.
Question: Can I Get Rich off of Affiliate Marketing?
Answer: There are definitely success stories. But like anything else, you must put a lot of time and effort into your blogs. I would suggest looking at all of these affiliate programs and finding the one that fits your blog best rather than only focusing on money.
Bottom Line
Out of all of these companies, I recommend ShareASale. They have several different advertisers in nearly every niche, making them a good option for different blogs. ShareASale has also been in business for over two decades, making them one of the most reputable companies on this list.
Commission rates vary by brand and ShareASale takes out 20% of your commission. If you don't like these terms, I suggest considering any of the other companies on this list.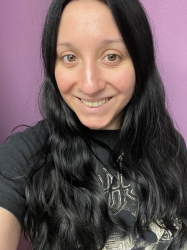 Latest posts by Stephanie Jensen
(see all)