I have been using the HubSpot CRM tool for collecting, managing, and assessing leads as a freelancer for several years. While I have come to rely on their marketing and sales hubs as a full-time content marketer, the idea of a CMS that could incorporate these opportunities seamlessly sounded like it had great potential.
This is why I, along with many others in the digital marketing space, carefully followed the news of HubSpot launching their own CMS in April 2020 known as CMS Hub.
If you are interested in learning more about this new CMS platform, you're not alone. In this HubSpot CMS guide, I am going to explore what CMS Hub offers website creators and online marketers as well as what sets it apart from popular competitors like WordPress and Wix.
Bottom Line Up Front
Designed with online marketing in mind, CMS Hub offers a comprehensive tool that ties together website creation and ongoing management. With unique features like adaptive page testing, it allows you to identify ways to improve your website performance, improve search performance and tailor your marketing efforts to your ideal audience.
What is HubSpot?
To better understand the appeal of the HubSpot CMS to online marketers, you must first understand who HubSpot is and what place they have held in the marketing industry since 2005.
The company was first created by 2 MIT graduate students with a focus on inbound marketing. This means marketing tactics that don't interrupt or harass potential customers but instead offer help and value to bring them into the company's sales and marketing funnels. They empowered online marketers with a powerful hub of marketing and sales tools as well as with the education provided by HubSpot Academy.
Since their launch, the company has reached over 150,000 users in 120+ countries. They have also launched their own INBOUND conference with highly respected professional speakers and a wealth of valuable information.
All of this has built HubSpot's reputation in the marketing industry.
With the announcement of their new CMS platform in 2020, HubSpot was able to provide marketers with a unique experience, one in which the tools they needed were all accessible in a single dashboard from the creation of their website to the optimization necessary to boost conversion and reach their business goals.
What is CMS Hub?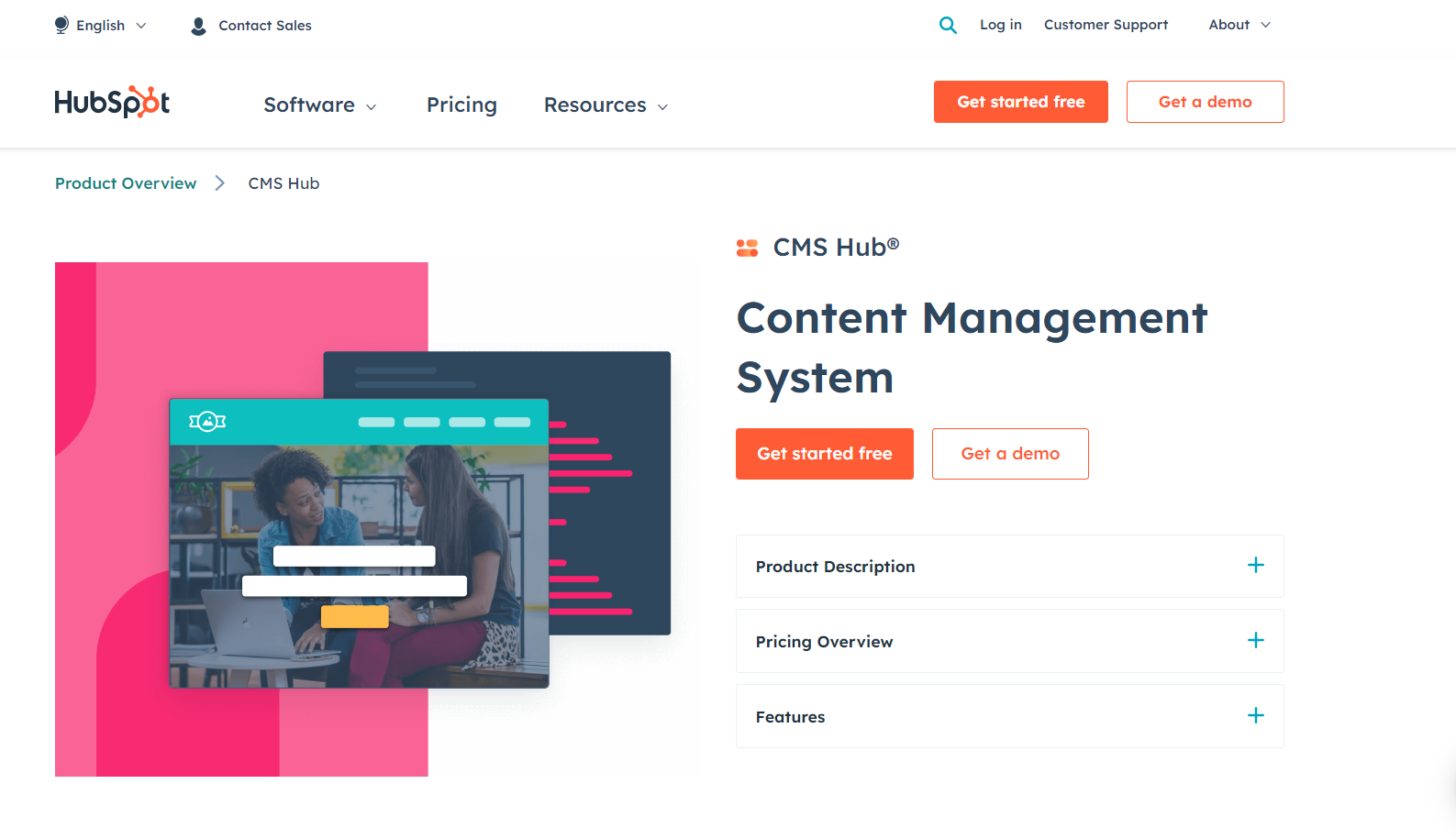 The HubSpot CMS platform is a content management system that is similar to popular website builders like WordPress, SquareSpace, and Wix. The editor is an easy-to-use drag-and-drop style allowing for the creation of a fully functional and eye-catching website without needing knowledge or experience in coding.
This platform allows for the creation and optimization of content in multiple languages including the ability to easily toggle between the. Built for solopreneurs or teams, it allows you to grant access to specific areas of your website for each team member while limiting their ability to edit or publish content outside of the designated pages.
Websites created through the CMS Hub are automatically equipped with the free level of HubSpot's CRM tools.
HubSpot's Features
If you are considering HubSpot for your business website, you may be interested in learning more about what features this CMS/CRM tool provides. Here are some features that may benefit you in the building and operation of your business online.
Easy to Customize Website Themes
Like other CMS platforms like WordPress and Wix, HubSpot provides you with thousands of pre-designed templates and themes to choose from as a starting point for the creation of your website. These include options for a wide variety of different industries and website features.
In addition to the default theme Growth, which is automatically applied to any new site, you can browse the Marketplace to see a wide assortment of themes made by third-party developers. You can narrow your search using filters like the type of business, the page features you are looking to include, which HubSpot plans the theme is compatible with, and the type of page you are creating.
From there, you can update and customize your site using the drag-and-drop editor.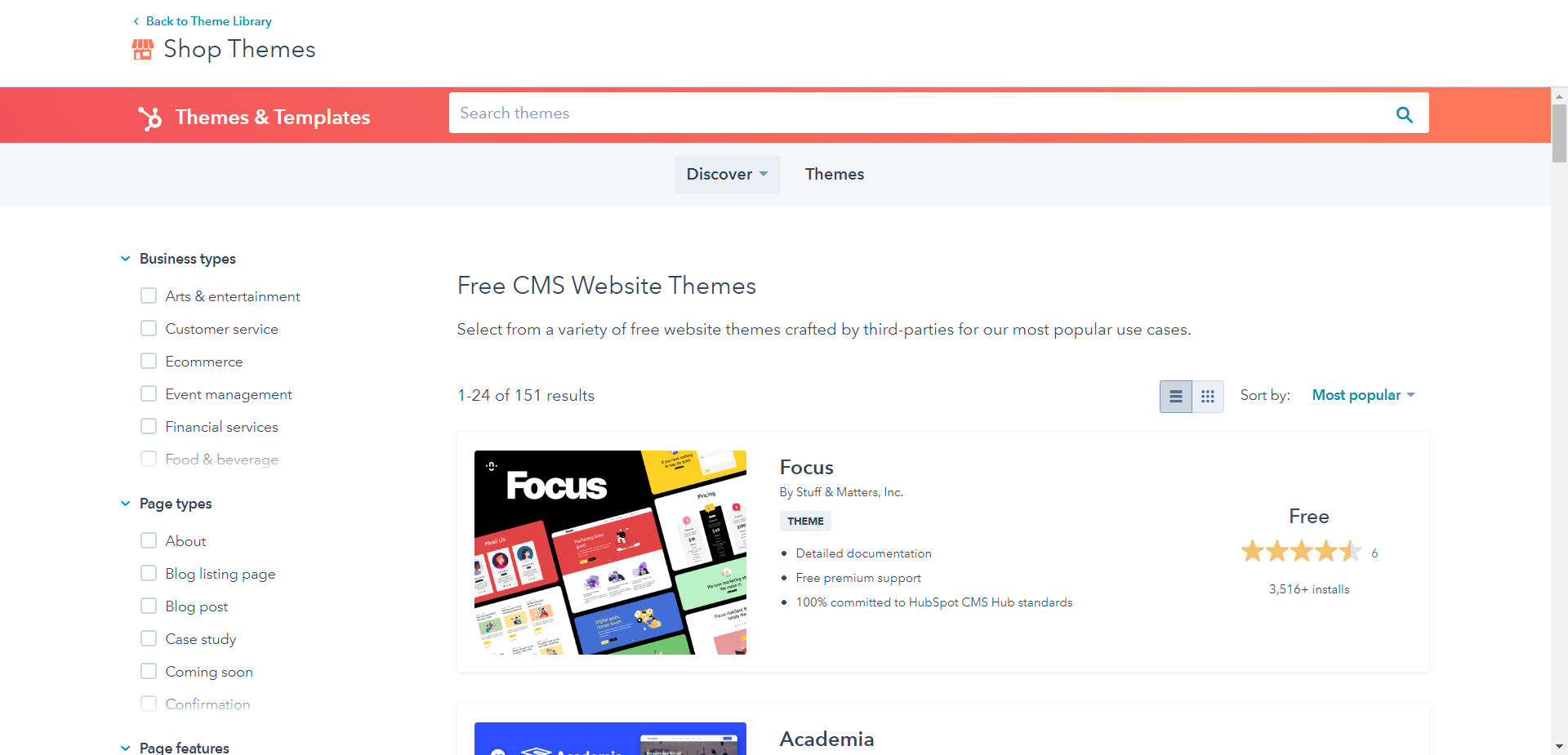 HubSpot SEO Recommendations
Included in the marketing tools available for HubSpot users is the SEO Recommendations tool. To use this tool, you will need to scan your website in your account dashboard by selecting Marketing > Website > SEO.  Here you can scan a URL for SEO opportunities and errors.
Enter your root domain (yourwebsite.com) or a subdomain (sales.yourwebsite.com) and click Scan URL. An email will be sent to you when the scan has been completed. The results of this scan will provide you with a list of SEO recommendations and opportunities broken down into 7 categories:
On-Page SEO
Mobile Experience
Crawling and Indexing
Security
Performance
User Experience
Accessibility
You can also enable the Google Search Console integration to pull data from Google into your SEO tool, further building upon the recommendations provided. View your recommendations in the dashboard or export them to save this valuable information on your computer in the file format of your choice.
By addressing these recommendations, you can improve your site performance and increase your chances of reaching the first page of the search results on Google and other search engines. It will also help to improve the experience for your website visitors.
Adaptive Testing
A unique feature that has been incorporated into the HubSpot platform is the ability to easily create A/B tests and adaptive tests on your website. This allows you to experiment with different options and changes on your website to discover what will work best and provide the best conversion with your audience.
The A/B testing option allows you to directly compare two variations of your page with the traffic seeing that page split 50/50. Adaptive testing goes a step further by comparing up to five different variations of the page and tracking how each performs. The variables that you can experiment with including different images, form fields, copy formatting, content, and offers.
For example, you may wish to see which of 3 different images will maximize your conversion rate. After setting up the adaptive testing and allowing it to run for enough time to collect the data, you will be able to view a chart that visually demonstrates how each of the options performed.
Data that you can compare includes:
View to submission rate
View to contact rate
View to customer rate
Average bounce rate
Time per page view
Improved Customer Communication
One of the most important factors when focusing on lead generation is to provide easy-to-access communication opportunities to your potential customers.
If a website visitor must jump several hoops to be placed in your sales funnel, most visitors won't put in the effort. However, if it's easy to sign up for mailing lists or contact you for more information, you can guide visitors into your funnel effectively.
HubSpot CMS provides you with a variety of different forms, pop-up forms, and live chat options within the platform.
This information is then entered into your CRM database where you can track leads, view a complete communication history, plan personalized outreach, assign lead scores, and create segmented lists based on the data that you have collected. With this information, you can effectively nurture and convert leads.
The HubSpot CMS/CRM free plan includes 6 different form types:
Embedded form
Standalone page
Pop-up box
Dropdown banner
Slide-in left box
Slide-in right box
After selecting the type of form that you want to build, you will have the opportunity to choose from an existing form template or start with a blank template and add the fields that you wish to collect. The form builder is a drag-and-drop tool with options for collecting payments, thank you messages, and automated email marketing.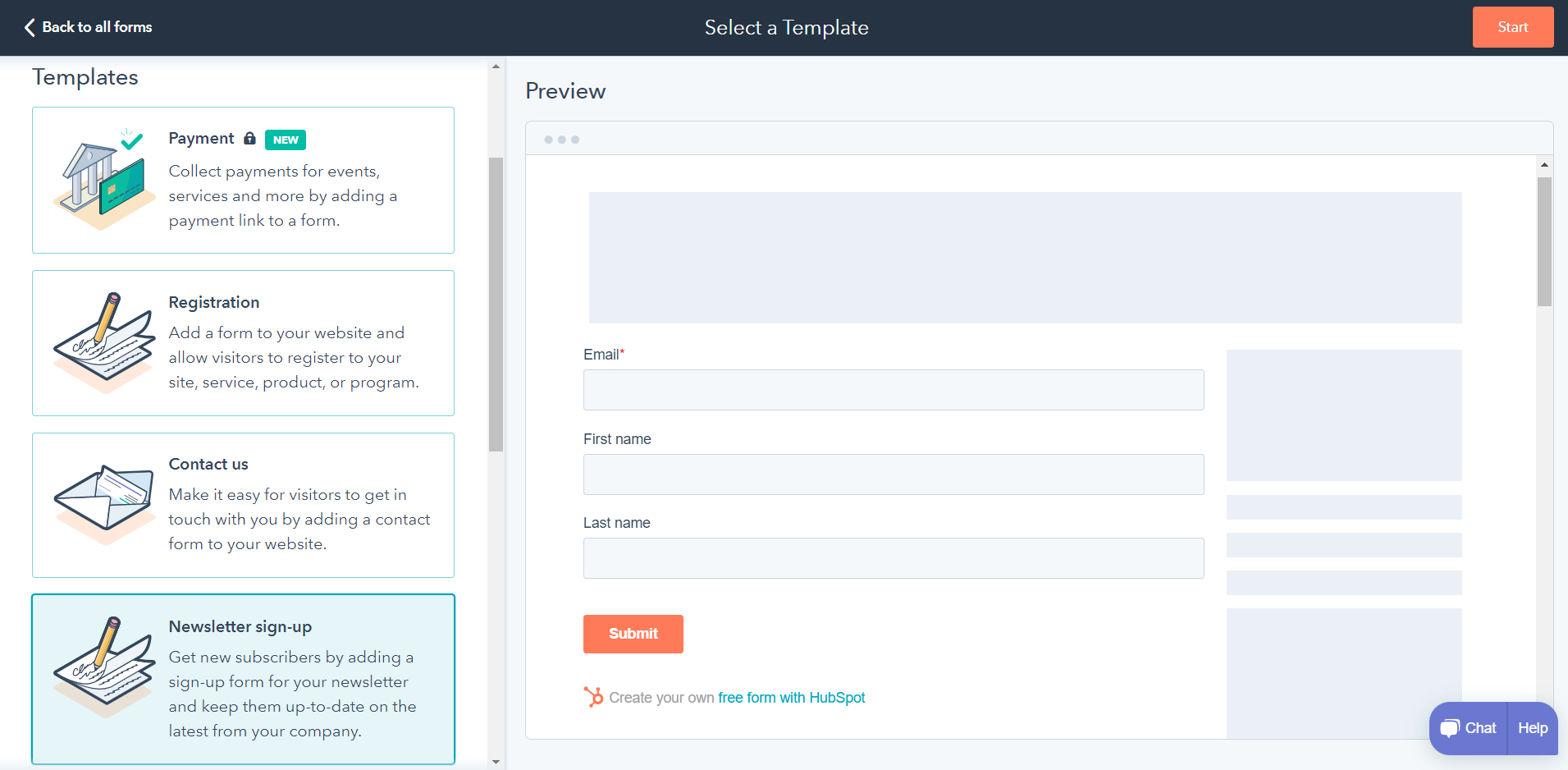 Website Analytics and Custom Reports
Tracking your website traffic and engagement is an important step in making strategic marketing decisions. While there are third-party options available to collect this data and create reports, the HubSpot dashboard includes this functionality. This makes it even easier to access the information that you are looking for.
The types of custom reports will vary depending on your HubSpot plan. The free plan includes single object reports and funnel reports. If you upgrade to the Enterprise subscription, you will also have access to custom events funnel reports, contact attribution reports, deal create attribution reports, and revenue attribution reports.
The custom report builder allows you to set filers and select how you want the data to be displayed, creating an easy-to-read and understand report for your own analysis or to share with other team members.
24/7 Phone Support
Nearly every website designer or digital marketer has made a mistake at some point in their career. With most CMS systems, you have to rely on customer support through support tickets, online chats, or email communication, which doesn't always provide you with a resolution as quickly as you would like. Recognizing the importance of having a functional business, HubSpot backs their tools with 24/7 phone support to ensure that you can also reach a HubSpot expert when assistance is needed.
HubSpot CRM Database
One of the big unique selling features of HubSpot CMS is the fact that every new website created using HubSpot includes integration with a free CRM database. This allows small business owners to focus on the best way to identify and convert potential customers. But a good CRM database doesn't end there. After a purchase has been made, it will continue to allow you to maintain customer data, allowing you to maintain and build upon those relationships.
You will have access to a wide variety of free marketing and sales tools including:
Landing pages
Forms
Email marketing, templates, and automation
Live chat
Mobile optimization
Reporting dashboard
Facebook Messenger integration
SEO recommendations and optimizations
Ad retargeting
Meeting scheduling
Ticket pipelines
Live chat and conversational bots
These tools allow you to focus not just on creating a website to build an online presence, but also to use that website as a valuable tool in your sales funnel.
All the tools available through your HubSpot account are sorted into 5 different categories – Marketing Hub, Sales Hub, Service Hub, CMS Hub, and Operations Hub. If you find that the free tools aren't enough to meet the needs of your growing business, you can upgrade any one of these categories or upgrade all with the HubSpot CRM Suite.
Pricing for the CRM Suite upgrade starts at $23 CAD/month billed annually for the Starter upgrade with 1000 marketing contacts, 2 sales hub users and 2 service hub users.
The limitations of HubSpot
As with any CMS platform, CMS Hub does have some limitations. Understanding these limitations is necessary to decide if it is the right platform for the creation and management of your website.
The biggest challenge for those interested in CMS Hub and its many features is the cost associated when you upgrade to a premium plan. While the pricing for the Starter upgrade starts at just $23 CAD/month, the cost quickly rises from there.  The other paid account upgrades available include:
Professional: $1,034 CAD/month with 2000 marketing contacts
Enterprise: $4,700 CAD/month with 10,000 marketing contacts
While HubSpot does offer revision history for those that are working on creating content or customizing a website, they do not provide global backup and restoration point functionality. While they do store a version of the website, you will only have access to the most recent version of your website if you do need to rely on a backup.
Another major limitation for online business owners is the fact that HubSpot does not have its own built-in eCommerce functionality. Platforms like Wix incorporate everything that a business owner will need to launch and manage an online store, the same can't be said for HubSpot. Users can host their store on a third-party platform like Shopify while still building and hosting their website on HubSpot, but there is no option to host everything in one place when using CMS Hub.
FAQs
Question: Why is the HubSpot CMS different than WordPress?
Answer: The biggest difference between HubSpot CMS and WordPress is the type of CMS platform. HubSpot CMS is a SaaS CMS platform meaning that it is a cloud-based system. It incorporates the website creation, management, and marketing tools that a business owner needs in one place.
WordPress is an open-source software package. To create a website with WordPress you will have to secure hosting either on your own servers or with a third-party hosting provider. You can then install the software package and build out your website.
While it doesn't include the additional marketing features that HubSpot includes, you can add functionality with the use of plugins.
Question: Where is HubSpot CMS hosted?
Answer: HubSpot's data is hosted on Amazon Web Services (AWS). To provide a more targeted location-specific regional data hosting, your site's data may be hosted either in the United States East region or in the Germany region.
This will be determined by the location provided when setting up your HubSpot account. If you do not specify your location during account set-up, all data will be stored in the United States by default.
Question: Does HubSpot CMS provide hosting?
Answer: Unlike an open-source CMS platform like WordPress, creating a website with HubSpot CMS does not require arranging for hosting. Instead, the company incorporates premium website hosting as part of your HubSpot account. This hosting is free of charge and capable of handling high traffic levels without any additional charges.
In addition to providing hosting, HubSpot also provides you with 24/7 security and threat detection as well as a free SSL certificate for your site.
Final Thoughts
HubSpot CMS is a great platform for marketers that are looking for seamless interaction between their website and CRM database. It includes a variety of valuable marketing tools above and beyond those that are usually associated with a CMS platform.
Marketers that are interested in not only creating a website but also carrying out much of their marketing strategy within a single dashboard will enjoy the way that these elements are all integrated in a logical and easy-to-navigate way.
While the CMS Hub and basic HubSpot CRM accounts are both available for free, you will need to upgrade if you are interested in using more advanced marketing tools.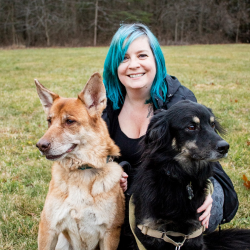 Latest posts by Britt Kascjak
(see all)