Imagine you're on a deadline to submit a report to your new and very exacting boss, or you're writing an article for your favorite website. Either way, you want the content to be excellently written. 

There was once a time and place where all we needed was MS Office, and it's a trusty spell checker. Now, there are way more sophisticated tools out there. You'll be pleased to hear; they're easy to use and offer more than just spelling and grammar checking.
Bottom Line Up Front:
Do you need multi-lingual support? As our business does NOT deal with multiple languages, I much prefer the more user-friendly Grammarly account option. That said, if you work in multiple languages (other than English), Whitesmoke is worth considering here.
Main Differences Between Whitesmoke vs Grammarly
The main differences between Whitesmoke vs Grammarly are:
Whitesmoke is cheaper starting at $4.16 per month, whereas paid Grammarly starts at $21 per month
Whitesmoke has a more complicated UI, whereas Grammarly has a cleaner UI and is much easier
Whitesmoke does not adapt to writing styles, whereas Grammarly adapts to your writing style over time
Whitesmoke supports more languages, whereas Grammarly supports just one.
Whitesmoke does not include a plagiarism checker, whereas Grammarly does come with it.
Cue: WhiteSmoke vs Grammarly
These two writing tools are the best of the best, so if you're unsure which to opt for, you're in the right place. We're going to take a look at both of them and list their pros and cons to help you make an informed decision. 
Let's dive in! 
WhiteSmoke 
As soon as you hit its home page you see a plethora of five-star reviews:  
Forbes calls it the "1 # writing tool for a successful business by Forbes magazine, " 

 

TopTenReviews has awarded WhiteSmoke their Top Ten Reviews Gold Award. 

 

Plus, there are lots of logos from publishing big hitters such as Pearson, McGill and a variety of prestigious universities.

 
So, What's WhiteSmoke? 
WhiteSmoke is a one-stop writing software tool that checks your grammar (grammar checking / grammatical errors), writing style, punctuation, and spelling (classic spell check).

It's designed to suggest improvements to your writing style and highlight all potential mistakes (like grammatical errors) a writer might make, from simple spelling mistakes to a more complicated sentence rephraser tool. 

Whitesmoke is used all over the world both by native and non-native English speakers, it uses Natural Language Processing or NLP technology and algorithms to mimic or "learn" how the brain works while you're writing. 

The company has invested millions of dollars into developing its products and has been rated the number one tool for English grammar, punctuation, spelling, and style.  
They also provide companies with tailor-made applications that improve the quality of their English communications.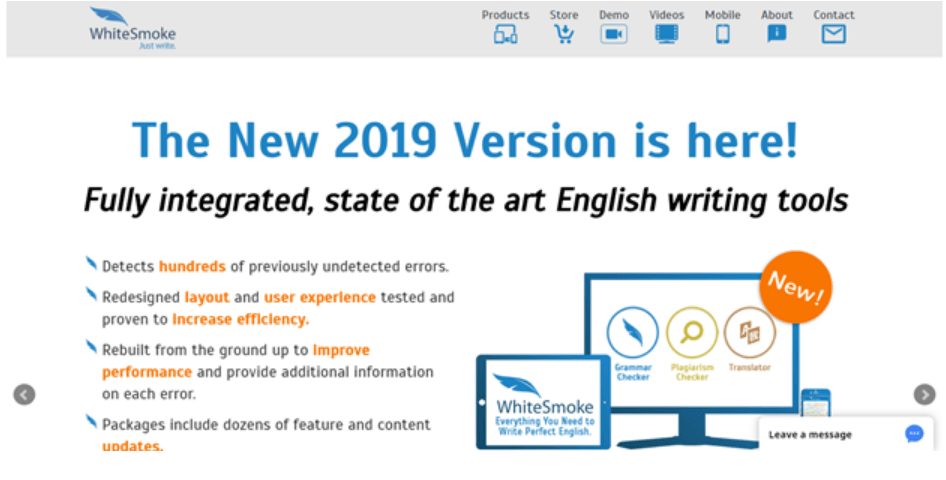 So, what do you get for your money? 
There are three avenues
: 
Desktop Premium, 

 

Mobile App,

 

WhiteSmoke Web
Desktop Premium 
Desktop Premium does exactly what it says on the tin. It's a grammar checker, spelling checker, punctuation checker, and style checker that can be used on your desktop both online and offline.
It works in Outlook, MS Word, web browsers (similar to the Grammarly Chrome browser extension, and Firefox) as well as other popular editing tools.  
WhiteSmoke Web
With WhiteSmoke Web browser extension, you can log into any web browser, start writing and this product will check and correct your grammar (online grammar checker), spelling, punctuation, and style. 
Mobile App
You can access WhiteSmoke's mobile app using either the Apple Store or Google Play. Once downloaded, it will ensure you use excellent writing, style, punctuation, and grammar while you're on the go. You can also access a few English Writing tutorials to help improve your written communication skills.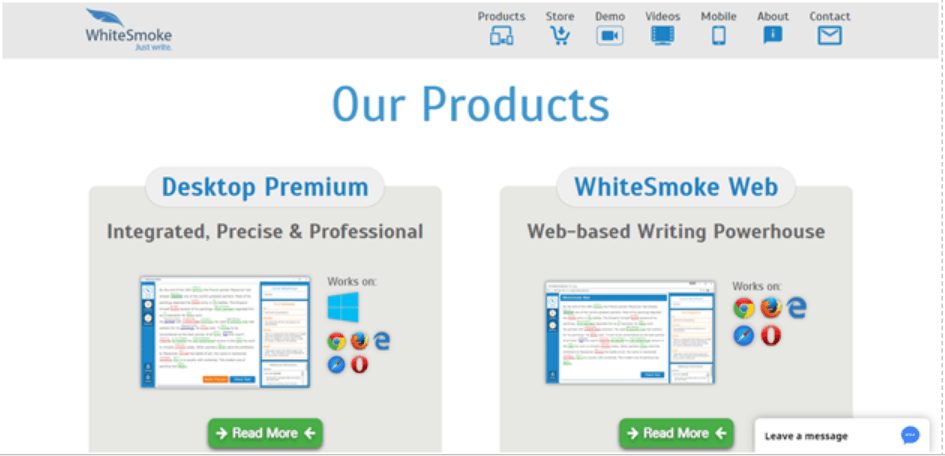 How Much Will WhiteSmoke Set Me Back? 
Prices start at a basic 'web only' package for $49.95 a year and extend to the business bundle at $137.94 (which is compatible with Windows, Mac, and all internet browsers). The downside to all these payment plans is that you can't try before you buy, although they do offer a demo video on their website. 
Here's a Pricing List of WhiteSmoke Products:
Desktop Premium for one year: $79.99 

 

Desktop Premium for three years: $199.95 (one-off payment)

 

WhiteSmoke Web for one year: $49.95

 

WhiteSmoke Web for three years: $99.95 (one-off payment)

 

Mobile App: $9.95 for one year

 

Mobile App: $30 for lifetime access (one-off payment)

 

The business packag

e for one year: is $137.94

 

The business package for three years: is $317.5

 
What's Included in the Business Bundle? 
As you can probably tell from the pricing, the business bundle is the most comprehensive of all the above packages. As such, you'd expect to receive a lot for your money- never fear, WhiteSmoke doesn't disappoint. 
 You'll get access to all of the following:  
A Grammar Checker

 

A Plagiarism Checker

 

A translation tool

 

Access to three computers

 

One-click proofreading

tool

Telephone customer support

 

A longer download warranty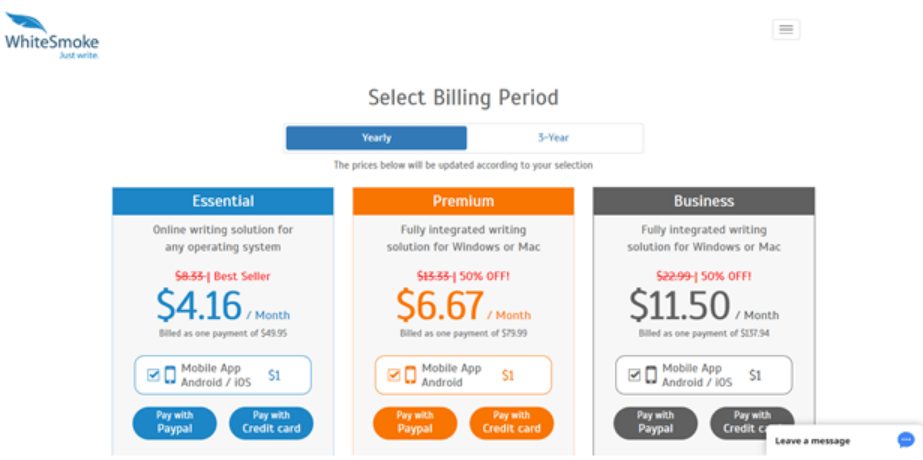 How Does WhiteSmoke Work? 
Once the software is up and running on your computer (or smartphone), it basically offers to edit anything and everything you enter. It shows spelling errors in red and grammatical errors in green.
You'll be given suggested changes that appear above your text. Plus, WhiteSmoke explains why what you've written is incorrect to help you improve the quality of your future work.  
However, if you disagree with their proposed amendments- you always have the option to ignore! 
There's also a translator tool that translates your writing into different languages. Some of it's free, however, after a certain threshold, you'll be taken to a partner site which charges seven cents a word. Presently, their website doesn't make it clear just which languages or how many WhiteSmoke can translate- reviews vary between 11 and 47! 
There's also an all-important plagiarism checker. This is an essential tool for students, content marketers, writers, and authors. Plagiarism (albeit accidental) is a big no-no in all these fields! 
When TopTenReviews tested the software themselves, they were impressed. However, they said it didn't catch everything.
For example, it missed capitalization and only picked up on some repetition. However, despite spotting a missed question mark, it lost an incorrect use of a semi-colon- but, it successfully caught a few howlers, such as the misuse of there, they're, and their. 
Interestingly, the reviews over on TrustPilot.com beg to differ. Their site's littered with complaints about chronically poor customer service, software bugs, lifetime licenses "expiring," deleted text you can't retrieve, and difficulties obtaining a refund.  
Grammarly 
Grammarly is another hugely popular online grammar, spelling, and punctuation platform. Employees and entrepreneurs across the globe love it!  
Who's Grammarly? 
Launched back in 2009, they now have offices in San Francisco, New York, and Kyiv. Their proofreading software checks against more than 250 grammar rules!  
At the time of writing, Grammarly boasts more than 15 million subscribers and works across emails, documents, Grammarly browser extensions and even social media posts.  
In fact,  Fast Company lists it as one of the world's most innovative AI companies in 2019, and when a TopTenReview writer reviewed it, she called it the; 'best grammar checker out there.'  
Unlike WhiteSmoke, Grammarly offers a free version of Grammarly in the form of a Grammarly Google Chrome extension (great for Google Docs). It only takes a couple of minutes to get up and running and checks your text's grammar, punctuation checker, and spelling, when using either a mobile or desktop device.  
Not to mention, if you head over to Grammarly's site, you can read through all its research on linguistic technology (in addition to the basic grammar checker) – which is pretty interesting stuff!  
You can also join their Facebook Community, follow them on Twitter and read their daily blog for a better insight into the world of writing. In short, Grammarly appears much more outward facing than WhiteSmoke.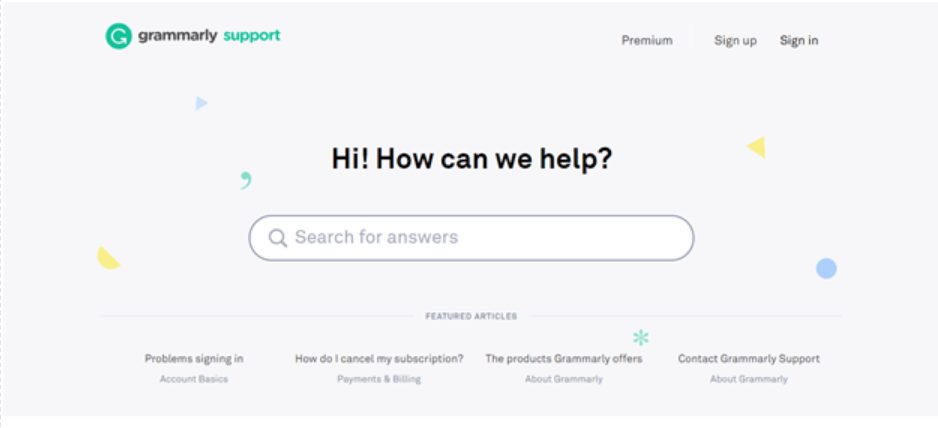 Grammarly Has 4 Products:
Grammarly for MS Office
Unfortunately, Grammarly for MS Office isn't supported on Mac. As the name suggests, this tool conducts a grammar checker run while you use MS Word. You don't have to copy and paste all your work into the online app; instead, it scans for errors while you're writing. You just need an internet connection, and you're good to go! 
Best of all, just like the Chrome extension for MS Word, Grammarly for MS Office (including Microsoft Word) is also completely free of charge! 
Grammarly Premium
There's a real push for users to sign up to Grammarly Premium, including claims that 85% of Premium customers report being better writers as a result of using the service.   
The best price for Premium is their annual subscription of $139.95. It's cheaper than both their quarterly and monthly rates. This is comparable to the Whitesmoke business plans and could be called "Grammarly Business". 
Users access not only grammar, punctuation, spelling and plagiarism checks but also suggestions on how to improve their writing style to make it more unique.  
The premium option also provides other features such as:  
Inconsistent writing style

 

Impoliteness

 

Repetition

 

Non-inclusive language

 

Overuse of the passive voice

 
There's also a proofreading service, but this costs extra and is charged either per word or hour.  
If you're unsure whether Grammarly Premium is for you or not, their website has "live" examples of how their checker works and what it looks like. 
Grammarly Native Apps
This is an easy-to-use Mac application for Grammarly users. You just have to drag a file you want to proofread into Grammarly (simple proofreading), and it does the work for you.
Grammarly Keyboard
This is a neat little keyboard that helps you write better in all your apps, whether it's to write an email or publish a Tweet. 
A Few Things to Note About Grammarly's Paid Packages
Your Writing Style
We love that Grammarly doesn't take a 'one size fits all approach.' Instead, you can select the writing profile that best suits your content: 
Marketing 
Scriptwriting

 

Creative writing

 

Technical

 

Academic

 

Medical

 

Web copy

 

Blog posts

 
Once you've made your selection, Grammarly tailors its recommendations accordingly. 
Plagiarism Checker
These days with there being so much content on the web, it's never been easier to plagiarize your copy (albeit accidentally). This is why Grammarly's advanced plagiarism checker is particularly handy.   
How does it work?
 It scans your copy and tries to sees where your text is present elsewhere on the internet. Not only is this good practice, but it's also vital for SEO, making it an excellent tool for digital marketers.   
If you click on the scores highlighted at the bottom of the app, you'll get a detailed report showing you which parts of the text are plagiarized. You'll be pointed to all the specific websites showcasing the same copy as you, so you can make the necessary amendments.  
You should note: by 'scores', we mean a percentage of how much of your content is plagiarized.  
How Much Will Grammarly Premium Set Me Back? 
A premium annual subscription costs $11.66 per month, which is taken as a one-off $139.95. Alternatively, you can pay a monthly $29.95 per month or quarterly which works out to be $19.98 per month. 
In addition to paying for Grammarly Premium, you can also send your work (or extracts from it) to a human proofreader via the Grammarly app. Depending on how quickly you need your copy returned it'll cost you anywhere between $0.02 and $0.12 per word.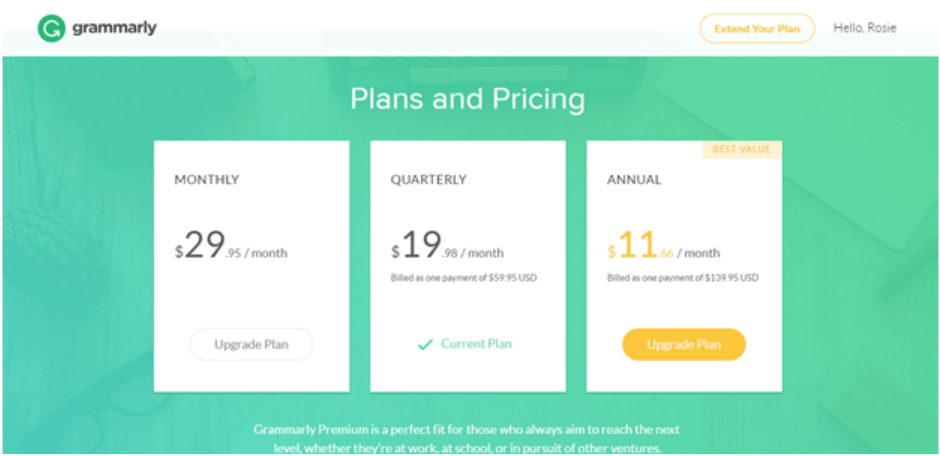 What Happened When Grammarly Was Tested? 
When Bryan Collins tested the software, he found that the Grammarly editor highlighted errors in the following places: 
Grammar

errors

Punctuation

errors

Spelling errors
These all appear in the sidebar of the Grammarly account app. You can then scroll through these issues and fix them with a simple click. Bryan also notes that Grammarly provides sufficient context to explain each of these mistakes (whether they are punctuation, spelling, or grammatical mistakes).  
The Final Verdict: Grammarly or Whitesmoke?
Although Whitesmoke is cheaper than Grammarly Premium, Grammarly is the best when it comes to value for money. Unlike the name suggets, it's more than just a grammar-checking tool. It's easy to use, adapts to the needs of your specific writing style, and is excellent at checking for plagiarism.  
All in all, if you're a content marketer, blogger, author, student, or teacher- this is a fabulous tool to use.  
Conversely, WhiteSmoke is also a pretty decent resource- especially, if you're using more than one device. As such, you don't have to be glued to your laptop to get to work. Not to mention, WhiteSmoke's translator service is another handy hallmark.  
WhiteSmoke's ideal for those who regularly do business with international clients speaking a different language to you, or if you want to work from numerous devices.  
So, it all comes down to your budget and the nature of your writing needs- but really and truly, they're both fabulous programs, you can't go too far wrong with either.  
WhiteSmoke vs Grammarly: FAQs
Question: Can I try Whistesmoke for free?
Answer: No, you can't try Whitesmoke for free. You will have to pay for a month, and then cancel the subscription if you don't like it.
Question: Is Whitesmoke better than Grammarly?
Answer: No, WhiteSmoke is not better than Grammarly. If you want to check plagiarism on the writing you have done, you can't do that. So, Whitesmoke might be better if you just want to proofread your documents or if you want to translate them, considering that Grammarly does work in only one language.
Have you got any experience using either of these tools? If so, we'd love to hear your thoughts and opinions in the comments box below. Speak soon!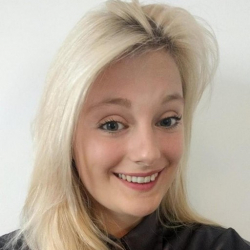 Latest posts by Rosie Greaves
(see all)